Which players were the best of the best from the Prep Hoops Circuit in the Hard Work Region? Look below for the 1st, 2nd, and 3rd teams! These guys impressed all spring/summer and they are primed for monster seniors seasons!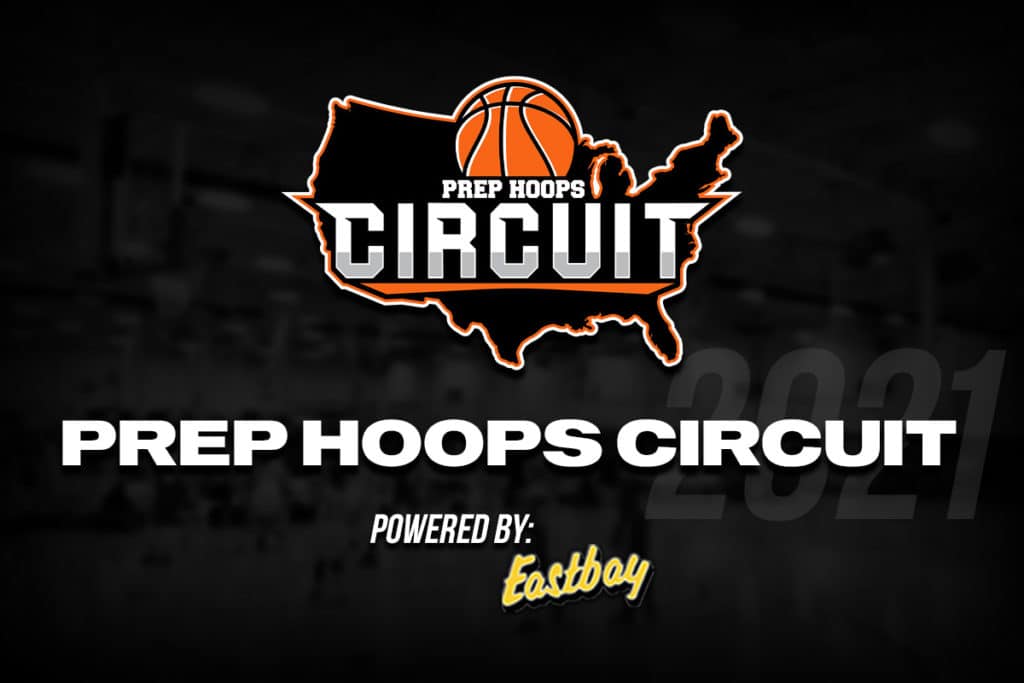 Hard Work Region 1st Team
Dallas Bear |6'8 SF| Iowa Barnstormers/Cedar Falls
He recently committed to Augustana University. Bear was hands down one of the most entertaining players to watch on the Prep Hoops Circuit. Dallas is 6'8″ with long arms, he handles and passes the ball like a PG. His skills are proficient with the college level. Bear is truly a 3-level scorer that will hurt you in every way imaginable. He had old-school footwork and moves. Bear shoots it with a soft touch and his range goes deep. Bear is a complete game changer with his length and skill.
Max Shikenjanski |6'2 PG| MN Fury/Stillwater
He was one of the best passers and playmakers on the Circuit. Shikenjanski currently has offers from The Citadel, Augustana, Duluth, Northern Michigan, Winona, Metropolitan State, and Concordia St. Paul. His eyes, court vision, and passing ability are beyond impressive. Max has all the great finishing ability in traffic and around the rim. He will also hit perimeters jumpers consistently. Max makes others around him better and he is a winner.
Anish Ramlall |6'3 PG| WOTN/Rosemount
This PG is a DUDE, a STAR, and a top creator on the Circuit. Ramlall was impressive at every event that he played in. Anish currently has offers from, St. Leo University (FL), SMSU (Southwest), St, Cloud, Winona, U-Mary, and Army. His pull-up jumper is perfect and it is always on. I was super impressed with his slashing/finishing ability with his left hand. This kid is not just skilled, Anish is tough. He willed his team to many victories.
Levi Birkholz |6'3 CG| Wisconsin Crusaders/Lakeside Lutheran
He is strong, powerful, skilled, and tough. Birkholz was a beast on the Circuit. Levi currently holds offers from The Citadel, Northern Michigan, MSUM (Moorhead), and Winona. He is more athletic than people realize, Birkholz is an impressive and explosive dunker. He is a pure scorer from all levels. His shooting stroke is effortless & precise. Levi puts up plenty of points but he is also an excellent passer & facilitator. His best is yet to come.
Emmett Lawton |6'1 CG| Team 1848/Notre Dame Academy
He was a rockstar at the Hard Work Region Finals and Lawton led Team 1848 to a Championship win. This sharpshooter currently has an offer from Northern Michigan. I witnessed Emmett go off from behind the 3-point arc. I love Lawton's confidence and his in-rhythm shooting. He has extended range and will nail the 3 off the bounce or catch. Lawton makes the extra pass and he will drive-n-dish. Emmett plays with swagger and he is a dynamic playmaker.
Hard Work Region 2nd Team
Gavin Muirhead |6'7 PF| Pentagon Schoolers/O'Gorman
The BIG man from Sioux Falls was a huge stock riser this spring and Gavin has committed to playing hoops at USF (Sioux Falls). All spring and summer long Muirhead was dunking on the competition. His timing, length, and bounce are beyond impressive. Gavin can also slash for buckets and his jump shot improved over the AAU season. His range extends out to the 3pt line. Muirhead is a mobile defender and an excellent rim protector.
Isaiah Hagen |6'3 PG| Minnesota Select/Orono
He is a big and strong guard that played at a high level throughout the Circuit. Hagen puts up points from all levels and he is explosive off the bounce. His pull-up game from 3-point land is smooth and as a big guard, Hagen has no trouble getting hit shot off. His mid-range game and runner are just as effective, and his finishing is next-level. Hagen was impressive all spring and summer on the Circuit.
Aeron Stevens |6'7 PF| Minnesota Lightning/Plainview-Elgin-Millville
He is a highly sought-after recruit. Stevens has offers from CSP (Concordia), SMSU (Southwest), BSU (Bemidji), Truman State, Winona, and St. Cloud. Stevens has a ton of versatility and potential with his length and skill. He does damage inside and out. Aeron really stands out as a defender with lockdown abilities. Aeron scores in a variety of ways around the basket with dunks, cuts, crafty moves, both hands, nifty footwork/pivots, you name it and you got it with Stevens.
Jordan Malmlov |6'0 CG| Minnesota Select/Prescott
He showed off his shooting prowess by winning the 3-point shooting contest at Prep Hoops Live in Atlanta. That alone is a special accomplishment! Jordan did not just shoot great in the contest, he was one of the top shooters throughout the Circuit. He is a silky smooth shooter, has excellent handles, and is a fluent passer. His J is soft, quick, and effortless. Malmov is lethal off the catch, dribble, and with a spectacular step-back game. This kid is a pure scorer.
Mikail Harmison |6'4 SF| Team1848/Appleton West
He and Team 1848 had a fantastic end to the Circuit when they went undefeated and won the Hard Work Region Finals. Harmison has an offer from Knox College and is receiving interest from D2 and D3 schools. Mikail is strong and tough. Physically, he looks like he is ready for college hoops. He shoots it well from beyond the arc and he is a very unselfish player. Mikail can also put up points around the rim. Harmison is productive on the glass and he gets after it on the defensive end.
Hard Work Region 3rd Team
Isaac Nyakundi |6'9 PF| Starks Elite/Duluth East
He is in the 2024 Class but played up with Starks Elite and Isaac was a complete star. He has offers from Northern Illinois and Detroit Mercy. Nyakundi was consistent all Circuit long from beyond the arc. He put up big numbers from deep and he slammed/jammed on the regular. Isaac is a big-time prospect with a rare combination of size, athleticism, skill, and power.
Asher Zubich |6'1 PG| Starks Elite/Mt. Iron-Buhl
He has an offer from UMD (Duluth) for hoops. Zubich is an elite guard who proved himself to be one of the best shooters on the Prep Hoops Circuit. Zubich is a lights-out shooter from behind the arc. Asher shot it hot throughout the Circuit but he really went off at the Finals. Zubich showed that his range goes way deep and that he is an unconscious shooter. He will also slash & score and create sweet looks for teammates.
Da'Shon Fisher |6'2 G| Iowa Barnstormers/Liberty
Anytime this crazy athlete was close to the basket he dunked! Fisher was hands down one of the best dunkers on the Prep Hoops Circuit. Da'Shon scored the rock at a high rate. Fisher is a two-way player that gets it done on both ends of the floor. Fisher is a hard-nosed and physical player. He is a splashy playmaker and an extreme above-the-rim finisher.
Trey Smith |6'6 SF| Northstar Titans/Osseo
He has offers from BSU (Bemidji) and UMD (Duluth), and is receiving interest from many other schools. Smith has a very high ceiling with extreme athleticism, great length, and the skills of a lead guard. A scary matchup that can not be defended by only one defender. An exciting playmaker and a showtime dunker. Trey has a bright future.
Tate Van Regenmorter |6'5 F| Arena Basketball Club/Western Christian
He was consistent and Tate produced in every event. Van Regenmorter plays extremely hard on both ends and is extremely coachable. Tate has excellent hands and feet. He has a big strong frame and is not afraid of contact. Tate is a stout defender and a strong finisher. He hit the boards with aggression and his mid-range J is solid. Tate's hustle and effort are also admirable. He showed up and showed out on the Circuit.