Last year this time we had 105 players to rank for the 2025 class and we are now up to 136.
36 players are new and four of the new players came from the 2024 class. Then five moved out of state or currently stopped playing basketball.
Of the 36 new players, eight fall into the top-30 and 29 are in the Top-100.
This obviously means some of the players who were ranked at the top last year saw their ranking drop.
16 of the top-25 from last years rankings are still in the top-25 this year. Only three came into the top-25 who were already ranked with Kingston Tosi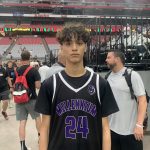 Kingston Tosi 6'6" | SF Millennium | 2025 State AZ , TayVion Wilson
TayVion Wilson 5'11" | PG Kellis | 2025 State AZ and Treyvion Curry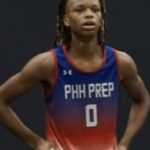 Treyvion Curry 6'2" | CG Phhoenix Prep | 2025 State AZ .
Our goal at PrepHoopsAZ is to try and recognize anyone who may play college basketball. We will keep searching for new players in preseason camps/events/leagues/Prep Hoops Circuit, Arizona Top-250 EXPO and during the AIA/CAA/Grind Session seasons.
Notes:
1. Only five of the 2025 players have earned D1 offers so far led by Koa Peat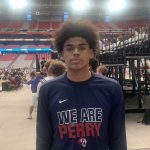 Koa Peat 6'8" | SF Perry | 2025 State AZ .
2. Rankings are based on a lot of things. Production, size for position, college coaches, the eye test, ability to score and defend, instincts, IQ, how a player moves, speed, ball handling, shooting, fundamentals. length and possible upside. It is not the easiest thing to do since not all players play in the same leagues for AAU and HS. They can be in the CAA, Grind Session and the AIA obviously has different levels itself. Plus AAU teams may play on National Circuits (3SSB, UAA and EYBL) or play on local independent circuits (Pangos, Prep Hoops, WCE, The Stage and so on). So you put all that information together and create the rankings.
3. Of the 136 players we have 41 PG's, 29 SG's, 24 CG's, 28 SF's, 10 PF's and only 4 C's.
4. The 2025 group is a G/W class with only 14 "bigs" and 122 guards and wings. Some, I am assuming, will grow into post players, move into the state or simply be discovered. This also means that, if you have a big in your program, you better hold on to him in this class.