The MD/DC area is notorious for producing top-level talent and while we've enjoyed a fair share of prospects in the 2022-2024 classes, it seems as if 2025 could be even better. Let's take a look at some of the rising sophomore guards who enjoyed freshmen campaigns.
Tyler Jackson
Tyler Jackson 6'2" | CG St. Frances | 2025 State MD | St. Frances/Team Thrill
Jackson is a three-level scoring threat who plays with great burst. He received time as a back-up in the early portions of last season with St. Frances and was expected to manage the game while he was on the floor. As the season progressed and his confidence grew, Jackson began asserting himself more with his scoring ability. This spring, he took the reigns for a talented Thrill group where he scored, distributed and defended at high levels. As a sophomore, he'll be a key ingredient to the Panthers' success despite being next to two power five commits in Jahnathan Lamothe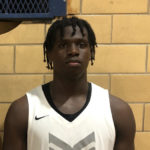 Jahnathan Lamothe 6'3" | CG St. Frances | 2023 State #204 Nation MD and Carlton Carrington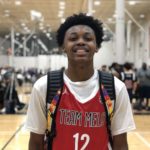 Carlton Carrington 6'4" | CG St. Frances | 2023 State #84 Nation MD .
Nyk Lewis | Gonzaga/Team Takeover
Lewis was spectacular in the times that I caught him over the spring and summer. He understands how to control pace at a young age, is a fearless driver and can finish creatively around the basket. Operating in ball screens, Lewis keeps the defense honest with his ability to knock down mid-range jumpers and deliver pocket passes off of the live dribble. He's garnered high major interest that should develop into offers sooner rather than later given his ability to impact the game in a multitude of ways from the most important position on the floor.
.Dixon pairs with Lewis to make arguably the youngest and most talented backcourt duo in the DMV. He put together a steady grassroots season for a stout Team Durant squad where he showcased continued high-level accuracy from beyond the arc. An aspect of his game that is now being shown more often is his vision and feel as a passer. It doesn't have to be off the live dribble, either. Dixon is good at evaluating rotating defenses off the catch and anticipating where an open teammate will be before delivering crisp passes in their shooting pocket for good looks. Expect him to take on a bigger role and provide immense value next to Lewis for next season and the years to come.
Ellison is primed for a big sophomore season in the MIAA. He was a leader on Loyola Blakefield's JV team and gained the needed confidence, reps and polish to begin his varsity career. We saw Ellison in the EBA Summer League where he led the team in scoring more often than he didn't. He's a fluid, 6-foot-3 guard who is capable of scoring from all three levels. His athleticism improved since the high school season and can now finish comfortably above the rim in open floor scenarios. There is still much upside with Ellison, who I think could be a top prospect in a loaded Baltimore Metro area when it comes to the 2025 class.
Waheed is one who will witness a major boost in the rankings. The 6-foot-5 guard had explosive scoring outings for Team Durant this summer on the EYBL Circuit and made plays in the clutch that were the reason his team walked away with victories. Waheed will be a primary option on the perimeter for Georgetown Prep this season and as a result, should have his name included alongside the most productive sophomores in the DMV.
Another prospect who has taken significant strides since his freshman season is Randall. He's a player who thrives in transition or semi-transition usually without the ball where he's sprinting the lanes, awaiting the pass and finishing at the rim. He's always looking for chase down defenders to create contact with and finish through or earn trips to the free-throw line. In more of a half-court setting, he does have soft touch on floaters, can hit jumpers when he's in rhythm and is showing progression as a playmaker off the bounce. Randall will certainly be a staple for his Severn team this winter and carry much of the scoring load.
While it's still early in his high school career, I can tell that Smith will be one of the prospects I will look back on with ability to say to people, 'I told ya so." He has solid positional size as he gets closer to 6-foot-4 every time I see him and one of the most lethal shooting strokes from the three-point arc and beyond. The southpaw is capable of filling it up quickly, too. When he hits one, he tries to go for a the kill shot on the ensuing possession, but also is sure to do within the flow of the offense. When given the freedom, Smith can also make things happen off of 1-to-3 dribbles. Whether it's putting his head down and getting to the cup or forcing a weakside rotation to quickly locate teammates on the perimeter, Smith has shown there are layers to his game that will be uncovered as he matures and polishes.