Check out my analysis on some of the top 2025 guards in the state of Texas that must be on your radar as we go into the next school year! I was very impressed with their production this summer and during the season last year, expect them to be making some real noise soon!
Shelton Henderson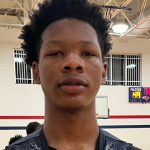 Shelton Henderson 6'6" | SG Bellaire | 2025 State TX 2025 6'5 Bellaire High School
Shelton is one of the most dominant freshman I have seen play this year. I was blown away finding out that he was a freshman with the amount of strength and agility he has on his actual frame and in his game. He has massive hands that allow him to catch tough passes and quickly put the ball on the floor to get out of trouble. He is fearless at attacking the rim and is a beast at finishing through contact. In a playoff battle with Seven Lakes, he made light work of a 6'8 defensive minded junior big man, posterizing him on the break and finishing two "And-1s" over him. He is dominant at using quick moves out of a triple threat to get his defender off balance and attack the basket. Henderson's aggressiveness and ability to get into the actual paint with a live dribble is elite already.
However his aggressiveness is not only on the offensive end of the floor as he hunts for his shots in the midrange and the paint, he is great at tying up ball handlers as they go to split a double team or get free after a rebound. He was great at getting his long arms into his opponent and poking the ball free, or coming up with chase down blocks. His frame and strength on the defensive end of the floor should allow him to easily defend guards and wings, even at the next level (keep in mind he is a FRESHMAN). At the high school level he is capable of being switched onto stronger and larger forwards and holding his own. I am not surprised to soon find out he is working with John Lucas, as his game looks mature and polished already. This is one elite prospect that you need to keep your eyes on over the next few years.
Cameron Garza 2025 6'1 John J High School, TX (Nike ProSkills San Antonio 2025 Black)
Cameron is a high level scorer with the ability to put the ball on the floor and score at will off the dribble. He calmly scored from the midrange off the dribble and beyond the arc when given opportunities to catch and shoot. He routinely got into the teeth of the defense and put pressure on them through his constant aggression on the offensive end of the floor. His ability to get into the paint and creatively evade contact with fancy euro steps, he even showed an ability to change his shot angle once he has left his feet. I was very impressed with his prowess on the offensive end of the floor, he is a very skilled and creative scorer off the dribble from all three levels of the floor. I would like to watch him develop on making crisp passes with either hand to find his teammates, he will have all the ability to score off the bounce and once his facilitating ability and the way he sees the floor matches up with where he is already on the offensive side of the ball, Greater San Antonio is going to have a major prospect to keep their eyes on.
Gerald Mcafee 2025 5'11 Jack Yates High School, TX (1 Dream 1 Team Sports 2025)
Gerald is a scrappy combo guard with the ability to fill it up at any given moment. He has a smooth stroke from outside and is a consistent catch and shoot weapon. He is aggressive with a live dribble and consistently looks to attack the basket and finish at the rim. Mcafee does not need to be scoring the ball at a high level to affect the game however, he is aggressive and never gives up on plays in transition. He had an emphatic chase down block on a wing that helped change the momentum of the game during the first night of the tournament. He is the ideal 6th man who can come in and provide a spark with his play on both ends of the court. He worked hard on the defensive end of the floor every second he was out there.
Javon Baker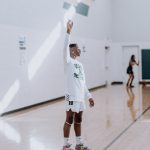 Javon Baker 5'10" | PG Desoto | 2025 TX 2025 5'10 Desoto High School
Javon has a high-level point guard who looks to have all the tools of a future leader of a program. He was vocal with and without the basketball, calling out switches and picks on both sides of the ball. He displayed supreme confidence; I was blown away when I found out he was a freshman. At times he can be a bit out of control and force bad looks, however this is expected with his age. I would like to see him work on his ability to control the tempo of the game, especially when he has the ball. Baker is one to keep your eye on for a future team leader and player in the next few years.
Michael Collins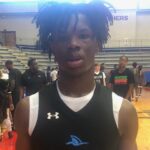 Michael Collins 5'10" | PG Shadow Creek | 2025 State TX 2025 Shadow Creek High School
Michael is a sharp shooting guard who thrives off of the consistent motion of Shadow Creek's offense and Shawn Jones Jr's (2022) ability to dominate in the paint. He is a consistent spot up shooter from the wings and the corners, and really seems to have a feel for staying out of the way of his high level teammates and always being ready to be a shooting option for them. His patience and willingness to take what the defense gives him, allows his teammates to be more open and successful as a result of his unselfishness.