One of the last and best events of June brought a bunch of talent to the Highland Park Summer Series in Topeka. Taking the court were some of the best players from Northeast Kansas, including Highland Park's Ketraleus Aldridge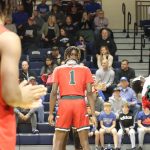 Ketraleus Aldridge 6'4" | SF Highland Park | 2023 State KS , Hayden's Joe Otting Joe Otting 6'3" | C Hayden | 2023 State KS and Washburn Rural's Jack Bachelor Jack Bachelor 6'0" | CG Washburn Rural | 2023 State KS .
Kamryn Kaniper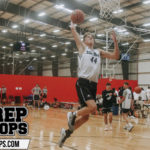 Kamryn Kaniper 6'4" | SF Silver Lake | 2023 State KS , formerly of Silver Lake, ran with Perry-Lecompton. Pending approval of a transfer, Kaniper will be a Kaw next fall, a move that has major implications on both the court and the gridiron.
While these well-known returners were on display, there were plenty of new faces to take note of. Here are some players who Prep Hoops saw for the first time at the Highland Park Summer Series (in alphabetical order):
Carson Alfonsi, 5-foot-10 guard, 2023, Washburn Rural:
Alfonsi is a mult-sport stud for the Junior Blues who will probably play a bigger role on the basketball team as a senior. He's a tough, physical guard who gets under the skin of the opponent with his active hands and intense defense. He crashes the boards and goes for every loose ball. He brings some offense from behind the arc and on penetration, and he's a flash in transition.
Lovell Autry, 5-foot-7 guard, 2026, Junction City:
Autry really popped in Topeka as a rising ninth-grader to watch. There will be a lot of minutes up for grabs for the rebuilding Blue Jays, and Autry looks like he will be in that mix. He drove to score and draw fouls, showing off a confident handle and an aggressiveness that is impressive for a ninth grader. He showed poise and high IQ against a very talented and experienced field.
Miles Braxmeyer, guard, 2024, Manhattan:
Braxmeyer was impressive at the guard spot for the Indians. He pushes the tempo with his eyes up, ready to dish to an open shooter or create an opportunity for himself. He's an athletic and physical guard who plays with intelligence. Manhattan has a deep roster with lots of different pieces to call on. Braxmeyer might be a guy to run the offense and distribute the ball.
Ayden McGibboney, 6-foot-2 forward, 2026, Hayden:
The first rising ninth-grader to make a splash on the Topeka high school scene, McGibboney will be a guy to watch. He certainly looks ready for varsity action based on what he showed Tuesday. Though he has yet to attend a day of high school, McGibboney was physically ready to compete with the older crowd. He wasn't afraid to attack the defense off the bounce. He hit jumpers off the spin dribble and floaters in the lane. He pushed the ball from end to end and knocked down 3-pointers. He provided the type of versatility that should mesh with the returning cast at Hayden.
Jamon Wilson, 5-foot-9 guard, 2025, Highland Park:
Highland Park just keeps producing quick, aggressive guards, and Wilson fits that mold. He is a pure point guard who is a solid ball handler and distributor. For a young newcomer, he showed poise and leadership Tuesday. Wilson has a high motor and he takes pride in his play at the defense end.