It has been a full day of hoops here in Atlanta on Thursday and I had boots on the ground covering both UAA Session III at Lake Point Champions Center and NY2LA Best of the South downtown at the Georgia World Congress Center. Let's dive on in to results, top performers, and more as we run through all of the day's action.
To start the day off on Thursday, Grand Park Premier 16u took on Phill Pride 16u in front of a host of college coaches. Purdue head coach Matt Painter, Penn State head coach Micah Shrewsberry, an assistant from Virginia, and dozens of others lined the court to get eyes on 6'4″ guard Jack Benter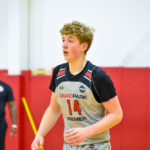 Jack Benter 6'4" | SG Brownstown Central | 2024 State #128 Nation IN (Brownstown Central H.S. 2024) among others. Benter did not disappoint scoring 24 points including three three-pointers to help lead Grand Park to a 60-40 victory.
Team Curry too Much for Grand Park 17u
I was warned before the game that Team Curry was the best defensive team on the UAA Circuit and that this one could be tough for Grand Park Premier. That text turned out to be prophetic. The Team Curry defense was long, athletic, and pressured the ball at all times. They would go on to cruise to a lopsided 67-40 victory.
Despite the 27-point loss, I thought 6'6″ forward Alex Romack
Alex Romack 6'6" | PF Westfield | 2023 State IN (Westfield H.S. 2023) played well for Grand Park. He physically looked like he belonged, held his own around the basket, and knocked in a pick-and-pop three-pointer. Joey Hart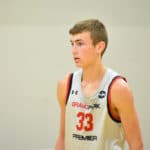 Joey Hart 6'5" | SG Linton-Stockton | 2023 State #214 Nation IN (Linton-Stockton H.S. 2023) knocked in three three-pointers and led his team with 11 points.
Kyle Guy Elite White 16u Falls to Team Mookie Betts
This was a hard fought game from start to finish but Kyle Guy Elite White couldn't get it done in the end losing 60-52 to Team Mookie Betts. However, Dylan Murans (Carmel H.S. 2024) was a bright spot in the defeat. The 6'5″ wing came out of the gate hot knocking in a couple of three-pointers. He also showcased his ability to finish around the basket with his length. Really impressive performance by him finishing with a team-high 15 points. Additionally, 6'6″ forward Tucker Tornatta continues to be one of the best under-the-radar prospects in the state. He is very skilled with his back to the basket showing patience well beyond his years. Tornatta can also face-up and knock down shots out to the three-point line. Jack Cherry Jack Cherry 6'1" | PG Guerin Catholic | 2024 State IN (Guerin Catholic 2024), a 6'1″ point guard, was also solid despite the loss.
George Hill All Indy 17u took down Florida Pro 17u 53-42 on Thursday afternoon at Best of the South. In the victory, 6'11″ 5-star forward Xavier Booker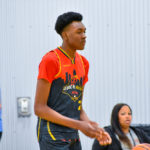 Xavier Booker 6'11" | PF Cathedral | 2023 State #4 Nation IN (Cathedral H.S. 2023) showcased all of the skills that have made him a consensus Top 10 prospect in the Class of 2023. Booker displayed good ball-handling ability at his size, he showed off his quickness running the floor, and also stepped out to hit a three-pointer. He finished with 19 points to lead all scorers while playing in from of Texas head coach Chris Beard, Purdue head coach Matt Painter, plus assistants from Kansas, Michigan State, Gonzaga, Ohio State, Auburn, and Notre Dame among others.
Big Individual Performances
Kamari Slaughter

Kamari

Slaughter

6'2" | SG

Cathedral | 2023

State

IN

(Portage H.S. 2023) scored 20 points in a game I watched about half of in a last second loss to the Atlanta All-Stars.
Kaiden Oliver (Silver Creek H.S. 2023) scored at least 20 points in a win for the Southern Indiana Blaze on Thursday afternoon. He had 20 with about 8:00 minutes left when I moved to another court. He had his shot-making ability on full display.

Camron Casky

Camron

Casky

6'4"

Pike | 2024

IN

(Pike H.S. 2024) put up 24 points on Thursday evening in a win for Progeny Blue 16u.