Here are my standouts from Friday's games at Prep Hoops The Last Dance: Parham's Illinois standouts. I went with a group of unsung players who contribute alot but don't get as much attention as their teammates.
Leirre Collier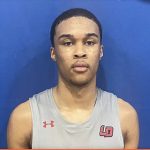 Leirre Collier 6'3" | PG Bloom Township | 2023 IL (Chicago Lockdown)
The Bloom guard has been on my radar for two years now and is just coming into his own this summer. Collier is a tough cover with his shifty ball skills. He is able to break guys down on the way to the rim winning most one on one matchups in the process. Leirre is a great defender as well usually getting multiple steals a game. As he continues to build his reputation this summer look to see his recruitment change for the better during the high school season.
Tre Davis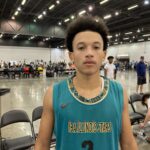 Tre Davis 5'10" | PG Marian Catholic | 2023 State IL ( IBA Stars)
Since the June Live period I have continued to like what Davis brings to teams. Tre is an elusive guard that can be effective as a scorer or passer. He is a better set up man because he can penetrate defense very easy. Not much of a scorer tonight but he does have good touch from all three levels.
Cordy Johnson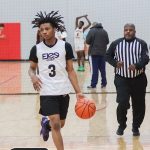 Cordy Johnson 5'8" | PG Michelle Clark | 2023 State IL (Flee Club)
Cordy played really well in spurts on Friday. He is very quick with the ball in his hands as he dances with the ball and left defenders on their heels most of the night. Johnson is a volume scoring guard who went and a spree for about 3 minutes. It was also said that if his teammates continued to give him the ball while he was the hot man they would have won the game.
Marcus Pigram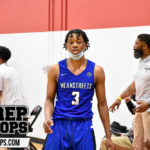 Marcus Pigram 6'3" | PG Whitney Young | 2023 State IL (IL Jaguars)
Pigram is really good at playing bully ball at the guard spot. Marcus is maybe the best post up guard in the state. He feels his defenders then goes right at them. Pigram is also a solid defender and rebounder at the position. He is a competitor on both sides of the ball and some college will value that in his recruitment.
Charlie Farrell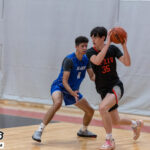 Charlie Farrell 6'9" | C Naperville North | 2023 State IL (M14Hoops)
Farrell is one of the big men in the state who doesn't get alot of attention but should. Charlie has good hands around the rim. He ran the court well and he ended up with several dunks in the process. On defense he protected the basket well and pulled in several rebounds. Farrell is a prospect that can help a college next year.
Allen Mujcinovic (Pac Elite)
Allen made the list because he had a great first half of a game. He made 4 threes for Pac Elite. Mujcinovic is a 6'6 wing with some ok ball skills. Didn't get to the rim much but showed his ability to hit shots off the dribble. He is a Unsigned senior who is still looking for a spot this upcoming season. Jucos or NAIAs and D3s check him out.