It happens every spring.  Tennessee Tigers Founder and 17u Head Coach Chip Smith assembles high-character college basketball aspirants and then hits the road.  Coach Smith favors Atlanta and occasionally Birmingham or Louisville.  Make no mistake, college coaches know where Coach Smith and his troops will be.  They are aware of the help each player can provide at the college level.  
17u Schedule July 7-8 (Best of South)
Location: Georgia World Congress Center, 285 Andrew Young International Blvd NW, Atlanta, GA 30313
2:10p E.S.T. Court 24 (July 7)
5:25p E.S.T. Court 23 (July 7)
12:20p E.S.T. Court 23 (July 8)
Alex Hyder
Alex Hyder 6'3" | SG Cleveland | 2023 State TN , Wing, Tennessee Tigers, 2023: Hyder is one of the best shooters in the state, but his value resides with his versatility as a scorer and versatility as an offensive threat overall.  There truly is no weakness in his offensive game.  Hyder can be whatever kind of guard you want, possibly even a starting point guard at the D1 level with time.  His maturation as a hooper continues and his ceiling remains the highest on the team, save perhaps Kollin Claridy Kollin Claridy 6'2" | PG McCallie | 2023 State TN .
Japheth Richmond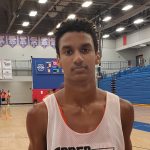 Japheth Richmond 6'6" | PF White County | 2023 State TN , SF, Tennessee Tigers, 2023 (Pictured): I Coach Smith loves to utilize Japheth from the high post.  Richmond is a solid decision-maker and sees the game at a good pace, so this is an apt place to position him.  Also, Richmond is skilled if you need him to pound the ground for 2-3 dribbles en route to the tin.  More than that, and he can get into trouble as the pesky guards start to swarm.  Richmond's size and skill make him a LM D1 dream.
Devaki Garr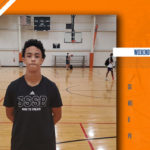 Devaki Garr 6'0" | PG Ensworth | 2023 State TN , 6'0″ G, Tennessee Tigers 2023: Devaki is a volume scorer.  His quickness is wonderful.  The one fear is always, 'is he a point guard? Or, is he a great shooter that happens to be the size of a point guard?'  Evaluations of him in-game are critical to deciphering this question.  Garr is not turnover prone, which would be a redflag.  He is capable of making nice passes, but…again, is it a point guard?  The physical skills are there.  Frankly, this July represents a good time for our evaluation of him to be updated.  It has been too long and he works as hard or harder than everybody in his class on improvement.  Nobody cares more about his game than Devaki.
Kollin Claridy Kollin Claridy 6'2" | PG McCallie | 2023 State TN , 6'2″ PG, Tennessee Tigers, 2023: Kollin earned PrepHoopsTN Combine Co-MVP alongside Jasen Brooks
Jasen Brooks 6'1" | PG Cleveland | 2023 State TN . A day earlier, Kollin thrived at the BCAT 100 event. He is a quick and strong lead guard. Kollin is a great leaper. He can get up over the defender with a two-footed plant.  One subtle aspect of Claridy's dynamism is his alternating 
Keelan Jackson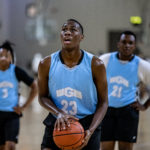 Keelan Jackson 6'4" | SF Tyner Academy | 2023 State TN , 6'5″ SG/SF, Tennessee Tigers, 2023: Keelan is the modern "3-and-D" guy, and for that reason, his value is very high at the college level. It seems every single college wants wings that can A) shoot and B) defend.   Keelan does both.  Shoots at an elite level.  Defends passably. Needs to get lower base and "sit down" better on defense.  He tends to gamble a little too often on that end too.
AJ Nash AJ Nash 6'1" | SG Upperman | 2023 State TN , 6'1″ SG, Tennessee Tigers, 2023: Earned 1st Team All-District for Upperman High. Nash was and is an exceptional catch-and-shoot guy.  If you watch him closely, then you will notice that his left foot is almost always planted and perfectly-directed upon the catch.  He uses the right foot as a timing mechanism, it appears, but the legs are consistent and the motion with his feet/legs is so quiet and simple.  
🚨Official 17U Roster heading into @hoopseen Best of South Live Period. This squad can go‼️ @tigers950 @coles1851 pic.twitter.com/KkcGkHKqLI

— Ryley McClaran (@RyleyMcclaran) July 6, 2022
Keimarian Flair, 6'2″ G, Tennessee Tigers, 2023:
Bradin Nelson (Kentucky-based)
Xavier Fisher, 5'10″ PG, Tennessee Tigers, 2023: Xavier will always keep his man within arm's reach. He is quick enough, and devoted enough defensively, to be around the guy no matter where he goes and how many screens he gets.  
Jack Carter
Jack Carter 6'6" | SG Goodpasture | 2023 State TN , 6'6″ SF/SG, Tennessee Tigers, 2023: State Champion.  Jack provided vital playoff minutes and production for Goodpasture High School the last two years.  His evolution as a hooper ranks in the top tier of the 2023 class, largely because he understood he needed to move away from tweener to skilled wing guard or commit to being an undersized forward at the college level.  He picked wing guard and the skills are there.  What needed catching up, and what still needs development is the lateral mobility and straightline speed.  Carter can get there, but it takes a lot, a lot of work to make a 6-foot-6 body capable of thwarting an ambitious 6-foot-0 guard from getting into the lane.  Most guys of Jack's size can never get there.  Jack is quite close. What he can do at an elite level is rebound, defend the rim against forwards of almost all sizes, and pass from either the low block or high post.