Get 25% off your subscription by entering Knight25 in the coupon code area. Enjoy!
We're continuing a new series today on Prep Hoops Oklahoma! We're nearing the end of travel ball all across the country and team camps wrapped up in June. Players all across Oklahoma got better and in this series, we put a spotlight on some of the prospects in the various classes that have risen their stock with performances at various tournaments or team camp settings. Keep it locked in to Prep Hoops Oklahoma for more stock riser posts throughout the rest of the month and into August!
In Case You Missed It!
Carson Jones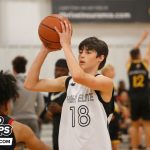 Carson Jones 6'0" | SG Oklahoma Christian | 2024 State OK – 2024 Guard – Oklahoma Christian School
I've written quite a bit about Oklahoma Christian School 2024 guard Carson Jones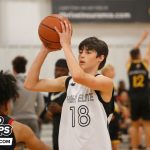 Carson Jones 6'0" | SG Oklahoma Christian | 2024 State OK this offseason and it's pretty simple as to why. Every time I've seen him in person, which has been quite a bit while covering the Prep Hoops Circuit, the 2024 guard has produced and produced on a consistent level. Jones is definitely going to be known as a shooter moving forward as we didn't see very many players that were as consistent from beyond the arc this offseason as Jones was. OCS obviously has a few talented 2024 prospects but Jones is going to be one to watch because he's about as close to automatic as it gets when it comes to shooting the ball. There are very talented and athletic 2024 guards in the state and Jones definitely makes his name in that group for his shooting. However, as he gets more comfortable in creating action for other players and also creating his own shot, he's going to become a much bigger prospect within the class. And we started to see him turning the corner on being able to drive and create his own shot opportunities.
Dylan Golightly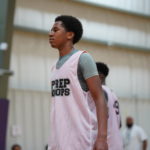 Dylan Golightly 6'4" | SG Jenks | 2023 State OK – 2023 Guard – Jenks
We're really looking forward to seeing how Jenks looks this upcoming high school season after graduating two of the better players in the state with Ben Averitt and Chase Martin. That could open the door for 2023 guard Dylan Golightly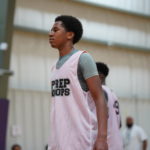 Dylan Golightly 6'4" | SG Jenks | 2023 State OK to become an absolute star for the Trojans. We definitely saw flashes of it last high school season and he's going to be a 2023 prospect to watch because his role is sure to expand this winter. He's a big guard that was more of a defensive stopper last season. It will be interesting to see how his offensive game expands over the next six months. He's a strong ball handler and will be initiating more of the Jenks offense after the graduation of Martin. If the Trojans look to stay in the 6A championship mix, Golightly will be a big reason behind it. We expect for his production to absolutely sky rocket this winter and with that, his recruitment should take off. Physically, he absolutely looks the part as a guard at the next level.
EJ Lewis EJ Lewis 6'1" | PG Owasso | 2023 State OK – 2023 Guard – Owasso
Owasso 2023 guard EJ Lewis EJ Lewis 6'1" | PG Owasso | 2023 State OK was one of the more underrated guards in 6A basketball this last season and we think that he's primed for a very big 2022-2023 high school campaign. The first thing that stood out to us about Lewis was his defense. He's incredibly active on that side of the floor and definitely showed the ability to handle the opponent's top guard throughout the season. Lewis is also an absolute microwave when it came to shooting from beyond the arc. It never took him very long to get heated up and his game was definitely impressive to watch last winter. Throughout the offseason while playing for the Tulsa Hawks, Lewis has continued to improve those skills that we mentioned and thus has raised his stock this offseason. Not enough people talked about Lewis in the absolutely loaded 6A landscape of top guards but we believe they'll include his name going into the new season. Lewis has had an excellent offseason and was very fun to watch during the team camps back in June.
Isaac Williams Isaac Williams CG Putnam City | 2024 State OK – 2024 Guard – Putnam City
This might be the last time we can write about 2024 guard Isaac Williams Isaac Williams CG Putnam City | 2024 State OK on the Oklahoma site. Earlier this week, we saw on social media that Williams would be moving to Texas for the rest of his high school career and he confirmed that to us earlier today. Williams had an outstanding sophomore season with Putnam City and he's been even better this offseason while playing for Team Trae Young. Williams is definitely a 2024 guard on the rise and we're interested to follow his career from afar now with him moving down south to Texas. The first thing that stands out about Williams and his game is the pure athleticism. This is a guard that can do a lot of things with the ball in his hands. The dangerous part about Williams moving forward is he's starting to get more comfortable shooting the rock. As his shooting continues to improve, combining that with his pure athleticism and you're going to have a guard that would have been a top ten guard within the state's 2024 class. We look forward to seeing how he develops in the next two years.
Triston Driver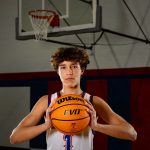 Triston Driver 5'11" | PG Bixby | 2025 State OK – 2025 Guard – Bixby
Most of the articles written about Bixby last high school season centered around 2023 guard Parker Fredrichsen. And there's no doubt that he's one of the top players in the state but coming up this winter, he's not going to be alone. Bixby's 2025 guard Triston Driver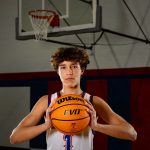 Triston Driver 5'11" | PG Bixby | 2025 State OK has had an outstanding offseason and he's a prospect that is definitely on the rise in our opinion. After seeing what he did in a few of the first Prep Hoops Circuit events this year and talking with other writers, I was very excited to see Driver in person earlier this month. Not only is Driver an excellent shooter and can pull up from just about anywhere and get his shot, but he also has a little playmaker in him. He can create action for other players on the floor and that definitely opened our eyes even more on evaluating him as a prospect moving forward. If he's able to create for others like he did this offseason, combined with the shooting abilities that he showed earlier this spring, Driver has the chance to be a breakout star for the Spartans this upcoming high school season.