Which prospects made their mark on Saturday at the Prep Hoops Circuit's Summer Challenge?
Ryan Duncan — G — Fundamental U — 17U
Duncan looked like he had a point to prove on Saturday morning. He came out of the gates on fire. The guard nailed two threes in the first couple minutes of the ball game. After showing of his shooting ability, Duncan then showed off his passing ability. I thought that Duncan did a phenomenal job of driving into the paint and then kicking the ball out to an open teammate. Time after time, the guard made the right basketball play. 
Kai Rogers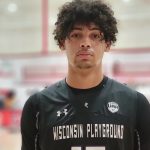 Kai Rogers 6'10" | C Wauwatosa West | 2025 State WI — C — Wisconsin Playground Club — 15U 
It is pretty easy to see why Rogers has snagged a couple of Division One scholarship offers recently. The center is so big and strong. Standing at 6-foot-10, there are not many opposing prospects at the 15U level that will be able to successfully slow down Rogers. He has really good touch around the rim, as he does a good job of finishing layups. 
Jake Hansen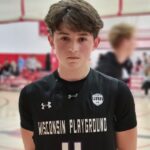 Jake Hansen 6'1" | SG Wauwatosa West | 2025 State WI — SG — Wisconsin Playground Club — 15U 
Hansen has always been a sniper from long range. But now the Wisconsin Playground Club shooting guard has added some new elements to his game. Hansen is now a much better ball handler and scorer in the mid-range. Previously, he served as primarily a catch and shoot player. Now, he is far more complete as a prospect on both ends of the court. If he keeps improving, Hansen could be a name to keep an eye on. 
Cooper LePage Cooper LePage 6'1" | PG Crystal Lake South | 2023 IL — PG — Fundamental U — 17U 
Seeing an elite level floor general in AAU basketball is a rare sight. Typically, prospects are more focused on individual stats as opposed to team success. This is not the case for LePage. The point guard is a pass-first prospect who is always looking to get teammates involved on the offensive end. I really like his ball handling skills 
Matthew Moore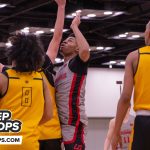 Matthew Moore 6'7" | PF Joliet West | 2023 State IL — PF — Chicago Lockdown — 17U
Moore has all of the necessary tools to become a really, really great player at the next level. Whenever the power forward steps on the floor, you can be certain that he will be able to make a positive impact for his team. On defense, Moore is an outstanding shot-blocker and rim protector. On the other side of the court, the PF has shown an ability to step outside and space the floor. Moore is the full package. College programs should keep a close eye on him this summer. 
Jake Fiegen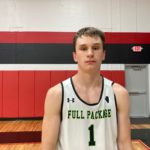 Jake Fiegen 6'3" | SG New Trier | 2023 State IL — SG — Full Package — 17U 
There are not too many high school prospects that can shoot as well as Fiegen. The Full Package shooting guard is a flamethrower from deep. When left open, you can be almost certain that Fiegen is going to knock down the shot. At the next level, he could serve as an elite shooting specialist. 
Demerius Shakur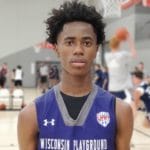 Demerius Shakur 6'2" | CG Martin Luther | 2023 State WI — PG — Wisconsin Playground Club — 17U
No doubt about it: Shakur is improving rapidly. The point guard is not normally known as a big-time scorer. But he showed off his scoring skills in a close loss for Wisconsin Playground Club on Saturday. The point guard was very impressive as a slasher. He tallied 15 total points, 11 of which came in the second half.