June 16-19 I attended the Section-7 tournament at the State Farm Stadium in Glendale, AZ. 
I didn't watch every Arizona team from the state, but I saw a good number of standouts.
Here are 56 players that caught my eye. We have seven reports with Small School Gems, Newcomers, Sleepers and the 2023-2026 standouts.
We move over to the 2023 standouts: (Key word in this group is versatility). 
Tru Washington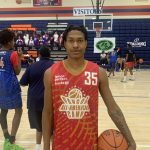 Tru Washington 6'3" | CG AZ Compass Prep | 2023 State #58 Nation AZ Mountain Pointe 
One of the top dogs in AZ showed what he brings to the table on the biggest stage of the summer. You will be hard pressed to find a tougher player. We all know he will get downhill with his left hand but it is his shot that is catching the high major schools eyes. It is so much softer then ever before with more range. He hesitates well like a PG and then bursts by and will consistently score through contact. He also can pull-up from mid to the 3pt line. 
Cody Williams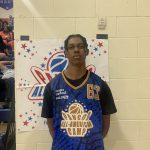 Cody Williams 6'8" | SF Perry | 2023 State #69 Nation AZ Perry 
Williams had a big weekend with some monster games. He can hit threes in bunches when he is rolling. He has very good size and plays a lot of point forward for the Pumas. He can drive and kick it to a shooter plus get to the basket. He is finishing better with his left or right hand. 
Kevin Patton Jr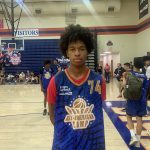 Kevin Patton Jr 6'8" | SF Mountain Pointe | 2023 #291 Nation Mountain Pointe 
At legitimately 6'8, Kevin has the size and length (7'0+ wingspan) of a NBA player. He handles the ball well for his size and has some eye popping traits. His athleticism, shot blocking and passing standout. He can play above the rim, block out of his area and make plays. He hits the three off the catch and will rip through and flush it down. 
Arman Madi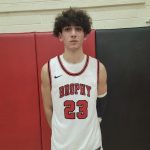 Arman Madi 6'6" | SF Brophy Prep | 2023 State #230 Nation AZ Brophy Prep (Pictured)
A highly skilled wing forward made shots from all levels. He is a versatile scorer as he can post up, hit 3's with range and drive it to the basket. He has the ability to thread the needle in traffic for dimes to teammates in stride. He is taking more pride in his defense and he is one of the better passing forwards in the West that no talks much about. 
Mark Brown Jr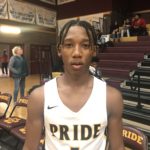 Mark Brown Jr 6'2" | PG Bella Vista Prep | 2023 State AZ Mountain Pointe 
A physical imposing scoring lead guard. He has a tight handle with a strong upper body. He can shoot the three plus he has a polished floater. He is a tough on-ball defender with supreme lateral quickness, good feet, quicker hands and a strength keeping his opponent in front of him. 
Andrew Camacho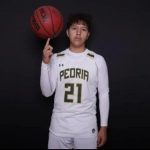 Andrew Camacho 6'1" | CG Peoria | 2023 State AZ Peoria 
Range, range and range. He seems like he keeps extending his range making him even harder to contain. He is crafty, tough and smart. He gives a hard shot fake and gets to the rim and will finish off difficult shots in traffic. He makes smart reads to his teammates and it doesn't hurt him that he may be the literal valedictorian.  
Torin Bosch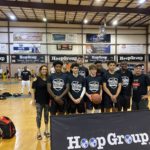 Torin Bosch 6'4" | SF Basha | 2023 State AZ Basha
Another tough player is very versatile for the Bears. He can play some inside and out. He hits the three with more confidence and he will defend multiple positions. He is a good passer, plays a team game with making the extra pass, rebound, hustle and score the ball. The lone senior starter with heavy experience will be vital to the teams success.  
King Turner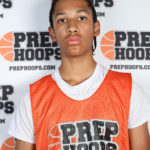 King Turner 6'4" | PG North Canyon | 2023 State AZ North Canyon
Another senior leader is a bigger lead guard with all the confidence from his coach. Down three, he sent the game into over time with a deep-3! He is known for his defensive versatility and passing, but if he is hitting from beyond the arc, he is more difficult to stop. His unusual size and length for a PG makes him more coveted then some.