ROMEOVILLE, Ill. —  The 2022 Prep Hoops Summer Challenge tipped off on Friday from Romeoville Athletic Center. Which prospects caught our attention on night one?
Josiah Calvin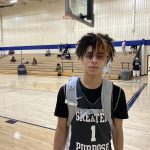 Josiah Calvin 5'10" | PG St. Viator | 2025 IL – 2025  – PG –  Greater Purpose
This young guard can play.  It took a while for Greater Purpose to settle in against Mac Irvin Fire, but the one guy who has never fazed or overwhelmed was Calvin. The 5-foot-9 lead guard attacked pressure with a purpose and hit some big shots early with a hand in his face. Despite facing a fast, long, and athletic team, Calvin was able to break down the defense and  finish against size.  He's very shifty in the mid-range game and gets defenders on their heels with his pull-up game. Thought Calvin looked fearless throughout and had a sense that he knew he belonged with all that Division 1 talent on the floor.
Stevie Clark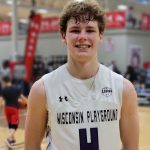 Stevie Clark 6'6" | SF Oshkosh North | 2024 State WI –  2024 – SF –  Wisconsin Playground Club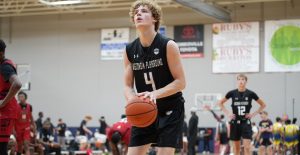 Clark just refused to take his foot off the gas pedal en route to a 29-point effort  in a win over Team Rose.  The 6-foot-5 wing put the game way at the end with a flurry of drives to the rim as PGC picked up the mercy rule victory.  Clark got off to a phenomenal start, scoring or assisting on 14 of the first 16 points for his team. The Oshkosh North star would hit five 3-pointers in the first half alone on six attempts. Early in his career, Clark was more of  a swingman, floor spacer type — making his money as a catch and shoot threat. He's gradually gotten better off the dribble and showed off some new stuff as an isolation scorer, able to shake defenders and pull up in the mid-range or get right to the cup in limited dribbles. Clark was also very aggressive on the glass, winning the lion's share of 50-50 balls off the rim against an athletic opponent.
Davion Hannah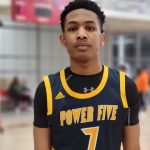 Davion Hannah 6'5" | SF Milwaukee Academy of Science | 2025 State WI – 2025 – SF – Mac Irvin Fire
Hannah went for 24 points as Mac Irvin Fire was able to hold off Greater Purpose. Big fan of this kid. You don't often see superstar scoring ability paired with an all-around play making style and a blue collar mentality. Given  his gifts, Hannah could get away with a lot. However, when he makes a mistake, Hannah gets his butt back on defense and plays even harder. The 6-foot-5 wing  is a likely top 100 prospect in his class. A smooth ball handler and mid-range scorer, Hannah has the ability to size guys up and go to work. Defensively, he can guard 3-4 positions and is a menace in the press for Mac Irvin. Hannah just flies around, causes havoc, and often jump starts  the fast break.
Cole Hansen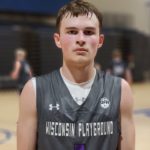 Cole Hansen 6'4" | SG Wauwatosa West | 2024 State WI – 2024 – SG –  Wisconsin Playground Club
Even though a couple of his teammates were scoring in bunches, Hansen had an efficient 18 points in a win over Team Rose. One thing you know about Hansen — if he's open, he's going to let a teammate know. It's subtle and seems like a small thing, but Hansen always does a great job of making himself available and playing off dribble drives, giving his teammates a target and rotating against the grain of the defense.  Hansen is starting to get more athletic too, which is going to help  his stock with Division  1 coaches.  The Wauwatosa West sniper has showed off some added bounce in recent weeks and  looks ready to start playing above the rim.
Mike Jones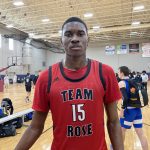 Mike Jones 6'7" | PF Rockford Auburn | 2024 State IL – 2024 – F – Team Rose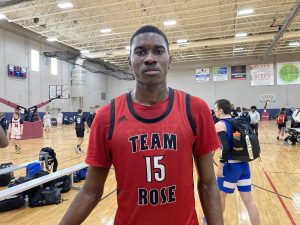 Despite a loss to PGC, thought Jones did a lot of good things and showcased what he could bring to a college program. A top 10 prospect in the state of Illinois, Jones has an intriguing body type and game that could give opponents fits. A 6-foot-6 combo forward that can shoot the ball, post up on the block,  and play in isolation settings, Jones is a handful for a lot of defenders.  You don't see many guys his size hitting 3-pointers off pin down screens or being able to dribble-drive and dump off passes to teammates. If all else fails, Jones can use that body and set up down low. He was quite effective and pinning  and sealing his man in the high-low game to get high percentage shots for his team.
Davin Stoffel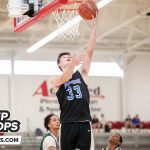 Davin Stoffel 6'5" | PF Mosinee | 2023 State WI – 2023 – PF – Playmakers Wausau
Facing an undersized ABC Young Lions squad, Stoffel had his way inside. The Mosinee product is a physical, bruising post prospect that also has some nifty footwork  down on the block. If Stoffel gets a defender on his butt, it's already over. At 6-foot-7 with a wide, strong base, Stoffel can establish deep post position and pin his man under the rim. Stoffel has some  open floor athleticism as well. In the first half, he ran down a point guard in transition for a chase down block. He also caught an alley-oop off two feet and threw it down.
Kalerick Terrell – 2022 – PG – ABC Young Lions
Terrell played well, despite a loss to the Playmakers on Friday. The Germantown  alum is a pesky defender that can get his hands in and create steals. Terrell was able to turn defense into offense on numerous occasions. A speedy, downhill, attacking guard, Terrell has  a quick first step paired with some blow-by ability on the ball. He's played well at our stuff in the past and could be a sleeper pickup for a small school program.