Day one kicked off with some pretty interesting games in Atlanta. Most of them were a battle of different styles clashing. Here is a recap of the first day at Prep Hoops Live Atlanta! 
Team GRIII – Ball 4 Lyfe United 17U
The first game of the event was very eventful as Ball 4 Lyfe wing Blake Wilson got out to a quick start. At 6'6 he hit a couple of threes and drove to the rim for a dunk as well. His running mates Anquan Boldin and Kamari Haston both disrupted the GRIII guards with pressure. Boldin is a physical athlete who has quick hands and made acrobatic plays at the rim. Haston is a quick guard who used his feet to be quick in passing lanes which led to layups. GRIII kept the game close and even took the lead a few times behind the shooting and toughness of Cooper Farrall. He managed to hit 3 from deep and got a couple of pull ups jumpers as well. Brandon Trilli also helped some with his 13 points from the mid-range and around the rim. 
Basketball Paradise – Minnesota Heat 16U
Another game where styles clashed. Minnesota Heat jumped out to a slight lead with some strong play from athletic forward 6'7 Jonathan Mekonnen. He had some really good moments in the game. Twice he went sky high to block a shot off the backboard only to race down to the other end and be rewarded.  It was energy plays like this that woke up Basketball Paradises Jason Jakstys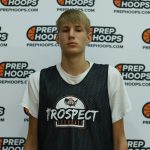 Jason Jakstys 6'10" | C Yorkville | 2024 State #149 Nation IL . He was phenomenal in this game making strong drives to the rim. Jakstys battled hard on the offensive boards and scored everything he got his hands on. On defense he swatted at least 6 shots with three of them becoming jump ball situations. But perhaps the biggest boost was the play of Josh Aniceto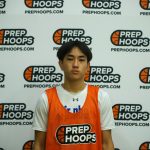 Josh Aniceto 5'9" | PG Bolingbrook | 2024 State IL . Josh started the game finding teammates by getting in the lane and keeping everyone involved.  As the game went along he started to rain shots from three and mixed in a few nifty layups to put his team over the edge. 
The Old Gold – Gateway Knights 17U
This game wasn't close for most of the game. Forward Brady Kuehl led the charge for Gateway as he made several drives to the rim with not much resistance. As he scored 20 points and his team would win by mercy rule. The one bright spot for Old Gold was the defensive presence of Justin Pickens an undersized forward who managed to block several shots.
Flee Club – Minnesota Heat 17U
In what was eventually a loss for Flee Club Jaloni Johnson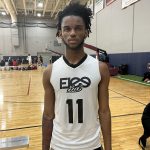 Jaloni Johnson 6'3" | SG Proviso East | 2023 State IL was terrific as a scoring threat hitting 3 threes and driving to the rim the rest of the way scoring off difficult attempts. Another bright spot is the continued growth of big man Joel Brown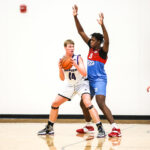 Joel Brown 6'8" | C Marshall | 2023 State IL . As a traditional big man he works hard to establish position in the paint. In doing so he makes it easy to just turn and score. At 6'8 he is a player JUCO's can invest in down the line. 
IBA Illinois Stars – Big Drip Hoops
In what was a slow-paced game out of the gate it would pick up with the backcourt play of Collin Wainscott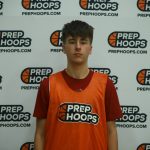 Collin Wainscott 6'2" | PG Marmion Academy | 2023 State IL and Tre Davis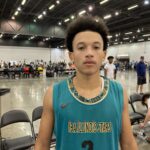 Tre Davis 5'10" | PG Marian Catholic | 2023 State IL .  Wainscott is still playing himself in the conversation of best shooter in the state and Davis is shifty with the ball. He created offense by drawing eyes as he got in the paint looking to distribute to others. Bryce Coleman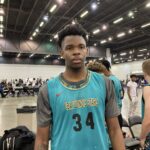 Bryce Coleman 6'6" | SF Proviso East | 2023 State IL also continued to be productive as he hit two three pointers and the rest of the game he scored in the paint finishing strong over taller defenders. For BDH 6'11 Graham Eikenberry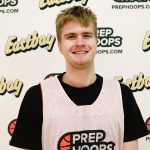 Graham Eikenberry 6'10" | PF Lincoln | 2023 State OR was the standout. He was very patient in the paint did an excellent job at keeping the ball high and scored well over guys. Graham swatted a few shots and cleared at least 11 rebounds this game.  In what was a close game BDH has some positives to look back on.