What shooting guards and small forwards from Illinois made noise in the ATL during the first July live period?  Here are our picks in Prep Hoops Atlanta Live: Top Illinois Wings!
Jake Fiegen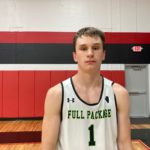 Jake Fiegen 6'3" | SG New Trier | 2023 State IL (Full Package 17U)
Fiegen is one of the best shooters I have ever covered.  Pure catch and shoot he is ridiculous!  Showcased that over the weekend as he went for some big scoring games from beyond the arc, but showed there is more in the bag.  Gritty drives, rebounded very well, and stayed in front of his man on the defensive end.  Mid-majors are crazy for not going on him!
David Sulnius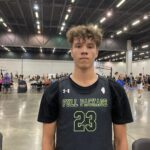 David Sulnius 6'5" | SF Stevenson | 2023 State IL (Full Package 17U)
The Stevenson utility wing had a rock solid outing in Atlanta.  Sound spot up shooter that moves well without the ball, passes well for a wing, and finishes through contact.  Perfect role player!
Josh Wolf (Full Package Select 17U)
This Glenbrook South 6'1" shooting guard burst on our radar with a strong performance on Friday.  The two guard was lights out from the perimeter with his shooting knocking in threes en route to 19 points.  Sleeper small college guy!
Will O'Shields (IBA Illinois Stars Rogers 17U)
O'Shields is a 6'3" wing that brings plus athleticism and the ability to attack downhill with major bounce.  He shot it well in the game we saw hitting a trio from deep.  Effective rebounder from his wing spot on both ends.  Look for him to be a nice contributor for DePaul Prep this season.
Nashawn Holmes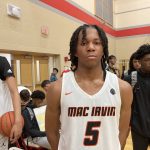 Nashawn Holmes 6'2" | SG St. Rita | 2023 State IL (Mac Irvin Fire 17U)
Holmes showed flashes for the Fire.  The new St. Rita rising senior scoring wing is a bucket getter that brings physicality on the perimeter.  Slashes with strength and gets to the rim with consistency.  Also loves to play in transition where he can go right at opponents.
Jalen Calloway (Mac Irvin Fire 17U)
Thin and rangy two guard that put his name on our radar.  The Lincoln Park wing flashes slick handles and capabilities as a pull up jump shooter from mid-range and three.
Jaloni Johnson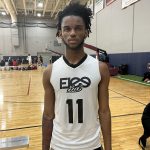 Jaloni Johnson 6'3" | SG Proviso East | 2023 State IL (Flee Club 17U)
Johnson is a wing from Proviso East that can flat out get buckets.  Two guard that has a go to jumper that he drained at a nice clip from two and three.  Also has a knack for getting to the cup weaving through the defense whether it is in the half court or transition.  Active rebounder on the wing and has potential to be a solid defender.
Bryce Coleman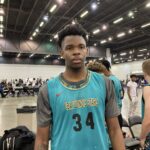 Bryce Coleman 6'6" | SF Proviso East | 2023 State IL (IBA Illinois Stars Johnson 17U)
Coleman is a small forward with excellent size and strength.  Showcased his ability to do damage from all three levels.  Post ups where he can punish wings, rim runs, straight line takes finishing with either hand, and hit a three in a game where we saw him drop 17 points.
Quentin Schaffer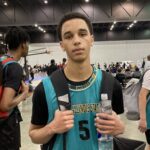 Quentin Schaffer 6'3" | SG Metea Valley | 2023 State IL (IBA Illinois Stars Johnson 17U)
Schaffer made a name for himself with a big start to their game on Sunday knocking in three triples to begin the game.  Sweeping layups and flashed some dribble drive game.  One to track at Metea Valley.