There were several quality performances by post prospects out of Illinois this past weekend during the live period in Atlanta.  These were a few of the best ones in Prep Hoops Atlanta Live: Top Illinois Posts!
Tyler Van Gorp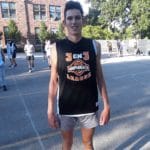 Tyler Van Gorp 6'10" | C New Trier | 2023 State IL (Hoops 4 Health 17U)
TVG had a breakout weekend.  He has been on the radar for quite a long time now, but this was the best we have seen him.  The near seven footer from New Trier has been a pus shot blocker for a while bringing his biggest value on the defensive end which he showed in the ATL.  The production on the offensive end and physicality he played with around the hoop were what stood out the most.  Played really hard rebounding well and finishing in traffic.  Might work his way into a D2 offer or two!
Aidyn Boone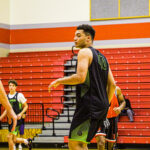 Aidyn Boone 6'5" | C Libertyville | 2023 State IL (Full Package 17U)
Boone had a consistent weekend for Full Package, but the Libertyville power forward was at his best on Friday where he went for 18 points including three triples.  Strong bodied four man that stretches the floor with his shooting, seals well on the block, and can even put it on the deck a little from the mid-post.
Tsvet Sotirov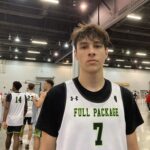 Tsvet Sotirov 6'7" | PF Rolling Meadows | 2023 State IL (Full Package 17U)
Rolling Meadows rising senior that is most effective as a spot up shooter offensively.  He did however show more was in there running the floor and hitting the offensive glass.  Also a nice baseline take.  Very skilled player overall!
Jason Jakstys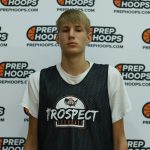 Jason Jakstys 6'10" | C Yorkville | 2024 State #149 Nation IL (Basketball Paradise 16U)
This Yorkville center might be the most undervalued prospect in the 2024 class.  Long and lanky five that is an absolute force on the defensive end blocking shots and switching all over the floor.  He is very skilled offensively with excellent post moves, hook shots, and athleticism on dunks.  Can hit a three and push off a defensive rebound.  Mid-major guy now that has high-major ability.
Malcolm Miller (EG10 16U)
Miller went head to head with the top big on the 16U level at the event and didn't back down.  The Urbana four man is a good offensive rebounder that fought hard all game long on the glass.  Rim runner that gets up and down the floor well.
Joel Brown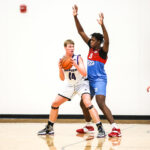 Joel Brown 6'8" | C Marshall | 2023 State IL (Flee Club 17U)
Marshall center that has had a breakout circuit.  Good size and a strong frame at 6'7".  He anchors down low carving out space where he can go to his hook shot, up and unders, or just pound his defender into the rim for a dunk.  Nice hands in traffic and rebounds well in his area.
Tyler Franklin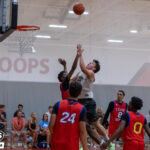 Tyler Franklin 6'6" | PF Cobden | 2023 State IL (Illinois Bears 17U)
This Coben Appleknocker big man is a lefty four that brings toughness and continues to be productive event after event.  Quality post defender and area rebounder.  Offensively he gets up and down the floor and is nifty with his finishes around the hoop.  Can also hit a three when given space.