Prep Hoops Atlanta Live over the weekend featured a ton of top prospects from Illinois.  Here we dive into some of the best floor generals in Prep Hoops Atlanta Live: Top Illinois PGs/Combos!
Jeremiah Fears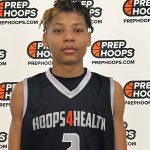 Jeremiah Fears 5'11" | PG Joliet West | 2025 State IL (Hoops 4 Health 17U)
The state's top rising sophomore point guard had a big weekend in Atlanta which included a 42 point outing on Saturday.  This Joliet West star is a dynamic ball handler that is shifty off the bounce getting to his spots where he loves to use floaters or kick to shooters.  Deep range on his pull up jump shot and is so fast with the ball going end to end in transition.
Xavier Sulaiman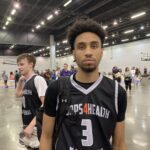 Xavier Sulaiman 6'3" | SG Oak Lawn | 2023 State IL (Hoops 4 Health 17U)
The combo guard played well in two of the three games we caught.  He is probably most effective at this stage playing off the ball where he is a sound three point shooter and loves to make plays above the rim in transition as a finisher.  Bucket getter!
Sonny Williams
Sonny Williams 6'1" | PG International Sports Academy | 2023 OH (Hoops 4 Health 17U)
The Niles Note Dame combo guard has a nice frame with strength and athleticism.  He is at his best when getting downhill squaring his shoulders and getting to the rim.  Weaves in and out of transition for scores at the rim.  Primed for a big senior campaign!
Tizoc Aguirre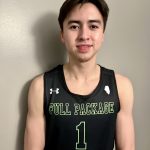 Tizoc Aguirre 5'11" | PG New Trier | 2023 State IL (Full Package Select 17U)
A new name that jumped on our radar was this New Trier 5'10" point guard who is a sound shooting lead guard that passes it with a ton of flair.  Was particularly effective in the drive and kick game.
Colin McDonald (Full Package Select 17U)
The Loyola 6'1" combo guard is a plus shooter that knocked in an array of them in an 18 point outing for Full Package Select on Friday.  More than just a shooter he put together a couple of crafty drives.
Kharon Cotton (IBA Illinois Stars Rogers 17U)
Cotton stands a 6'1" from Nazareth and caught our attention with his straight line drive ability and toughness scoring in the paint.  Capable of sticking his nose in and rebounding from his guard spot.  Good athlete.
Leirre Collier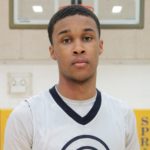 Leirre Collier 6'1" | PG Bloom | 2023 State IL (Chicago Lockdown 17U)
The Marist combo guard has been a consistent shooting threat for Chicago Lockdown during the spring and that continued over to Atlanta.  We saw him hit a variety of threes and pull ups in their game against the Iowa Barnstormers.  Potential as a defender with active hands.
Luke Kinkade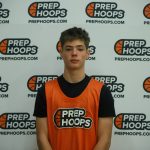 Luke Kinkade 6'0" | PG Neuqua Valley | 2024 State IL (Basketball Paradise 16U)
This 2024 combo guard can really shoot the ball as he hit four threes in the game we saw against the LA Broncos.  What we like about him is a quick and compact release along with being able to provide value as a secondary ball handler while being a plus spot up shooter.
Tre Davis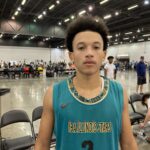 Tre Davis 5'10" | PG Marian Catholic | 2023 State IL (IBA Illinois Stars Johnson 17U)
Marian Catholic point guard that has seen his stock rise over the last year.  Wiry frame that lit it up in the second half on Sunday against the Auburn Raptors.  He ignited their run getting to his spot for pull ups or dishes.  Shifty handles getting to the rim and makes acrobatic layups.  Plus three point shooter that also has active hands on the defensive end at the point of attack.
Grant Fridley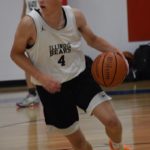 Grant Fridley 6'2" | PG Trenton Wesclin | 2023 State IL (Illinois Bears 17U)
Fridley has already committed to McKendree and the D2 program is getting a good one!  High IQ floor general that makes those around him better.  Bullet passes on the money while also hitting in rhythm jumpers and putting it on the deck going baseline.
Caden Hawkins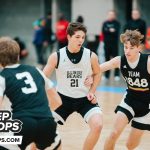 Caden Hawkins 5'11" | PG Carterville | 2023 State IL (Illinois Bears 17U)
Hawkins has grown height wise and his confidence is at an all time high.  He is a plus shooter that drained shot after shot in the game we saw.  Also is starting to show more versatility to his game mixing in transition finishes and scoop shots.
Cade Altadonna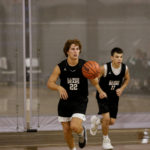 Cade Altadonna 6'0" | PG Highland | 2023 State IL (Illinois Bears 17U)
This lefty combo guard from Highland is a compact guard with a strong build.  He gets to the rim in transition where he has a knack for finishing well through or around contact.  Had one very impressive coast to coast take.  Sound spot up shooter that is best in the catch and shoot!