The start of July brings AAU basketball to the forefront and then closes it out in whirlwind fashion. This weekend in Edmond, PrepHoops' The Finale
Evan Barber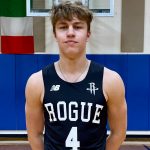 Evan Barber 6'2" | CG Westmoore | 2023 State OK , 6'2 Guard, Oklahoma Rogue
One of the best scorers in Oklahoma was on his "A" game in an early morning victory that saw him nail six three pointers with 22 points. The Westmoore Jaguar is an equal opportunity player with his shooting, as he can get it going off the dribble, a few feet from beyond the arc, along with being a strong catch and shoot option. In a second victory his efficiency wasn't near as high from beyond the arc but he still found ways to help his team by earning double digit trips to the line with a 9-10 performance from the charity stripe. 
Kobe Smith, 6'3 Guard, OZ Elite
Along with backcourt mate BJ Redic, the OZ Elite duo were responsible for providing early morning electricity to the gym.  Even when watching games on nearby courts, the duo kept drawing eyes to games because of raw explosiveness and high motor. Both were two of the best pure athletes in the gym. It showed in acrobatic finishes at the rim and eye popping blocks.  They'll have a tough match up with the Rogue on Sunday morning, which will be a great opportunity to put the highflying duo of OZ Elite even more under the microscope. 
jace breath jace breath 6'6" Epic Home | 2023 OK , 6'6 Wing, Oklahoma Impact 4:13
Breath has made major strides from last November as the promising 2023 wing has grown more into his long lanky frame. Right now the good plays come in flashes, but the the flashes are very promising. The occasional step back three, drive through contact or defensive play shows that the developmental prospect has a collegiate level upside. But then there are other moments where he doesn't play to size. Perhaps the best way to describe Breath was a sequence where he committed a soft turnover, but he then chased down the play and pinned the layup attempt high on the backboard. Few players in Oklahoma have the raw talent to block a shot like that in such an emphatic manner. The progression is a good sign, and it's important that the flashes become sustained moments.
Maddox Mecklenburg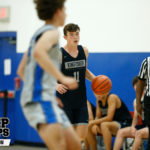 Maddox Mecklenburg 6'2" | CG Kingfisher | 2023 State OK , 6'2 Guard, Oklahoma Rogue
This is a combo scout from watching Mecklenburg with his high school earlier in the week at UCO team camp and now Saturday morning.  With his high school program, the strongly built senior guard often plays the role of playmaker, who keeps the offense flowing with a variety of high level passing. His ability to lead cutters to the rim and make smart decisions keeps the Yellowjackets' tightly running movement based offense humming. With the natural openness of AAU basketball, Mecklenburg is able to show off more of his scoring arsenal.  He shoots it very well as a catch and shoot option from beyond the arc, while also having the size to get inside and score around the rim.