After the two big live periods in June I put together some notes from both Riverside Brookfield and Ridgewood. Also in the article I made a June top ten rankings based off the games I watched. 
Twin Towers 
After two really good weekends I noticed one trend that is starting to form in the state of Illinois and that's the use of two post players. Simeon has the Rubin twins Miles Rubin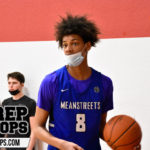 Miles Rubin 6'7" | PF Simeon | 2023 State #243 Nation IL and Wesley Rubin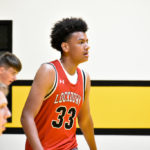 Wesley Rubin 6'7" | PF Simeon | 2023 State IL . Both versatile players who just recently committed to Loyola. Miles is very athletic around the basket and Wesley is very skilled with his back to the basket.  St. Rita has the 2024 top two players in James Brown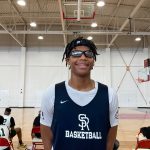 James Brown 6'9" | C St. Rita | 2024 State IL and Morez Johnson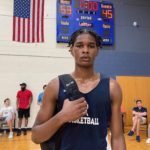 Morez Johnson 6'9" | PF St. Rita | 2024 State IL . Both are strong in the post. Brown has a lefty hook that's tough to stop and Johnson can score many ways from the elbow area and around the rim. Work well in the high/low game. Bolingbrook has the duo of Donovan Younger and Aries Hull. Younger is a wiry big man that is very mobile around the rim. Hull is a lanky but tough minded player who battles hard on the boards and in the paint. Watching most of these teams over the past two weekends has shown me that in the high school game the big man is still a commodity to some teams. 
Top Shooters in the State
There were three guys who stood out in this category to me that were clearly head and shoulders over the rest of the players these past two weekends. Jake Fiegen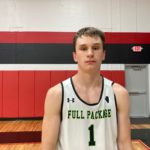 Jake Fiegen 6'3" | SG New Trier | 2023 State IL (New Trier), Arius Alijosius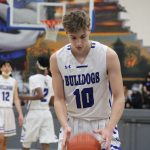 Arius Alijosius 6'4" | SG Riverside Brookfield | 2023 State IL (Riverside Brookfield) and Nik Polonowski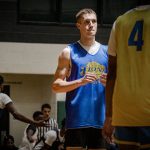 Nik Polonowski 6'6" | SF Lyons | 2023 State IL (Lyons). One thing about all three of these shooters I've watched them score off catch and shoot plays, some on the move with defenders running at them, and off screens.  Fiegen is the more physical shooter that can take a hit and still knock shots down. Arius can get his shot off without needing much space. And Polonowski has the size that college coaches like for specialist.  All three of these players are for sure scholarship guys. 
Playmakers
This list wasn't as hard to do as three guys stood out to me as the best set up guys for their teams. Dalen Davis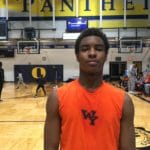 Dalen Davis 6'0" | PG Whitney Young | 2023 State #167 Nation IL (Whitney Young), Brock Harding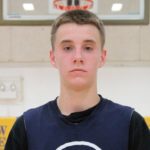 Brock Harding 6'0" | PG Moline | 2023 State #222 Nation IL (Moline), and Jalen Griffith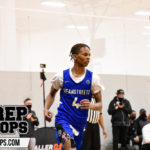 Jalen Griffith 5'10" | PG Simeon | 2023 State IL (Simeon). Harding is an Iowa commit who is an electric guard that is always looking to make a play. He is always in attack mode which garners a lot of attention to himself. Davis is a bigger guard who gets to his spot to make plays. He draws a lot of attention to set up his teammates for easy buckets. Griffith is a spark plug guard that has many weapons around him. He gets in the lane to create kick out opportunities or lobs for more athletic teammates. That's why these guards are all top 5 at their position. 
Scoring Threats 
Four guys made the list of best scorers in the live periods. Bryce Heard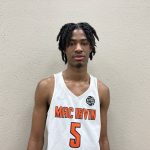 Bryce Heard 6'5" | SG Montverde | 2025 FL (Kenwood), Asa Thomas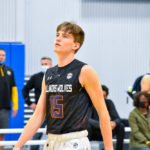 Asa Thomas 6'6" | SF Lake Forest | 2023 State #91 Nation IL (Lake Forest), Ahmad Henderson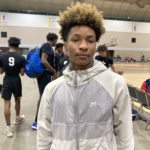 Ahmad Henderson 5'10" | PG Brother Rice | 2023 State #291 Nation IL (Brother Rice), and Mehki Cooper (Bolingbrook). Bryce was giving the green light with top player Ames not in action for both weekends. Heard didn't see a shot he didn't like and often he didn't miss it. As a sophomore he is just wired to score the ball. As his knowledge of the game grows the more dangerous he will become.  Thomas is a combination of talent and size. He is able to take advantage of mismatches often and has unlimited range on his shot. Henderson is a dynamic scoring guard who also has deep range on his shot. He is another small guard who can make plays for others but is at his best when scoring. What I like most about him is that in big games he doesn't shy away from the spotlight. Cooper is the one player that opened my eyes with how well he scores. Mekhi is a terror from mid-range and from deep. He had a couple of games where he went on his own scoring runs. These 4 players will have big seasons if they continue play at this pace when we get to November.  
I put a list together from the games I watched of the Top 10 2023 performers from both live periods at Riverside Brookfield & Ridgewood.