The Class of 2023 is coming into its senior year and there are a lot of players that have game or the resources to play at the next level that might not have the exposure that they need to be seen. Here are a few players that need to be looked at as prospect that can play at the next level.
6'8 F Luke Sorenson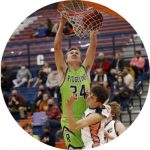 Luke Sorenson 6'7" | SF Ridgeline | 2023 State UT || Ridgeline High School || 2023 ||
Really like this kid. He will be a steal in the class as he is just a beast in the open floor and in traffic. Luke can rise up and finish with the best of them. He should have a huge year over at Ridgeline making them a legit contender in 4A. Not afraid of a challenge and he bangs with the bigs using his physical presence. Could be a D2 or NAIA kid, but would also be a D3 steal. NwAC should be all over this kid as he fits that run and gun style that most teams at that level like to run.
6'3 SG Braden Flinders Braden Flinders 6'2" | CG Fremont | 2023 State UT || Fremont High School || 2023 ||
Last season he was solid but he should be taking a major leap from putting up 7 and 5 to possibly 12 and 7 as he has become a better shooter and all-around player. With a few players creating on the perimeter and in the post he could really up those long balls that will help him and his team win games.
5'11 Booz Mberwa Booz Mberwa 5'10" | PG Granger | 2023 State UT || Granger High School || 2023 ||
A lot of potential for this guard who showed some flashes last season. Could hit that consistent button and really put up 15+ a game. Although undersized for an off-guard he plays with a good motor and has some skills that can really help him hit many stats that can get him some looks. If he shoots the ball better next season he could help granger move in the right direction.
6'1 G Carter Semrow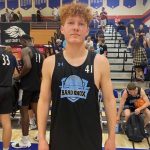 Carter Semrow 6'1" | PG Syracuse | 2023 State UT || Syracuse High School || 2023 ||
Carter gets up and down the floor and he makes some great passes to open players as he doesn't hang on to the ball and that IQ is on full display. Really like the way he can shot fake and get to a comfortable spot with fluid footwork and great form. One of the better passing guards you might have not heard of.
5'11 PG Eduardo Badillo || West Wendover High School || 2023 ||
This kid gets it going right away on the defensive end as he displays major quickness as he gets in lanes and disrupts. He is an ideal downhill player that can switch gears and get in the lane. In the open floor he is a problem because he is quick and he will take what he is given using angles and change of directions in the lane. He knows how to space the floor and he can also fill it up from deep. He is an all-around threat as he can score in the perimeter but his bread and butter is carving through the defense in the paint.