I finish my coverage from Oak Hills with a look at the top performing sophomores. While the majority of the talent I evaluated was in the Junior and Senior classes, there were still several underclassmen that performed well and deserve recognition.
Toby Nwokolo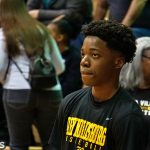 Toby Nwokolo 6'4" | PF Reynoldsburg | 2025 State OH  Reynoldsburg
Nwokolo again impressed for the Raiders in a great game with C-J on Thursday. As I've previously stated, Nwokolo has good size on the perimeter as he is very much a big guard. Spaced the floor and hit contested shots on the perimeter. Gritty guy with a lot of passion in his game. Nwokolo lacks the perimeter speed in other guards and doesn't have the footwork I like to see in SGs. But he brings a good arsenal that can be further developed and frankly can attract collegiate attention.
JonAnthony Hall Fishers
Hall impressed me in two great games against Elder and Lima Senior. The 6-foot-2 guard excelled on both ends of the floor getting a few scoop-and-scores off pick pocketing defenders. Offensively is very calm and collected at the Point. Possesses great footwork and showed some vertical game. Certainly a D1/D2 caliber prospect out of Indiana.
Nathan Baker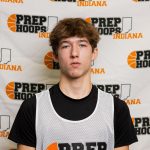 Nathan Baker 6'6" | PF Fishers | 2025 State IN  Fishers
Baker was another quality player with a lot of upside and room for growth in his game. Already standing 6-foot-5, Baker has a good base frame to work with. Has a very scrappy style of play and got after it on the offensive end of the floor. His growth will need to come with his finessing and play around the rim, especially if he grows into a PF. Baker does have some maturity to his game and shows potential to build off of it and develop further. 
Jagger Hutchins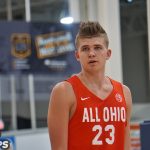 Jagger Hutchins 6'5" | PF Lima Sr | 2025 State OH  Lima Senior
Hutchins was a name I didn't see much of with All Ohio Red in the Spring. But his role with Lima allowed me to really evaluate him in a tougher setting against FIshers. Hutchins brings some defensive tenacity to the Spartans team. Showed potential to be a versatile defender both on the perimeter and on the block. Possesses great size. My area of concern is mainly focused on the offensive end simply because I did not see enough of his game to know where Hutchins falls. Lima has several offensive weapons across the board which makes me wonder if Hutchins' role will be more focused on distributing or rebounding vs scoring.
Jekel Cotton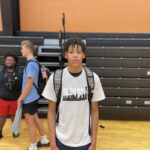 Jekel Cotton 6'4" | SF Lima Sr | 2025 State OH  Lima Senior
Cotton continues to impress me even after a 40+ point performance in the Spring. Now with Lima, Cotton's role remains the same as All Ohio Select; deadeye shooting from the perimeter. Cotton drilled two 3's early in the matchup with Fishers and again showed great mechanics and flow to his shooting form. Cotton stretches the floor at 6-foot-5 and can create some problems on the wings with mismatches. Cotton is looking like a potential sleeper at the LM level, especially as he fills his already lengthy frame.