While in Orlando, FL, at the #NBPATop100, I had the opportunity to stop by the NextGen60 Camp, which showcased some of the top younger talents in the country. It was a great event put on by Scott Golden and will undoubtedly continue to grow. Here are a few of my immediate takeaways…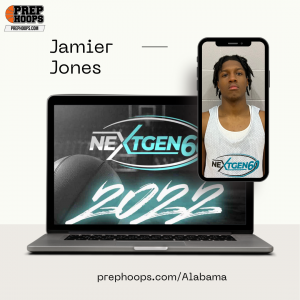 Jamier Jones (6'6/SF/2025)
School: IMG Academy
Instagram: _thejamierjones
Twitter: @thejamierjones
The #7-ranked player in the ESPN's 2025 Top 25 showed every reason why he is ranked that high. He is a highly versatile weapon on the offensive end of the court whose production could be felt in many different areas. He shot the ball well, facilitated by getting others involved, showed off his passing skills, handled it well in both the half-court and in transition, and the list goes on. I have put ink on him before, and to see his development from the last time I saw him, shows that he has been in the lab.
He rebounded well as his length helped him secure boards at a high rate.
If you have been around the game in the SE region, you know he is an athletic wing with positional size and a nice skill-set. I would like to see him continue to get better with his perimeter shot and moving without the ball. As long as he stays in the lab and continues to improve, he will continue on the trajectory he is on and will be a highly sought out player in the 2025 class.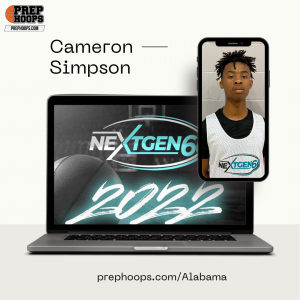 Cameron Simpson (6'6/SG/2024) 
School: Oak Ridge
Instagram: Cameronsimpson23
Twitter: @Camsimpson_23
Cameron is a lengthy wing that was amazing from behind the arc. He shot the ball exceptionally well and was one of the best shooters I saw at the camp. He shot it out of c&s opportunities, and he was really impressive in transition with his ability to stop on a dime and knock down the long ball.
As the great Dick Vitale says, 'He can stroke the rock BABY!!!'
His burst off the bounce isn't the most explosive, but he can get by defenders with his first step, and when he gets in the paint, he finishes well. He will be the point of emphasis for defenses to be run off the line, forcing him to create his shot off the bounce, which leads to his need for continued working on his handles and finishing moves in the paint. At 6'6, he has positional size but has to dedicate himself to the weight room, working on getting stronger.
He currently holds an offer from: UCF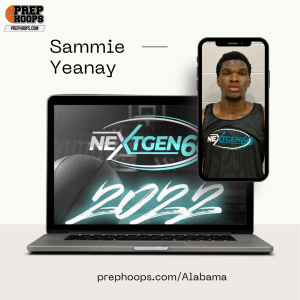 Sammie Yeanay  (6'7/SF/2024) 
School: The Rock School
Instagram: sammieyeanay
Twitter: @Sammieyeanay_1
Sammie was one of the most physical players in the camp. He has a tremendous physical profile and is strong in the upper body. He has offensive versatility, handles that can be more polished, the ability to knock down the trey ball, and freaky athleticism. He put a lot of pressure on the defense as he was just too strong and explosive to be contained by one defender, which forced help when he attacked, leading to good decisions being made with the ball.
He plays above the rim and finishes with power and, at times, seems like he did not even feel the contact in the paint.
As mentioned earlier, he has to continue working on his handles and getting better with his all-around perimeter game. He isn't a roll-of-the-dice caliber player; as you know you are getting an elite athlete when it comes to Sammie, and if he continues to work on fixing the need improvement areas of his game, his stock is just going to continue to rise.
He currently holds offers from: Jacksonville University, Alabama, Texas Tech, UNF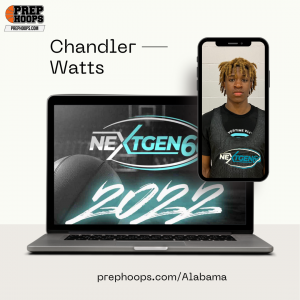 Chandler Watts (6'5/SG/2024) 
School: Windermere Prep
Instagram: L0v3chan
Twitter: @Chandler_watts1
Chandler was absolutely dynamic and put on a highlight show for all in attendance. He is an athletic guard that is explosive off the bounce, at the rim, and is an excellent finisher at and above the rim. He is quick off the floor, which makes him extremely dangerous when he is out in transition or slashing through the defense in the half-court setting. He has blow-by speed and is at his best, taking the ball into the lane and using his quickness and leaping ability to score in the paint.
He scored pretty much at will and got wherever he wanted on the court.
He was one of the alpha males in the camp that everyone seemed to just gravitate to, and that type of personality can go a long way as he continues his basketball journey. This was my first time seeing Chandler, so I may have questions about certain aspects of his game that others who have seen him and been around him may not. I still need to see a more consistent and productive shot from beyond the arc, as well as the type of production he provides with his middle game.     
He currently holds an offer from: FIU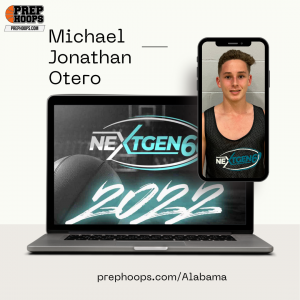 Michael Jonathan Otero (5'8/PG/2026) 
School: Rockledge HS
Instagram: michael_otero_14
Twitter: N/A
Michael stood out by what he does and does exceptionally well, which is his ability to shoot the trey ball. He has deep range with a smooth form. He still can improve on getting his shot off faster, but make no mistake about it; he punished the defense with his c&s production as he was a recipient of shootable passes in both the half-court and in transition. He is a player who must be accounted for the moment he steps across the half-court. It is difficult to help off of him as you put your team in a compromising situation when any space is given that he can get his shot off, and he is very efficient even when the defender is closing out hard.
As Michael continues to work on his cutting, coming off screens, and reading the defense, it is going to make him even more of a threat.
It is vital that he continues working on his handles as teams will run him off the line, and he will need to be able to create his shot off the bounce. I will be looking to see the type of development over the next year that Michael makes in his game as he is just an incoming freshman this fall that is on his way to being a dynamic outside shooter.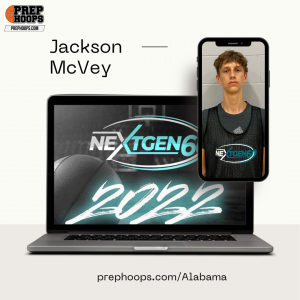 Jackson McVey (6'11/C/2025) 
School: Gilmer High School
Instagram: jacksonmcvey40
Twitter: @jacksonmcvey40
Jackson is a long and lengthy player that caught my eye at first because of his size. From there, it took a minute for him to give me a reason to write in my notebook, but as games went on, he showed low-block fundamentals and the ability to knock down the 15-17 foot jumper.
He has mobility that helps him trace missed shots and cover the lane on defense.
Jackson is a finesse player that lacks the dog mentality. He has to get tougher and more physical, and if he can improve in these areas, it will make him a tough cover as he can already score with his back to the basket and with the mid-range. He is a finesse player who has to fall in love with the weight room, as he has to get stronger in his upper body and legs.