The NBPA Top 100 Camp is always one of the most prestigious events of the summer. Over the last three days in Orlando, Florida 100 of the countries best prospects went head-to-head in front of college coaches and professional scouts alike. There were six total Indiana prospects taking part in the event, three from IHSAA schools and three more from La Lumiere. Let's take a look at how the Hoosier state prospects did against the other best players the country has to offer.
Flory Bidunga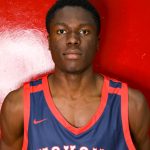 Flory Bidunga 6'10" | C Kokomo | 2024 State IN (Kokomo H.S. 2024): 8.7 ppg, 5.8 rpg, 1.5 bpg, 25-33 FG (75.8%)
Bidunga switched teams on Friday in the tournament to play one more game and went scoreless which pulled his averages down. However, the 6'10″ center was one of the most popular names creating buzz in Orlando over the last three days. Recently ranked #6 overall in the Class of 2024 by Rivals, Bidunga proved that he belongs with the best of the best in the country. His efficiency at the rim is so advanced for a prospect at his age.
Xavier Booker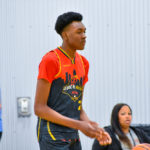 Xavier Booker 6'11" | PF Cathedral | 2023 State #111 Nation IN (Cathedral H.S. 2023): 3 ppg, 3.2 rpg, 0.8 bpg, 5-14 FG, 1-7 3PT
It was a quiet few days for the 5-star, Top 10 forward in Orlando. However, after earning MVP honors at the Pangos All-American Camp versus similar competition there is no reason to worry. Events like these can be a little random in terms of who gets shots and asserts themselves in the offense. Don't read too much into Booker's numbers. He is still one of the most talented, gifted prospects in the country.
Myles J. Colvin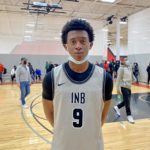 Myles J. Colvin 6'5" | SG Heritage Christian | 2023 State #63 Nation IN (Heritage Christian 2023): 6.4 ppg, 11-34 FG, 5-15 3PT
Colvin, a Purdue commit, had an excellent first game in Orlando going for 15 points including 3-3 shooting from beyond the arc. He also finished the camp with a 12-point performance on Friday afternoon. In between, the 6'5″ athlete simply didn't get a ton of opportunities to score. Again, those sort of things happen in events like this. Colvin is young for his grade, but his supreme athleticism and shooting ability carry him even against the best of the best.