Prep Hoops Missouri takes a look at some more New Names of young players in the Classes of 2024 and 2025 who have caught our eye during the month of July.
Blake Winterberg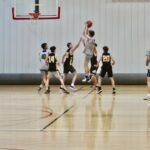 Blake Winterberg 6'1" | SG Fair Grove | 2024 MO (All Missouri Attack 16U): A 6'1″ 2024 guard from Fair Grove who is a very good slasher in the lane and impressive finisher inside. He plays well without the ball as he makes solid cuts that are always at full speed to keep the offense flowing. He is also an excellent passer who is very unselfish. The ball doesn't stick as he keeps it moving. He also plays the passing lanes well on the defensive end.
Holton Keith (Missouri 66ers 17U): A 6'0″ 2025 point guard from Webb City who was playing up at the 17U level and he was very impressive in the games that I watched. His smooth handles and shifty moves off the dribble enabled him to touch the paint any time he felt like it. He operates the pick and roll very well in all facets as he can drop the nice dime or create a bucket for himself. He is also a solid defender with good length and tenacity.
Cameron Green (KC Spurs White 16U): A 5'11" 2024 point guard from Grandview who has an old-school feel to his game. He plays at his own pace to get to his spots without ever being rushed or sped up. He can create for himself by backing down defenders to get to the mid-range area, where he is especially effective at knocking down those 15 foot jumpers.
Drew Wilson (KC Sixers Supreme 15U): A 6'2″ 2025 guard from Kearney who is an excellent all-purpose player with his versatility and high basketball IQ. He attacks the basket well with his slashing ability and will get buckets on his strong takes. He will also post up and get a basket inside and he plays well without the ball with his movement. He is also a good rebounder and versatile defender.
Derrick McGee (KC Runnin' Rebels 16U): A 5'8″ 2024 point guard from Kaufman who has good quickness and solid handles. He runs the pick and roll very effectively as he can turn the corner to get downhill or drop a nice pocket pass to the big as he rolls down towards the bucket. He can create a shot when he needs to and he can knock down the 3-pointer.
Alijah Bussey (Mid Mo Elite 2026): An athletic 6'1″ 2026 wing who is a bonafide slashing threat with excellent finishing ability around the rim. He has a good burst to get by defenders on the drive and he can get offensive rebounds and putbacks with his quick jump. He can also go into the low post and take advantage of his strength to score against smaller defenders.
Thomas Sargent (VWBA-YOBO 15U): A 6'4″ 2025 forward from Park Hill South who is very good at doing the blue collar things on the court. He plays a physical game inside as an active rebounder and shot blocker. He is a good screener who is more than willing to get his teammates open in an unselfish manner. When he gets his touches in the paint, he is a very solid finisher.