Part 1 in a series looking at top grassroots performers from the past season. We'll start with the home circuit. But I hope to branch out to other grade levels and other circuits I was fortunate enough to cover in person.
If you have been following along this summer. None of these names should be new. But their special performances deserve at least one more mention.
Class of 2023
Amari Allen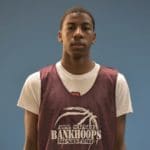 Amari Allen 6'2" | PG Hamtramck | 2023 State MI 6-3 Hamtramck (pictured) Allen did most his damage with CTM Select during the summer period. The home state Rumble in the Rapids and Chicago Summer Challenge were the standout events that I watched in person. The stocky guard resembles a fullback. That is until the ball tips. Then you become aware of skill behind the physique. A straight baller who scores in a wide variety of ways. One of his main routes is quickly turning defense into offense in transition. A dogged on ball defender. Long arms help him simply engulf ball handlers out on the perimeter. Fearless in going to the basket and you do not want to get in his way. Cemented his status as a top 15 player in the state of Michigan

Hutch Ward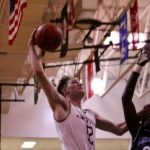 Hutch Ward 6'8" | PF Kalamazoo Central | 2023 State MI 6-8 Kalamazoo Central His AAU coach coined the phrase "the Hutch Ward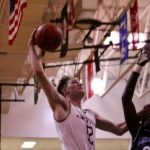 Hutch Ward 6'8" | PF Kalamazoo Central | 2023 State MI Explosion". And that is a pretty accurate description of this post's play on the Prep Hoops Circuit. Started off with a bang at The Stage live period event in Indianapolis in April. Kept going strong all the way through to the Grit Region Finals back in the same city just a few weeks ago. A small college coach new to the state asked me to give him a succinct description of his game. I tried to not over complicate it. He is tall and simply never seems to miss a shot. To get more specific he is the prototype of a modern stretch four. Has a strong athletic frame and is capable of banging down low. But the shooting is what separates him from other bigs. Smooth effortless release from deep with little wasted motion. One of the better shooters I saw on the circuit regardless of position. But doesn't doesn't just float out on the perimeter. Athletic enough to play above the rim and out in transition. Athleticism also makes him a good defender. Should form a potent duo with Michigan Cager teammate Terrance Jones for the Maroon Giants in his senior campaign. Already holding a handful of Division 2 offers. That number could grow in number and stature in the coming year. 
Evan Haroldson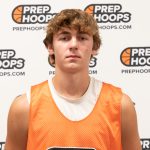 Evan Haroldson 6'4" | SF Dexter | 2023 State MI 6-3 Dexter Setting up Ward for a lot of those open perimeter looks was this Ann Arbor area prospect. The two main strengths of Haroldson's game are a deft deep shooting touch. And advanced court vision with the corresponding passing ability. While the passing is impressive and sometimes flashy. He is not a true point guard at this point of his development. But make no mistake. That does not mean he has a lack of playmaking ability. Simply makes things happen both in the half court and transition situations. Has a textbook jump shot that he can get off easily due to elevation. Earned a opportunity as a preferred walk on at Division 2 Lake Superior St after the spring period. 
Omar Suleiman Omar Suleiman 6'5" | SF Canton | 2023 State MI 6-5 Canton Staying in the Ann Arbor area Suleiman had an excellent summer running with Top 1 Basketball Club. A "jack of all trades" type player. Consequently fits the mold of modern positionless basketball well. I think he will settle in at the four at the next level. His long arms and above the rim athleticism should allow him to make up for the lack of ideal height for the position. A highlight reel level finisher at the rim. Long strider who covers ground easily. With former teammate Cole Vickers moving onto Ferris St. Should be in line for an increased role in his senior season. Earned a scholarship offer from Lake Superior St after the spring period. The Lakers have had good success recently with Ann Arbor area players. As this listing shows they are looking to keep that pipeline going. 
Trey Kolakovich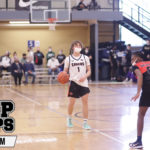 Trey Kolakovich 5'10" | CG Croswell-Lexington | 2023 State MI 5-10 Croswell-Lexington The Thumb region version of RJ Taylor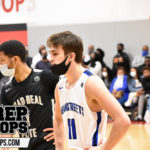 RJ Taylor 5'11" | PG Grand Blanc | 2023 State #113 Nation MI . Kolakovich is heady pass first point guard. A consummate floor general who has everything you would want in point guard except elite size. Really operates well in the pick and roll. Often with regular season teammate Donovan McDonald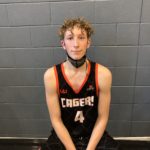 Donovan McDonald 6'7" | PF Croswell-Lexington | 2023 State MI . Had some eye popping assist totals playing with Ohio based Hopson Elite. Really showed gains in his overall athleticism in the past year. Is never going to be a highlight reel dunker. But is now able to make plays at rim as a finisher. Has a ton of winning intangibles. The proof is in the record. Has won a lot of games in both the grassroots and regular seasons over the last three years. 
Class of 2024
Jake Stephens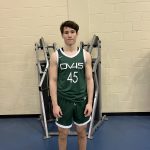 Jake Stephens 6'3" | CG Chelsea | 2024 State MI 6-3 Chelsea Denzel Valentine made some minor waves when he decided he wanted to keep his #45 after being drafted by the Bulls. It not exactly equivalent. But I would love have been at the tryout for Denzel's DV45 AAU squad when Stephens rolled in and said he was wearing #45. Who knows maybe it wasn't his idea? But he has a very Denzel-like game. In that he can really impact the game without scoring. Sees the court well and is a next level passer. Not going to overwhelm you athletically but makes up for it by his court awareness and understanding of angles. Knows what do when he gets a defender on his hip. Strong two footed jumper who is a creative finisher at the rim. Another Ann Arbor area player with an offer from Lake Superior St. But Stephens has two years to keep growing his game. If he can increase his athletic explosiveness. His full potential could really take off. The rest of his game is already college ready. 
Cameron Regnerus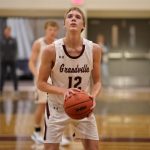 Cameron Regnerus 6'7" | PF Grandville | 2024 State MI 6-8 Grandville Enough of the Ann Arbor area forwards. Regnerus is very long and lanky West Michigan post prospect. Simply put the best shot blocker I saw all summer. That's regardless of age, region, or even circuit level. Plays with a well schooled and uncanny level or verticality. Doesn't pick up silly or over aggressive fouls. Playing with West Michigan Future had success both on and off the Prep Hoops Circuit. Undefeated runs in Columbus and The Last Dance in Chicago were sparked by his defensive prowess. But also led his squad to a semi final appearance in the deep Brawl for the Ball event in Grand Rapids. Offensively doesn't stray too far from the basket at this point of his development. That's not a bad thing. Has good hands and explodes quickly to the basket. Is a powerful finisher at the rim. Had several impressive dunks that you would not expect from his frame. Recently picked up an offer from Grand Valley St. The arrow is pointed way up after his play this spring/summer.,