There is so much action to cover from day two at the Las Vegas Live event. We're bouncing around to cover everything from 14U to 17U, focusing on the standout players and how they shaped the games. Take a look at some of the highlights from the first half of day two.
(17U) North City 2023 vs NLPB Big Cats (55-57)
Sylas Williams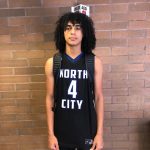 Sylas Williams 6'6" | SF Jackson | 2023 State WA is that dude. He continues to improve and expand his game, perfecting the things he already does so well while working to improve across the board. Always a force inside with superior rebounding ability, Williams' three-point shot is starting to look pretty nice too. Stevie Kuhnle Jr. isn't too bad from distance either. The sharpshooter brought the energy early in the morning with a readiness on the catch that gets his shot out quick. They put on for North City in a close game that went the other way.
(16U) ECBA Baskett vs Pro Level Titans (55-65)
It was a tough game for ECBA Baskett but their players fought through when shots wouldn't fall and were able to use that perseverance to make it close at the end. ECBA's Kane Wood is a strong wing who affected the game with his toughness, doing work on the glass and adding versatility defensively. Their game was balanced out by the long-range shooting of Trey Baskett and the shifty inside-out attack by Jalen Dollar. Dollar is great at working the drive and dish, drawing in multiple defenders by consistently beating his man off the dribble. He was huge in making a late push against the Pro Level Titans.
(14U) FOH 2026 vs Dallas Showtyme 2026 Future UAA (72-45)
This young FOH squad has some real hoopers on it. The pace starts with Jerome Toby and his ability to keep the dribble alive. He knows how to set up defenders and have them turning in circles. Then the big boys showed up inside; Colton Adams and Jack Sievers are two strong, athletic finishers who were on the end of almost every fast break. Not to be outdone, Mateo Cummings was splashing from long-range, looking like a pure shooter, and hitting from all kinds of deliveries; step backs, contested, catch and shoot, off the dribble, it didn't matter. They took it to the opposing team for a convincing win.
(15U) Team Dean 1 vs Team Sims (53-54)
This one has to win for the longest game of the day. I lost count after the second overtime but it went either four or five OTs, with kids from both teams gritting it out in the one-minute overtime bursts. Team Dean started off sluggish but the hot shooting from Beckham King Beckham King 6'5" | SG Seattle Prep | 2025 State WA kept them hanging in it until the rest of the team started playing their game. Jackson Trotter provided good minutes, getting to the hoop and playing tough, aggressive defense without fouling even when switched onto bigger players. However, it was Rayshaun Connor that came up clutch again. The last time I watched this team Connor came through with a couple of clutch shots down the stretch, and yesterday he did the same, sinking free throws to tie the game and force the first overtime.
(17U) EBC Elite vs Team Hard Work (55-54)
Another grinder was in the works at Spring Valley High School between EBC Elite and Team Hard Work. It came down to the final point when Sayerr Senghore nailed his final two free throws to put EBC ahead. Up to that point, Sanghore had been a force inside with his length and quickness, showing great feel for the defense around him and excellent ball skills. There were two guards who stood out as well. Trevontay Smith started the show early with his high-level athleticism. He plays a smart all-around game with good aggression but understands when to take chances. Later on, it became the Jerry Petty show. The shifty guard was looking to make things happen as time ran short, hitting threes and drawing multiple defenders on his drives. He's a long guard that can cover a lot of ground with his dribble and was a huge reason EBC Elite closed the gap and ended the game on top.
(16U) Jdub Club vs P.U.S.H. Athletics Academy (73-27)
The balance of this Jdub Club squad was on display in the afternoon slot. They have great length inside with Zaevion Gladney and Kellen Walford. Both bigs are highly skilled with the ball, showing an ability to handle the rock, make timely passes, and most importantly have an aggressive mindset. Walford showed he can step out and be a threat from distance or drive to the hoop. And Gladney was putting move after move on his defenders, working a lot with his back to the hoop. The guard play was stellar too, with Jordan Queral and Jaden Morales leading the way. They have similar games, control the pace and handle the ball well. Queral looks to push the pace and is a slippery player going to the rim. Morales plays a more controlled and methodical game, though the end result is often the same.