The Hustle Region Finals is behind us. 3 days 15-17U teams battled it out at AIM Sportsplex in Seal Beach/CA.  
I primarily watched the 16 and 17U divisions plus some 15U games.
Here were some of the top 2025-26 players I viewed:
DJ Stickman SF 5'11 2025 Clovis West/CA (Swoosh Elite 2025) (Pictured)
A long and surprisingly athletic wing rising soph is impressive. The lefty was seemingly everywhere in the 15U Finals. He earned one of the MVP's of the division with his stellar play. He defends every position and rebounds, scores, he is a good passer, collect steals, deflections, block shots better then anyone you probably will see who is below six-foot. His energy he brings to the game is contagious.
Jace Kellogg CG 5'9 2026 Clovis West/CA (Swoosh Elite 2025)
A very skilled scoring lead guard who has a strap. He has a pure stroke from the three point line that looks good every attempt. He squares himself extremely fast and releases. He is deceptively quick to get passed his defenders and will rise up from mid-range and score it.
Julius Brower SG 5'11 2025 Linfield Christian/CA (IE Fire Elite 2025) 
A fast scoring guard is the pull-up king from mid-range. He has maybe the most consistent middle game in the 15U division. He does make 3's and is a patient scorer inside the paint. He is a tough on-ball defender.
Zane Gaul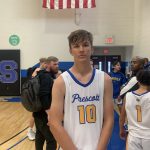 Zane Gaul 6'9" | C Prescott | 2025 State AZ Prescott (D1 Nation 2025)
He is slowly progressing his game. As they say, bigs always take longest to develop. He was showing drop steps, running the floor, finishing above the rim, moving well in space and rebounding and blocking shots. 
Josh Baber Josh Baber 6'1" | SG Estrella Foothills | 2025 AZ Estrella Mountain (D1 Nation AZ 2024)
A skilled scoring guard comes off the bench on the talented 16U roster and usually just fires away. He was handling the ball a little better then my last viewing of him. He is still best as a catch three point shooter but is showing more to his repertoire. 
Kingston Porch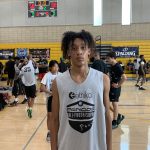 Kingston Porch 6'4" | SG Mesquite | 2025 State AZ Mesquite (New Mexico D1 2025)
A long wing can score it with step back 3's and mid-range jumpers. He has good size to get into the lane and score with his dominant left hand. He is a sneaky good passer and athlete. Look for him to take a little bigger role for the Wildcats.  
Ely Elegado SG 6'1 2025 La Jolla Country Day/CA 2025 (IE Fire Elite 2025)
One of my favorite guards on the team always plays the right way. He has a long line of family members who has played and he knows what to do. From moving without the ball, cutting when he should, making extra passes, defending his position and shooting the ball at a high clip most of the time.
Xavier Cox SG 6'0 2025 Linfield Christian/CA (IE Fire Elite 2025)
The sharp shooter of the team is the younger brother of George Fox Univ standout Donovan Cox. Like Donovan, he is usually the most consistent shooter in the gym. He is almost all off the catch but has a very quick shooting release before the defenders close out to him.