PHI took in the Grit Region Finals over the weekend in Indianapolis.  We now focus on the Illinois prospects that made the most impact in the games we evaluated.  Here are the Grit Region Finals: Top Illinois Post Prospects!
Chin Okpukpara-Hanson (IBA Illinois Stars 17U)
Prospect that is a post grad senior who has a college ready body now!  Broad shouldered five man that can really rebound in bunches.  He was a monster on the glass while getting put backs and throwing in several dunks with power.
George Bellevue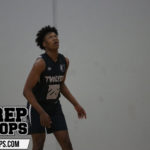 George Bellevue 6'5" | PF Lincoln Way East | 2023 State IL (Fundamental U 17U)
Bouncy undersized four that we have been fans of for a long time.  High-motor guy that is quick on the offensive glass for second chance points while also finishing dump offs with his bounce.
Jackson Kotecki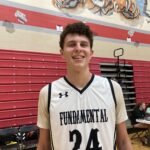 Jackson Kotecki 6'9" | PF St. Ignatius | 2023 State IL (Fundamental U 17U)
Kotecki said FU to me.  He dropped in the rankings after a less than stellar junior campaign but has had a ton of helium over the last couple months picking up several D1 offers in June and if he plays like he did Friday consistently it is easy to see why.  Skilled face up four that rim ran, hit the offensive glass for put backs flying in from out of his area, handled it off the defensive glass, and had a hook shot in the paint.  Showed more pop and toughness than we had previously seen.
Brock Marino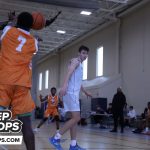 Brock Marino 6'7" | PF Lakes Community | 2023 State IL (Fundamental U 17U)
First time getting a look at this Lakes 6'7" power forward.  Good area rebounder that got put backs and was effective using spin moves around the hoop for scores.  Hit a three and can put it on the deck a couple times.
Jordan Lodygowski (Motion Elite 17U)
The Orr 6'5" power forward is a big time rebounder that crashed the glass in bunches for second chance points.  Makes his free throws and rim ran in transition.  Solid post defender.
Mike Jones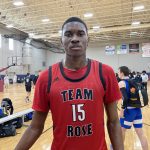 Mike Jones 6'7" | PF Chi-Prep | 2024 State #205 Nation IL (Team Rose 16U)
The Rockford Auburn post is a mobile four that brings plus athleticism on both sides.  In the second game we saw him completely take over by rim running his way to three or four dunks in a couple minute span.  Very good offensive rebounder with bounce for put backs.  Dive and lob threat.  Versatile defender that can guard in space and protect the rim.
Randy Johnson (Team Rose 16U)
Johnson is a 6'4" undersized four man that is more productive than prospect at this stage.  Gritty rebounder that finished around the hoop with strength and quality footwork.
CJ Nichols (Road 2 Greatness 16U)
Wide bodied five man from Chicago Christian that stands at 6'6".  Powerful finisher that was best converting dump offs and was a decent area rebounder.
Jayden Ingram (IHUSTLE 16U)
Ingram is a projectable five man at 6'8" with long arms and a good frame.  He finished off out of bounds plays and dump offs.  Good looking free throw stroke which could turn into potential as a mid-range shooter.  Needs to add strength on his frame and rebound better, but a lot of intriguing tools here!
Kevin Anthony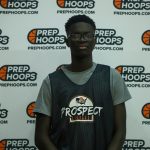 Kevin Anthony 6'9" | C Von Steuben | 2023 State IL (Illinois Hoop Stars 17U)
Anthony is a center that can rim run, block shots, and showed more offensive polish than we had previously seen.  Drop steps and powerful finishes for this legit five man.  Mobility and a ton of upside for the Von Steuben post!
Andrew Soenksen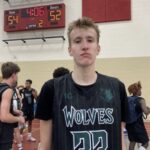 Andrew Soenksen 6'8" | PF Plainfield East | 2023 State IL (Illinois T-Wolves 17U)
The face up four man is a plus shooter that knocked in threes and twos with consistency in their win on Sunday afternoon.  He also had one of the dunks of the tournament posterizing his opponent!