Sunday wrapped up the Prep Hoops Grit Region Finals.  It was all 17U action for me on Sunday.  Time to dive into what we saw in Grit Region Finals: Scotty B's Sunday Notebook!
Motion Elite Wins Tight Contest to Open Day
Motion Elite started the day off with a 61-59 win over Spartans Sports.  Alcott College Prep 2024 5'8" point guard JJ Crawford put on an absolute show.  The scoring point guard is a plus shooter from beyond the arc.  He drained an array of threes while mixing in scoop shots, coast to coast layups, and got to the foul line.
Purdue Commit Leads Trio in INB Elite Win
The Indy Nets 17U got a nice win 63-47 over E2E Elite.  Purdue commit Myles Colvin was one of the top prospects at the event and he looked the part early on in their win.  The rising senior has great size and a feathery pull up game from three.  High/low post up and created off the bounce.  On the perimeter with him 2023 combo guard Fola Fayemi has burst and shake with the ball in his hands getting to the rim with his athleticism.  Sam Walker stands at 6'7" with a big frame and is a volume offensive rebounder that put them in at a nice rate.  Carves out deep post position on the block.
Vasko Hits Buzzer Beater to Advance Fundamental U over Illinois Attack
This one went right to the wire as Fundamental U won on a Cayden Vasko drive at the buzzer capturing a 54-52 victory.  Fitting that Vasko closed it out as the Don Bosco reclassified 2023 combo guard was fantastic.  Good length and passing feel for the lead guard spot.  Sound three point shooter that hit four threes in the win.  Also rebounds well and creates off the bounce.  Went for 17 points in the victory.  Another 2023 reclass guard Ryan Duncan also had a good outing as the former Chicago U-High lead guard got in the line off dribble penetration and smooth handles netting 9 points while also hitting a pair of threes and dishing out several dimes.  Good effort once again from St. Ignatius four man Jackson Kotecki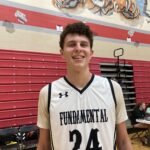 Jackson Kotecki 6'9" | PF St. Ignatius | 2023 State IL competing on the glass, pushing in transition, and hitting a three.  Went for 12 points.
The backcourt carried Illinois Attack.  Particularly a pair of Benet guards.  Brayden Fagbemi was outstanding as the 6'0" guard is a crisp passer that makes sound decisions as a passer and was excellent finishing in the lane maneuvering his body to score among the trees as he finished with 16 points.  Brady Kunka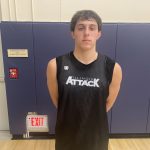 Brady Kunka 6'3" | SG Benet | 2023 State IL is a strong bodied guard that can shoot it from three as he hit a quartet in the game while also having the ability to get to the foul line.  He had 20 points.
Mid-Ohio Pumas Win Late at Line Against Illinois Hoopstars
This was a tight contest throughout the game.  Mid-Ohio Pumas won it late as the line 64-62 on a foul call with under a second left.  Their star lived at the line in this contest.  Trenton Collins is a scoring guard that got to the line over and over again.  Also converted scoop shots and displayed potential on a jumper.  He made 19 FREE THROWS!  Yes 19 of his 33 points were at the line. 
For Illinois Hoop Stars got a couple of big performances as well.  The Skills Factory 2023 reclass from Buffalo Grove Adidas Davis showcased his playmaking and shot making ability in a 25 point outing.  Von Steuben 2023 center Kevin Anthony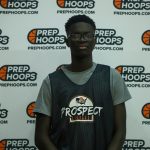 Kevin Anthony 6'9" | C Von Steuben | 2023 State IL has a ton of upside.  The big man has a long frame with legit size.  Rim runner and shot blocker that showed some growth offensively in this one with a couple of big slams.  He had 15 points.
Soenksen Leads Illinois T-Wolves to Win
Plainfield East 6'7" face up four Andrew Soenksen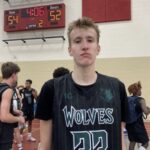 Andrew Soenksen 6'8" | PF Plainfield East | 2023 State IL did a little bit of everything in their 71-51 victory.  Plus shooter that can really make shots from deep and from mid-range at his size.  Also threw down a nasty dunk over an opponent that had the crowd and bench going crazy.  He had 16 points in the win.
Illini Magic Score Close Win Over Ignite Hoops
Caught the first half of this contest in which the Illini Magic won 68-66 over Ignite Hoops.  Josh Jones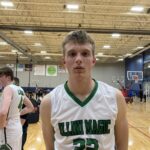 Josh Jones 6'6" | SF Chatham Glenwood | 2023 State IL from Chatham Glenwood continues to intrigue us on the perimeter with size at 6'6" and how easy he scores it on spinning layups, scores on movement, and clean jumpers.  New Berlin 2023 lead guard Kevin Howell is a 5'9" point guard that gets to the rim on scrappy drives making difficult layups.
Cameron Kuhl from Fremd caught our attention for Ignite Hoops.  The 6'4" sharp shooter has a quick and accurate release from three.
We Are The Champions
Congrats to the champs of all three age levels of the Grit Region Finals!  Each squad won in dominant fashion.  #1 seeds Full Package Black (17U) and Team Teague (15U) went wire to wire.  #2 seed Basketball Paradise (16U) beat the top seed in their championship matchup.
17U – Full Package Black over EG10 82-52
16U – Basketball Paradise over Buckner Elite 73-58
15U – Team Teague over 865 Elite 76-59