Friday night kicked off the Grit Region Finals in Indianapolis.  This event features all the top teams in the Grit Region from around the Midwest including lots of Illinois teams.  We examine the first night of 17U action at Fishers High School here in Grit Region Finals: Scotty B's Friday Notebook!
IBA Illinois Stars Survive and Advance
The Illinois Stars scored a 49-43 win vs Premium Ballerz Youth Organization in their first round matchup.  Early on it was Chin Okpukpara-Hanson from Chi-Prep.  The 6'9" 2022 five man was a force on the glass and finished around the hoop consistently.  He had 9 points and double digit boards.  Versatile Niles Notre Dame forward Bryce Coleman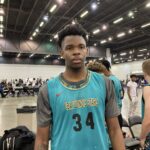 Bryce Coleman 6'6" | SF Proviso East | 2023 State IL had his moments in this one showing a little bit of everything that he brings to a team.  Post ups, spin moves, mid-range jumpers, straight line takes, and rebounded well. Collin Wainscott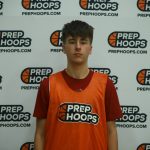 Collin Wainscott 6'2" | PG Marmion Academy | 2023 State IL is a sharp shooting lead guard from Marmion Academy that can really let it fly!  Hit an array of threes, but also mixed in floaters and was pesky on the defensive end finishing with 24 points!  Marian Catholic lead guard Tre Davis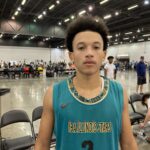 Tre Davis 5'10" | PG Marian Catholic | 2023 State IL did a nice job setting others up with his creative passing.
For Premium Ballerz Youth Organization out of Tennessee Chance Martin jumped off the floor.  The long and athletic four man has athletic pop and a decent shot as he netted 15 points.
Illinois Valley Warriors Top Scrappy Kessel Heat Squad
Considering Kessel Heat started their game with four players and was like that for most of the first half falling to Illinois Valley Warriors by a 53-45 margin is a moral victory.  For the Illinois Valley Warriors their clear top prospect is Earlville 2024 shooting guard Ryan Browder.  Plus shooter with quality size at the two guard spot.  He pushes in the open floor and is an adequate finisher.  Rebounds well for a wing.  His high school teammate rising senior Garrett Cook is a smaller guard that is so gritty finishing in the paint and getting to the line as he had 16 points.
Kessel Heat was led by a new name on our radar in Mundelein 2024 guard Vincent Rogalski.  Plus shooter that drained triples in bunches and had a crisp pull up two.  Crafty driver that drew contact quite a bit finished with 16 points.
Full Package is Who We Said They Were
The #1 seed was not going to let a Virginia NCAA upset even come close as they blew out Illinois Drive 89-30.  Their star New Trier's Jake Fiegen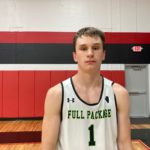 Jake Fiegen 6'3" | SG New Trier | 2023 State IL blitzed the opponent from the jump with a plethora of threes and transition finishes.  One later in the game he threw down off a backboard lob.  He had 29 points including seven triples.  Just another night at the office!  Loved what the Lemont twins brought in the win.  Matas Castillo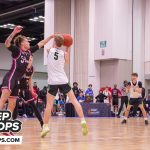 Matas Castillo 5'11" | PG Lemont | 2023 State IL was such a force defensively getting steals and turning them into points.  Acrobatic layup maker that is smooth in the open floor.  He had 18 points.  His brother Rokas Castillo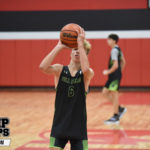 Rokas Castillo 5'11" | PG Lemont | 2023 State IL also played a key role in the win.  Pushed in transition and made a couple threes early to get his team going.  The momentum from last weekend continued over for Stevenson wing David Sulnius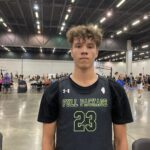 David Sulnius 6'5" | SF Stevenson | 2023 State IL .  He is a knock down spot up shooter that also has quality size and athleticism.  Went for 21 points.
Hoops 4 Health Dynamic Backcourt Shows Out
We caught the first half of this one as Hoops 4 Health scored a nice 79-58 victory over INB Platinum Elite.  It was all about their backcourt in this one.  Class of 2025 star Joliet West point guard Jeremiah Fears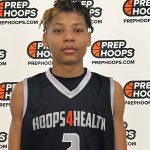 Jeremiah Fears 5'11" | PG Joliet West | 2025 State IL was awesome!  He got absolutely whatever he wanted whenever he wanted it.  Explosive takes to the rim where he finished with and-1s, threes, spinning layups, and he even blocked a shot.  The high-major rising sophomore had 24 points.  Was a huge fan of what Niles Notre Dame combo guard Sonny Williams
Sonny Williams 6'1" | PG International Sports Academy | 2023 OH showcased in this game.  Strong and athletic guard was adequate across the board.  Made shots from distance, got to the rim, crisp passing in the half court to teammates, and was active defensively.  Went for 16 points.
Kotecki Backs Up Offer Surge in Fundamental U Win over Top 1 Basketball Club Select
In the last game we saw on Friday night Fundamental U won 82-65 over Top 1 Basketball Club Select.  It was the Jackson Kotecki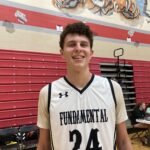 Jackson Kotecki 6'9" | PF St. Ignatius | 2023 State IL show!  The face up four man lived up to his recent offer surge with the best performance we have seen out of him in his entire career as he had 27 points.  Liked how he was active early flying in for offensive rebounds out of his area.  Capable shooter that hit one but didn't settle for it like he has in the past.  Hook shots and quick explosive finishes inside.  Handled it off defensive rebounds and had a few put backs.  Lakes 2023 6'7" power forward Brock Marino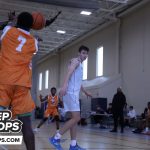 Brock Marino 6'7" | PF Lakes Community | 2023 State IL emerged in this one.  Went for 9 points.  The post is a good area rebounder that loves the spin move and hit a three.  George Bellevue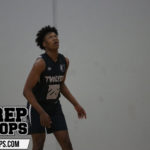 George Bellevue 6'5" | PF Lincoln Way East | 2023 State IL from Lincoln Way East showed off the bounce we have always loved about his game around the glass with his second jump. A couple of prep school  canidatesl/unsigned seniors did a nice job of distributing while finding spots to score with their jumpers in Ryan Duncan and Cayden Vasko.