Kentucky represented well in Louisville with several seniors putting in work in their final weekends of AAU. 4 specific guys from Shining Stars and Griffin Elite's programs stoodout to me and deserve recognition for their efforts in the Bluegrass state.
Braden Fedders 6'6 C Shining Stars Price (St. Henry)
Fedders excelled having some great guard play around him as Shining Stars Price won the Gold bracket at the 17U level last weekend. Fedders had good hands and was able to finish shots around the rim once his guards got penetration and drew defenses. Understood spacing and knew when to dive to the rim. My biggest concern with Fedders besides being undersized for a Center was his struggles to finish through traffic. With time Fedders may develop into a PF but there's no denying his basketball IQ makes him unique.
Eric Hackett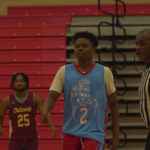 Eric Hackett 6'1" | SG Tates Creek | 2023 State KY 6'2 PG Griffin Elite Bordas (Tates Creek)
Hackett has scholarship potential and put it on display against Hopson Elite and Indiana Elite Now. Utilizing a slightly taller frame for a PG, Hackett has an elite handle-showing patience and control even against some quicker defenders. Seemed to have confidence attacking positions and knowing where teammates would be. Has some versatility when it comes to scoring the ball and especially was tough to defend on the perimeter once he broke down a defender.
Jaden Biggers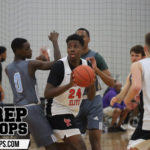 Jaden Biggers 6'6" | PF Bryan Station | 2023 State KY 6'7 PF Griffin Elite Bordas (Bryan Station)
On a guard heavy team, Biggers found a way to catch my eye as Griffin Elite's big man (literally). Uses his long body on both ends of the floor. Incredible with his back to the basket and beating the post defender time and time again. It seemed whenever he was able to get squared to the rim, the shot was going in. Cleaned up the glass and certainly was effective defensively as a rim protector. Biggers at times seemed a little slower than some other posts I've watched. But with his post play offensively, he could truly become a D2 target as he adds some speed to his game.
Ethan Cooper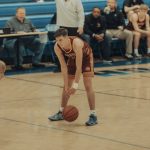 Ethan Cooper 6'3" | CG Garrard County | 2023 State KY 6'3 SG Griffin Elite Bordas (Garrard County)
Cooper didn't jump off the page as a scoring threat or even a lockdown defender. No, Cooper is on this list because of his intangibles. Played with a ton of heart and hustle. His size at the SG position isn't bad but his drive makes me wonder what he would be able to do at the college level. Ton of speed and acceleration on the dribble drive and created for his teammates.