Check out my analysis on some of the top 2024 point guards from the GASO Austin/ Round Rock tournament! These true floor generals really lead their team to success with their unselfish play and ability to affect the game on both ends of the court.
Jaxson Vandegarde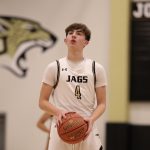 Jaxson Vandegarde 6'1" | PG Johnson (Buda) | 2024 TX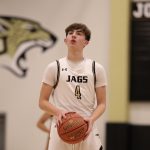 2024 6'1 Buda Johnson High School
Jaxson is a high level scorer off the bounce who does so effortlessly from all three levels of the court, and is begining to threaten that coveted fourth level. I was very impressed with the amount of attention he has put on the defensive end of the court, coming up with steals in the passing lanes as well as through his active hands stripping the ball from his opponent. He is a relentless attacker of the rim, who really stood out in his ability to not only finish through contact but also stop on a dime and score in the mid-range. He lived at the free throw line with his constant aggression and the ease in which he was able to get two feet into the paint. He took what the defense gave him every-time down the court, and had a masterful performance on the offensive end of the court. He controls the game like a true point guard who can facilitate an offense and also pass his teammates open in the full court. His ability to manipulate the speed of the game when the ball is in their hands. He routinely broke a full court press with his speed, getting the edge on his opponent or by making the right read and a picture perfect over head pass. I was very impressed with his ability to do whatever his team needed to be successful. He boxes out and can play on the glass like a wing. He frustrated his opponent so much through his hard work on the interior. His defender thought he would easily back him down every time, but Vandegarde held his ground and played very well. Every time I see him in action, he seems to be adding a new wrinkle in his game. Vandegarde is one prospect you need to start keeping tabs on with the ease in which he scored off the bounce. 
Jason Ward Jason Ward 5'11" | PG Round Rock | 2024 TX   2024 6'1 Round Rock High School (ASAK 16U Elite)

Jason is a true point guard who loves dissecting the defense on the fast break and controlling the tempo within the half court. I was very impressed with how well he led the team from the point guard spot, and how his unselfishness seemed to bleed through his teammates. He always made the extra pass to set up a teammate, and made plenty of picture perfect 3/4 court passes to his teammates streaking up the sideline. I loved watching him manipulate the defense through the pick and roll, he made the right reads to find his big man down low or his shooters on the perimeter after drawing a third defender. I would like to see him work on his ability to shoot off the bounce from all three levels with more consistency.
Jetsin Dotson 2024 6'0 East Central High School (Elevate Elite SA)
Jetsin is an active and aggressive guard who sees the floor as a true point guard in the way he sets up his teammates, and unselfishly runs the fast break. I was very impressed with his awareness with a live dribble, getting into the paint and making the right kick out passes to his shooters on the perimeter. He was very comfortable out of the pick and roll, working well with his big man. He is an explosive athlete who seems to elevate very naturally, allowing him to finish at a very high level even at his height. I was very impressed with his ability to go coast to coast and attack opponents at the rim. On the defensive end of the floor, he moves his feet very well, but is great at poking the ball free and running the other way with it. I loved watching him rip the ball from his opponents live dribble time and time again.
Payton Jones 2024 6'0 Homeschool (RL9 Honor Armor Lions)
Payton is a complete guard prospect with an ability to create space with his handle, create opportunities for his teammates, attack the rim or score from beyond the arc. Jones seems to be getting better and better every time I get to see him in action. His energy and effectiveness with a live dribble really stood out and it fuels his team to success. His aggressiveness with the basketball bled through into every aspect of his game, flying around the court after loose balls and long rebounds.  He is a good and willing rebounder for his size and position and even got a few easy looks by following his own shot. He is a deadly scorer when he decides to pull up and can do so from beyond the arc or in the mid-range. I was very impressed by the ease in which he scored off the bounce. His ability to attack the rim opened up every other aspect of his game. Jones is one you need to keep your eye on!