On Wednesday, the North Dakota 2025 Prospect Rankings were updated. In this article, we are looking at 10 of the best guards for in the incoming sophomores from NODAK. We have PG's, SG's, CG's, and wings in this article. Class A & B are both included. We have athletes, slashers, snipers, floor generals, stat stuffers, and playmakers. Who made the Top 10? Look below!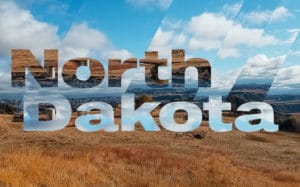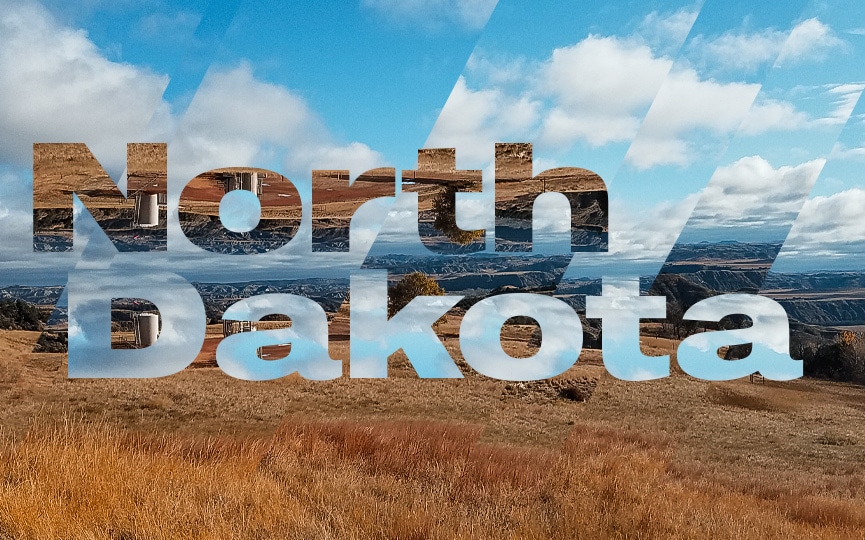 2025 Elite Guards
Mason Klabo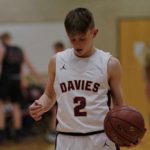 Mason Klabo 6'1" | CG Fargo Davies | 2025 State ND |6'1 CG| Fargo Davies
He was a First Team All-State selection and an All-EDC player. Klabo and the Eagles were EDC Regular Season Champions, EDC Tournament Champions, and they took home a 3rd place finish at the State Tournament. Davies had a 24-3 record and their best player was a freshman, his name was Mason Klabo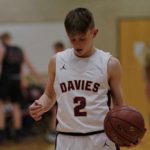 Mason Klabo 6'1" | CG Fargo Davies | 2025 State ND ! For AAU hoops, Klabo plays with Howard Pulley and he has had a productive spring & summer. For summer ball, Davies has been very impressive. They have been winning the majority of their games and they have taken home a few championships at Breakdown events. The Eagles and Klabo have shown that they will be a top team in ND once again in 2022-2023. Klabo put up crazy numbers last season as a 9th grader. Mason's freshman season stats: 24.1 ppg, 5.9 rpg, 4.2 apg, and 3.3 spg. How good is Klabo? Well, this past winter he picked of a D1 offer from NDSU! It is safe to say that Mason Klabo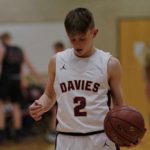 Mason Klabo 6'1" | CG Fargo Davies | 2025 State ND is a generational talent.
Matthew Sem Matthew Sem 6'1" | SG Fargo North | 2025 State ND |6'1 SG| Fargo North
In the high school season, he averaged 8.25 mpg, scored 4.5 ppg, and shot an impressive 49 FT%. Sem helped the Spartans get to the State Tournamnet. Fargo North will be one of the top teams next season and Matthew will be a major contributor. In AAU hoops, the young Sem is playing up an age division. He is hoopin with ECI 16U. Matthew has been great this spring/summer and his ECI squad just won the Great Plains Alliance tournament in St. Cloud. Much like his older brothers, Matthew is a gifted athlete. He moves differently than most. Matthew is a serious shooting threat and he is a playmaker off the bounce. When he is on the court with Jeremiah, they are a dynamic duo that you need to look out for. They are dynamic together, feed off each other, and set up one another for great looks. Watch out for Matthew Sem Matthew Sem 6'1" | SG Fargo North | 2025 State ND and the Spartans next season, they are the real deal!
Parker Falcon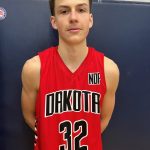 Parker Falcon 6'5" | SG Bismarck Legacy | 2025 State ND |6'5 SG| Bismarck Legacy
In the last rankings update, he shot way up the ranks. Why? Because Parker already has the length to be a college guard and he is an elite-level shooter. Falcon is skilled, but he is not tapped out and his ceiling is very high. Expect him to be a serious player for Legacy this winter. Like many of the others on this list, Falcon hoops with ND Phenom. Parker was ridiculous shooting the rock from the perimeter in their 4 games at GPA. He shot a super-high percentage from beyond the arc. He also did a nice job of finding the paint for baskets at the rim. On defense, Falcon can guard 1-5 and switch everything with no problem. His length gives smaller guards problems and he plays well off the ball with natural instincts. Falcon will also alter and block shots. He is a stud but he is far from finished. Get used to the name Parker Falcon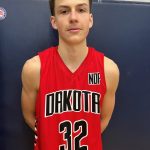 Parker Falcon 6'5" | SG Bismarck Legacy | 2025 State ND ! 
Walker Braaten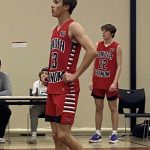 Walker Braaten 6'2" | CG Westhope/Newburg | 2025 State ND |6'2 CG| Westhope/Newburg
He will only be a sophomore next season but Braaten will be a veteran guard with as much varsity experience as he has. Last season, Walker averaged 20+ points per game and it was a common occurrence for him to score in the 30's. Walker plays AAU with ND Phenom and he has been sensational. Earlier this week, Braaten was a bucket getter in St. Cloud at the GPA. He was a DUDE on Wednesday and Thursday. He was eating up defenders on the regular and he cashed in multiple triples every game. Braaten was the best rebounder for his squad and he stuffed the stat sheet. He also shot a crazy high percentage. In St. Cloud, everything he did on the offensive end went well. Walker made his defenders pick their poison and then he exploited the decision. Phenom was playing up an age division and it did not both Walker. Braaten is deadly in ball-screen action and he is a next-level talent. Walker is well on his way to being a scholarship-type player in college ball. 
Drew Kempel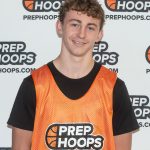 Drew Kempel 6'3" | PG Bismarck Century | 2025 State ND | 6'3 PG| Bismarck Century
He is a big and strong point guard with excellent ball skills. Kempel will have a chance to earn quality minutes on the talented Patriot squad this winter. Drew has been fantastic running the point for ND Phenom this AAU season. He is a slasher that creates for others and he makes everyone around him better. Kempel is a master at getting deep penetration, this puts pressure on the defense and it creates open looks for his teammates. He is also a physical finisher at the cup. At the Great Plains Alliance in St. Cloud, Kempel showed off his outside shooting with a few smooth jumpers. As always, Drew was fantastic in the screen-n-roll game. He makes great decisions in BS action. Everyone likes a big, strong, and skilled guard. That is what you have with Kempel! 
Pearce Parks Pearce Parks 6'2" | SG Grand Forks Red River | 2025 State ND |6'3 SG| Grand Forks Red River
He averaged 14.8 mpg last season for RR. Parks scored 5.2 ppg and shot 47 FG%. Pearce has been very very good this spring/summer for ECI. Parks is a physical beast and a dominant athlete. He scores from all 3-levels and he is a mismatch problem. Most guards cannot match his size & strength and forwards can not stay with his speed & explosiveness. I am expecting Pearce to play big minutes for Red River next season and he will be very productive. If you have not watched the young Parks play live, you are missing out! Red River is going to be a super talented squad next year and the expectations could not be higher. Pearce will be a key factor in any success that the Rough Riders have in 2022-2023. 
Andre Austin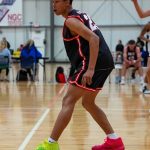 Andre Austin 6'1" | SG Bismarck | 2025 State ND |6'1 G| Bismarck
In AAU hoops he plays up two age divisions for The Pack. Austin has had a standout spring on the AAU scene. I have watched him play very well a handful of times on the Prep Hoops Circuit. Andre plays with a chip on his shoulder and he is always in attack mode. I love his aggressiveness and he never backs down from bigger/older players. He is physical and athletic going downhill. Andre can get up and finish at the rim with creativity. Athletically, Andre is advanced and gifted. Austin is a gym rat that is always working on his game. Expect his skill and shooting to continue to improve. In high school ball, I am expecting Andre to be a major player for the Demons and he will be a newcomer to watch in the WDA. He will strive in the fast-paced, helter-skelter style of play that BHS likes. Get to know the name Andre Austin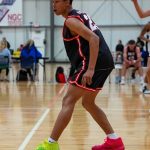 Andre Austin 6'1" | SG Bismarck | 2025 State ND !  
Hudsen Sheldon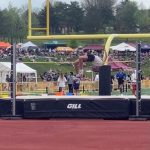 Hudsen Sheldon 6'0" | SG Mandan | 2025 State ND |6'0 SG| Mandan
As far as I know, he does not play AAU hoops. It is not for lack of talent. Outside of hoops, Sheldon is a multi-sport athlete that stays busy standing out in everything that he does. As a freshman this spring, Hudsen finished 4th place in the high jump at the State Track & Field Meet. It is unheard of for freshmen to place that high at the State Meet, talk about a special athlete! On the hardwood, Sheldon is a skilled player that will break you down off the bounce. He is a slippery slasher that can score at the rim in the blink of an eye. Hudsen also has a nice pull-up game. Keep track of this special athlete!
Aric Winczewski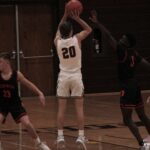 Aric Winczewski 6'0" | CG Minot | 2025 State ND |6'0 PG| Minot
He averaged 20.7 mpg for 25-2 State Champion Magicians. Aric scored 5.8 ppg and shot 31.8 3FG%. Expect his role and minutes to increase next season. Winczewski has everything going for him. He is smart, skilled, tough, a great communicator, and he has been a standout in AAU hoops with ECI. Aric is a leader and a play-it-to-the-bone defender. As a coach's kid, Aric is going to be in the gym a ton and his understanding of the game is only going to improve. His potential is exciting and this kid is going to continue to win many many games in his career at Minot. 
  Caden Englund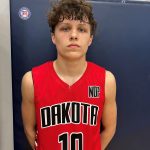 Caden Englund 6'0" | CG Shiloh Christian | 2025 State ND |6'0 PG| Shiloh Christian
He will likely be the starting point guard next season for the Shiloh Christian Skyhawks. I watched him play last month and Shiloh will be tough and Englund is a stud. I have also watched Caden play with ND Phenom and he was equally impressive. Phenom played in St. Cloud the past couple of days and Englund had a nice tournament. He was penetrating and slashing into the paint non-stop. He is always in "attack mode". Caden gets deep penetration which makes the defense collapse. In St. Cloud, Englund was great at finishing over tall defenders and out-stretched arms. He was also a stat stuffer with quality production in points, rebounds, and assists. Caden also did a nice job getting out and defending on the perimeter. I am predicting him to be a breakout Class B player in the coming year.