The July AAU period got off to a quick start just outside of Chicago at the Prep Hoops Summer Challenge. A elite national recruit playing in a one off led the way along with a handful of players stretching from the Midwest to the Empire State. 
Following are seven prospects that caught my eye from both the 2023 and 2024 classes. 
Class of 2023
Matas Buzelis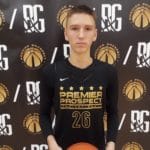 Matas Buzelis 6'9" | SF Brewster Academy | 2023 State #4 Nation 6-10 Sunrise Christian Academy (KS) The "Grand Canyon" prospect of the weekend. Meaning you can be told about it. You can watch the highlights. But until you see it in person. You really can't fully appreciate it. An extreme level of length and fluidity. The outside shot wasn't really falling. Didn't need it when you can get to the basket at will. Covered so much space with long strides. Elite court vision showed on multiple kick out passes. Plenty of bounce. Had a highlight reel late drive and dunk. Finished 21 points. Everyone of them was needed as he led Full Package to a come from behind victory against Wisconsin Playground Club. Elite national prospect has had a lot going on lately. Following a few years in New England. The Chicago area player is transferring to Sunrise Christian Academy to play in the prestigious NIBC. Also has announced he will bypass college to play for G-League Ignite. Elite national prospect somehow exceeded the hype on Friday night. 
Jake Fiegen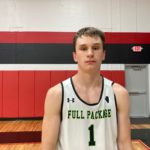 Jake Fiegen 6'3" | SG New Trier | 2023 State IL 6-2 New Trier (IL) (picture) Death, taxes, and Jake Fiegen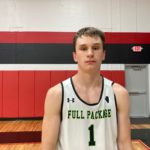 Jake Fiegen 6'3" | SG New Trier | 2023 State IL deep shooting. With the presence of Buzelis was able to be more of spot up shooter. Was in constant motion off the ball. Catches it in the shooting position and gets it off quickly. Shoots well off platform due the repeatability of his mechanics. Has a sturdy build and is not going to get pushed around. Showed a clutch gene and wanted the ball late in the close contest. Got off to a slow start but just kept coming. Used a big second half to finish with 27 points. Has begun to pick up some Division 1 offers including the United States Naval Academy. 
Cal Klesmit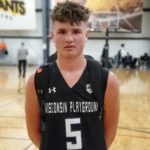 Cal Klesmit 6'2" | CG Neenah | 2023 State #216 Nation WI 6-2 Neenah (WI) The lefty from Wisconsin nearly matched Fiegen shot for shot. Went about it in a slightly different manner. Showed a nice mid range game after he was ran off the line. Came off the screens efficiently and showed a powerful step back. Competed hard defensively. Good ball handler who had no problem getting to his spots. Like Fiegen starting to pick up some division 1 interests. Finished with 16 points but it felt like more. 
Darrion Baker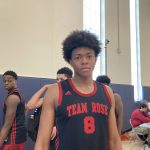 Darrion Baker 6'8" | PF Hillcrest | 2023 State IL 6-8 Hillcrest (IL) What a difference a….. month makes? Saw Baker in thus very same gym during the spring. While he was impressive. He looked like he had a long term potential as a traditional post. In the opening contest Friday. Baker showed that might be limiting him positionally a bit. Showed excellent ball skills out on the perimeter. Was a good passer out of high post. Showed improving athleticism with a nice dunk in transition. Even hit two from beyond the arc. But the play of the night came late. Turned an emphatic blocked shot into a transition basket quickly. Did this with Kevin Love-like outlet pass. Finished with 21 points in Team Rose's victory over a sound Corey Graham Elite squad (see below) 
Class of 2024
Jaiden Harrison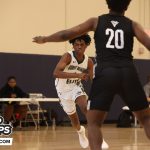 Jaiden Harrison 6'3" | PG Bishop Timon | 2024 State NY 6-3 Bishop Timon (NY) First time catching this Buffalo are prospect and I came away very impressed. Scored in a wide variety of ways. But also showed the ability to play the point. Was adept from beyond the arc. Notched four threes. Finished with an eye opening 26 points in the close loss to Team Rose. Did I mention he did this all while playing up a grade level? Appears to be wired right. When I congratulated him on his performance. His response was "thanks, but we lost". That's the type of approach coaches love to hear. 
Jaquan Johnson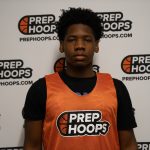 Jaquan Johnson 5'9" | PG Pius XI | 2024 State WI 5-9 Pius XI (WI) Not very big. But pound for pound might the toughest point guard I have seen in this grassroots season. Last time I saw him. He was leading Wisconsin Playground Club to a championship at the deep Run N Slam in Fort Wayne. Excellent leader and floor general. Although I wouldn't necessarily call him a quarterback on the court. Thick build makes him more of a fullback. Accordingly absorbs contact well and has no problem finishing through contact. Has excellent court sense. At the half took an inbound with his back to the corner score clock. A coach told him he had 14 seconds. And sure enough went coast to coast and put it in right at the buzzer. 
Stevie Clark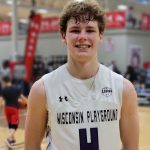 Stevie Clark 6'6" | SF Oshkosh North | 2024 State WI 6-6 Oshkosh North (WI) While Johnson brought the intangibles for Wisconsin Playground Club. Clark filled up the scorebook. Finished with 29 points in the victory over Team Rose. The definition of a slasher with his knifing drives. Relentless driver who feels like he is always attacking the basket. Good shooter from both the mid range and from beyond the arc. Makes him a true three level scorer. Plays with strength the belies his lanky and wiry frame.