The Prep Hoops Circuit continues and is making a stop in Phoenix, Arizona on July 2. I am attending looking for talent to come out of the 16 teams in the 17U division. Here I wanted to look at some of the players that might not be getting the love they deserve.
Nick Sanchez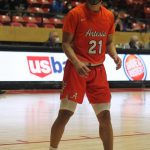 Nick Sanchez 5'9" | PG Artesia | 2023 State NM – PG – 5'9" 2023 Artesia (New Mexico D1)
Shooter with the ability to score off the dribble as well as on the catch. Handles the ball when pressure is on him and created for others when the play wasn't run for him. If you're looking for a calm and collected point guard that runs a team with his voice and play, give this kid a look.
Tyreek Dean – SG/SF – 6'4" – 2023 Taylor Made Prep (Team Rondae Hollis-Jefferson)
Strong build that has an endless motor and a defensive monster. He will bully his way in the paint but also has a smooth jumper. He is like a magnet on the boards going after every single shot that gets put up on both ends. After getting those offensive boards, he has a gentle touch around the rim.
Salim Arikat – PF/C – 6'8" – 2023 Sc Academy (Team Rampage Elite)
Tight Handle with great ability to finish. Needs to put on a little weight if he wants play as a big at the next level. With that said, he is very agile on the defensive end, ready to protect the rim and guard on the perimeter.
Drew Owens – PF – 6'6" – 2022 Mesquite (TaylorMade Elite)
Anchor in the paint with great touch at the rim with a knock-down mid-range shot. As his team's center, he knocks down open threes, brings the ball down the court, and protects the rim like the best of them.
Myles Reed Anderson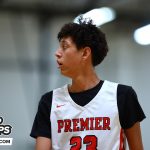 Myles Reed Anderson 6'8" | C Castle View | 2023 CO – PF – 6'8" – 2023 Castle View (Colorado Premier)
Gets after it on both ends of the floor. He excels at guarding at the rim and when he has to, he locks down on the perimeter. Has room to improve on the offensive end, but does it all on the defense. Still an asset around the rim with effective rebounding and putbacks.
Nathaniel Owen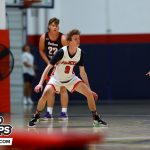 Nathaniel Owen 6'5" | SG Belleview Christian | 2023 State CO – SG/SF – 6'5" – 2023 Belleview Christian (Colorado Premier)
Has a stroke from the outside arc while probably having the biggest wingspan on the court. He uses that on defense as he makes the offense uncomfortable and picking passing lanes without anyone seeing him coming. The sharpshooter knocks down his shots whether he is wide open or with a hand in his face.