The Prep Hoops Circuit continues and is making a stop in Phoenix, Arizona on July 2. I am attending looking for talent to come out of the 16 teams in the 17U division. These are the standouts from this morning.
Will Heimbrodt – SF – 6'7" – 2023 Sc Academy (Team Rampage Elite)
Lengthy sharpshooter that gets after it on the defensive end. Provides a spark of intensity with his aggressive playstyle. He has a quiet demeanor about it and will dunk on you, not say anything, and then go block your shot on the other end. Very patient on the offensive end and does a great job of making sure he is taking or giving out the best shot possible.
Jevon Blackmore – PG – 6'1" – 2023 Sc Academy (Team Rampage Elite)
Undersized point guard with a surprising ability to finish at the rim. Was able to get past his defender every possession and finished at the rim over the opposing big men. He also provides a good dose of pesky defense going full-court pressure most of the time.
Brian Kalb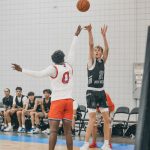 Brian Kalb 6'7" | PF St Pius | 2023 NM – PF – 6'7" – 2023 St. Pius (New Mexico D1)
Standing at 6'7", he did almost everything on the court. Excels in the paint on both ends where his best attribute must be his touch around the rim. As the tallest player on the court, he also has a great feel for the basketball whether he is shooting from the perimeter, bringing the ball up the court, or dishing to his teammates.
Nate Harris – PG/SG – 6'3" – 2023 Harker Heights (House4Hoops)
The ability to fill space and hustle is what he brings every single possession. He brings a lot of energy to his team, whether that's throwing down dunks or picking up full court. He has a great feel for the game and you can tell he is a student of the game. He plays the right way and helps out his teammates by making the extra pass ad fighting for rebounds.
Michael Calvin – PG – 5'11" – 2024 Mesquite (TaylorMade Elite)
Controller of the pace and speed of the game at all times. The point guard is undersized but has a strong build that allows him to finish strong at the rim, and put pressure on the defensive end. He has room to improve his shot from the three-point arc, but he has all the other tools for success, including being a steal machine.
Alex Wells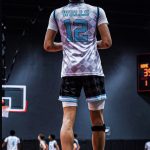 Alex Wells 6'3" | SG Phhoenix Prep | 2024 AZ – PG/SG – 6'3" – 2024 Eastmark (TaylorMade Elite)
Lengthy but strong guard that takes advantage of matchups on both ends of the floor. Plays the passing lanes very well along with always being in the right spot in the transition game. Look for his body to fill out and is a great prospect that puts his team first as an athletic combo guard.
TaRea Fulcher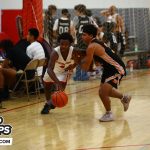 TaRea Fulcher 5'10" Regis Jesuit | 2023 CO – PG – 5'10" – 2023 Regis Jesuit (Colorado Premier)
A true point guard that brings intensity on both ends of the floor. A little undersized but makes up for it with his aggressiveness. His ability to direct traffic is his strong suit as he controls both ends of the floor with his team looking to him as a leader and distributor. Causes pressure on the defense at all times and does it with effective jabs and ball fakes.
Erenzo Scroggins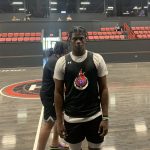 Erenzo Scroggins 6'4" | SF AZ Compass Prep | 2023 State AZ – PG/SG – 6'4" – 2023 AZ Compass Prep (Team Rondae Hollis-Jefferson)
With an unphased mentality, he is able to get to the paint whenever he wants by blowing by his defender no matter what the size. Finishing at the rim with his athletic frame is by far his best attribute. Look for him to work on his shot and start to grab a lot of coaches' attention. Shows his personality on the floor with high-flying dunks and in-your-face defense. The best player on the floor so far today.