July 2nd-3rd I attended the Brawl for the Ball Prep Hoops Circuit located at Inspire Courts in Gilbert, AZ. This is one of the last stops before the Hustle Region Finals on the July 15th-17th weekend in Seal Beach/CA. 
I focused on 16U but watched some 17U as well. 
There were 13 teams in the division so I made four All-16U Tournament teams featuring seven or eight players per team. 
Here is the 3rd team breakdown of the eight players:
3rd team
Donovan Dabney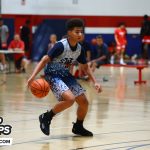 Donovan Dabney 6'1" | PG Higley | 2025 State AZ Higley/AZ (Swish365 2024)
A decent sized point guard who is a very good passer and plays with a high feel for the game. He makes passes with either hand and advances passes about as well as you could. He shoots it from mid to the three and is always playing from the neck up. 
Nathan Wanjohi Nathan Wanjohi 6'5" | SF Ironwood | 2024 State AZ Ironwood/AZ (D1 Nation AZ 2024)
A versatile power forward has that inside and out game that was really clicking this past weekend. He hit shots from mid-range and seems to live at the high post. He is a good passer and rebounder and he can flush it down easily with strong hands. He is the rare player who takes the deep-2.   
Micah Gentry CG 5'11 2024 North Thurston/WA (Team Anderson Elite 2024)
A talented scoring combo guard is a bucket. He is a three level scorer and gets hot very quickly. He can hit the three and the mid plus utilizes a polished floater game. He has good speed with the ball and made a few passes that slithered through the traffic for assists.     
Matthew Green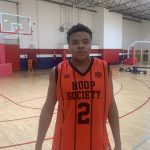 Matthew Green 6'4" | PF Chaparral | 2024 State AZ Chaparral/AZ (Hoop Society 2024)
A well built power forward with wider shoulders and glue hands. It seems like he has stick em on his hands as he catches any pass near him. He goes up quickly to score and rebound with a quicker second jump. He plays bigger then his height suggests with his length and physicality in the paint.  
Jacob Barker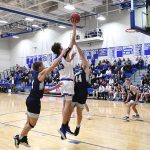 Jacob Barker 6'10" | C Resurrection Christian | 2024 State CO Resurrection Christian/CO (Colorado Premier 2024-1)
A fluid post player moves well in space. He defends at a good clip inside with gobbling up rebounds to sliding his feet on the perimeter. Offensively he can rip through, score on hook shots, reverse layups or simple put backs getting on the glass.  
Drew Pierce CG 6'1 2024 Linfield Christian/CA (IE Fire Elite 2024)
A combo guard has a high feel for the game. He is a good passer but he can also score. He makes tough shots and can create for others as well. He sees it quickly and dimes his teammate. His ability to change speeds sets up his defenders to create the separation and then will make the play.  
Patrick Murtagh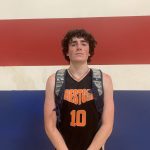 Patrick Murtagh 6'1" | CG Cortez | 2024 State AZ Cortez/AZ (AZ Firestorm 2024) (Pictured) 
A natural combo guard scores it fairly easily. He handles the ball well to be a secondary ball handler and will drive and kick and is very crafty. He shoots the ball at a good clip and will give a shot fake and burst right by. Once he has his deep ball rolling, the rest of his game follows with drives and ball fakes. 
Ryan Calcaterra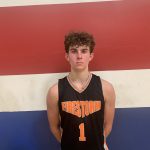 Ryan Calcaterra 6'3" | PG Thunderbird | 2024 State AZ Thunderbird/AZ (AZ Firestorm 2024)
The back court mate is more of the facilitator but he will put the ball in the hole for himself. He likes shooting it off the catch from the stripe but he gets to the basket with the use of hesitations. He uses a burst and will finish layups or floaters.