The following evaluations emanated from the opening 5-on-5 game from BCAT 100 in Lebanon, Tennessee.  The event took place June 25th, 2022.

Team Maroon vs. Team Black


TOP 1OO ROSTERS  (Numbers to left are jersey #'s)
# TEAM BLACK
10 Jarred Hall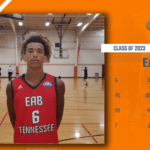 Jarred Hall 6'8" | SF Lebanon | 2023 State #65 Nation TN
9 Regale Moore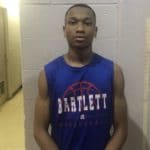 Regale Moore 6'2" | CG Bartlett | 2023 State TN
8 Grant Campbell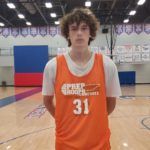 Grant Campbell 6'8" | SF Heritage | 2023 State TN
7 Maddux Bodenhamer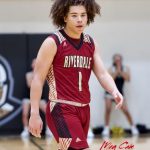 Maddux Bodenhamer 6'1" | PG Riverdale | 2024 State TN
6 Damion Cox Jr Damion Cox Jr 5'11" | CG St.Benedict At Auburndale | 2025 TN .
5 Cole McCormick
Cole McCormick 6'5" | SF Notre Dame | 2024 State TN
4 SAMUEL WILLOUGHBY
3 Brayden Waller Brayden Waller 6'2" | SG Trinity Christian | 2025 TN
2 Alex Hyder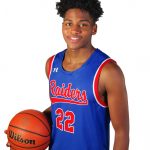 Alex Hyder 6'3" | SG Cleveland | 2023 State TN
Damion Cox Jr Damion Cox Jr 5'11" | CG St.Benedict At Auburndale | 2025 TN . really came to play. His offensive awareness and clever decisions stunned me, considering he will only be a sophomore in high school.  For example, Maddux Bodenhamer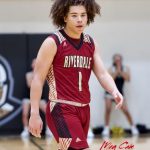 Maddux Bodenhamer 6'1" | PG Riverdale | 2024 State TN intercepted a pass and started a fastbreak.  The guile guard penetrated enough to draw two defenders and kicked it to a wide-open Cox Jr. on the far wing.  Instead of taking, what might have been a typical outside shot, Cox Jr. gave a simple yet effective up-fake and calmly dribbled to just inside the free throw line and finished off a smooth right-handed floater off of his "wrong foot."
Damion is such a handful.  Defenders and defenses are just unclear how to keep him away from the dangerous spots (short baseline center of the key).  
Eddie Ricks III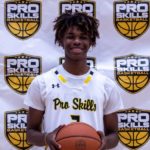 Eddie Ricks III 6'9" | SF Clarksville Academy | 2023 State #152 Nation TN is a player heavily featured on this website, and there is a strong chance, he is still undervalued by PrepHoopsTN.  The shooting stroke is pure and exceptional.  He single-handedly took Clarksville Academy to the State Tournament and surely possesses the ability to do it again in 2023.
Nehemiah Holmes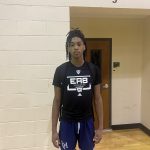 Nehemiah Holmes 6'5" | SG Franklin Road Academy | 2023 State TN was tremendous on defense, but his outside shot still looks somehow inconsistent.  He might be a 18-20' shooter ever.  There is just so much going on with the motion from his plant to his release.  The shots he takes inside 12' are consistent.  And he finishes pretty well among the trees.
Watching film from @BCATHOOPS 100 (end June). Nehemiah Holmes was ferocious defending. he ripped the ball, chasing down small guards, whacked cleanly down upon 6'7" Grant Campbell during a layup attempt. He can guard a college 2-4, I think.

— Prep Hoops Tennessee (@PrepHoopsTN) July 5, 2022
First time seeing Cameron Hudson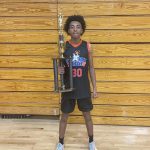 Cameron Hudson 6'7" | SF Memphis Central | 2024 TN .  The length, height is a basketball scout's dream.  He is a true 6-foot-6 or 6-foot-7 wing forward.  The modern game is going to love him.  Some criticisms: erratic shot selection, poor movement off-ball.  His handle was not on display, largely because he was the "4th guard" each time out Saturday.  Still, he might mature into a solid wing attacker.  Time will tell.  Shooting touch is good, but again, he must make better shot selections.
Cameron showed some nice natural offensive rebounding aggression.  Hudson will always be the tallest or one of the tallest players on the court throughout his next two seasons.  Developing that hunger for offensive rebounds is important.  In college he may only get two or three great chances to secure an offensive rebound, but every extra possession is valuable and coaches love those more than most.
Hudson's physical advantage is the height and reach, but he does need to add heft and power because one or two times defenders nudged him away from his destination with a low, hard bump at the waist/ side.  
Cole McCormick
Cole McCormick 6'5" | SF Notre Dame | 2024 State TN was a revelation in this game.  Cole's agility is so exciting for a 2024 prospect. Though Lee and University of Alabama Huntsville (UAH) offered CM in early June, there is 0% he exists July without multiple D1 offers.  The guy is so much more than a catch-and-shoot guy, though the mistake is an honest one, because he is great from three-point range.  No, McCormick is not a Kyle Korver.  He can actually drive, slash, create.  Cole's creativity with the basketball makes it aggravating for defenders to predict his next move.