We try our best to keep updated rankings within the basketball calendar here at Prep Hoops Maryland and yet, every time we release an updated list, it seems like a handful of prospects get hot immediately after. For this series of articles, we'll take a look at prospects that you could see receive a boost in the next update starting with the 2023 class.
Farrell Crowell Farrell Crowell 6'2" | CG Shabach Christian Academy | 2023 State MD | Archbishop Carroll/District BC
Current ranking: No. 54
Crowell has been a staple for District this spring and summer and has had his hand in many of the premiere wins that they've earned. The 6-foot-3 guard uses his size to his advantage in 1-on-1 matchups where he works his way to the basket and finishes through contact. He makes instinctual reads on drives as the defense shifts and in my viewings, doesn't seem to play outside of his skillset much. He's a dependable option in transition where he keeps good spacing within the lanes without the ball and can finish efficiently around the rim. 
Ryan Sabol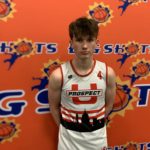 Ryan Sabol 6'3" | CG Gonzaga | 2023 State MD | Gonzaga/Prospect U
Current ranking: No. 71
Sabol impressed me with his play at Maryland Team Camp where he seemed like a great fit next to 2025 Nykolas Lewis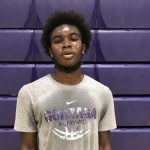 Nykolas Lewis 6'2" | PG Gonzaga | 2025 State MD in the backcourt. The 6-foot-3 combo guard can make his defender pay when hesitating on a closeout and seems to have improved with his ability to operate off 3-to-5 dribbles. Sabol had some athletic finishes on his drives to avoid the outstretched arms of opposing shot blockers and when he's dialed in offensively, he provides a toughness with his individual defense. 
Eric Zhang Eric Zhang 6'3" | SG Dulaney | 2023 State MD | Dulaney/Team Choo
Current ranking: No. 91
Zhang was one of the most consistent producers throughout EBA Summer League in June. The 6-foot-3 lefty made a living off getting to his spots in the mid-range and rising up with his high-release jumper. Zhang isn't limited to one side of the floor, he comfortably gets into his shot off the bounce going left or right. If the defense doesn't step up, he can finish floaters with soft touch while also being a threat from three off the catch. Zhang brings a sense of confidence to the floor that illuminates through his teammates and he'll be a big reason for Dulaney's success this upcoming season.
Malcolm Day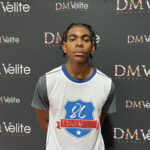 Malcolm Day 6'6" | SF Takoma Academy | 2023 State MD | Takoma Academy/DMV Stags
Current ranking: watch list
Day was our only prospect to be labeled as a 'watch list' member and it had nothing to due with his skills. It was more so because we needed more opportunity to see him in action to get a better feel for where he fits within the rankings. Day is a 6-foot-5 forward with a very intriguing skill set and ceiling as a long term prospect. He's a threat to score from all three-levels and while he still needs polish as a ball-handler, I'm a strong believer that as he matures naturally and continues to gain confidence, that aspect will come. He looks to initiate contact on drives and always looks to flush on defenders standing in his way. He's a capable shooter off the catch from beyond the arc, but is at his best utilizing his long first step to spark driving opportunities.