Earlier this week, our updated 2024 player rankings went live. There were shake-ups within the top 10 as prospects proved themselves over the last few months and at the top, we welcome a nationally coveted prospect looking to make a splash within the area.
1. Trentyn Flowers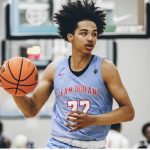 Trentyn Flowers 6'8" | CG Rosedale Christian | 2024 State MD | Rosedale Christian/Team Durant
Flowers takes over the No. 1 spot after announcing his transfer to the newly revamped Rosedale Christian program. Spearheaded by head coach Charles Hebron, Flowers will be the go-to option and provide endless versatility at 6-foot-8. He plays more of a combo guard position with his perimeter skill set and is a viable scoring threat from all three levels. He's at his best in the open floor where his athleticism comes to light. Look for Flowers to post huge numbers in his junior season. Flowers holds offers from over two dozen programs from around the country.
Love it @FlowersTrentyn❤️ pic.twitter.com/55EM9rbz84

— Kristi Flowers (@blessedKristi) June 23, 2022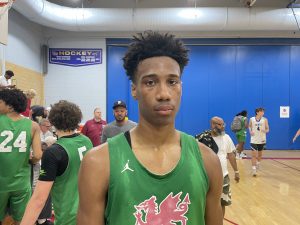 2. Drew McKenna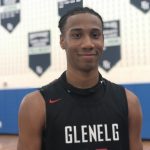 Drew McKenna 6'7" | PF Glenelg Country | 2024 State MD | Glenelg Country/Team Melo
There hasn't been a hotter local prospect than McKenna over the last week and a half with his performance at DMV Live. He's showcases his refined offensive skills and similar to Flowers, he's 6-foot-8 and a scoring threat from anywhere on the floor. His 19.8 point per game average is one thing to be impressed with, but the efficient manner in which he posted those numbers takes it to another level. McKenna shot 30/40 from the field and 7/12 from three in the four contest leading his team to a 4-0 record. He plays with a good motor, can guard multiple positions defensively and is effective at collecting rebounds with urgency. Illinois, Va Tech, Maryland, Rutgers, Georgetown and DePaul are just a few of the offers he collected over the weekend.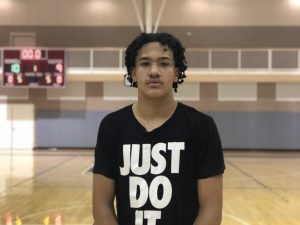 3. Caleb Williams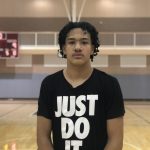 Caleb Williams 6'7" | SF Sidwell Friends | 2024 State MD | Sidwell Friends/Team Takeover
The area is littered with modern day guard/wing prospects as we continue with the rankings and Williams certainly fits that bill. He's a 6-foot-7 lefty that can play off the ball in the backcourt or log significant minutes as a wing. At the high school level, he sometimes draws opposing fours and can take advantage with his ability to move without the ball or beat them off the bounce where he gets to his spots in the mid-range with great balance. He's a heady offensive threat that can score within a system and understands the importance of running through a sets' options before looking for his own opportunity. Maryland, Penn State, VCU, George Mason, Ole Miss and George Washington are just a few of the offers Williams has picked up over the month.
4. Luke Bamgboye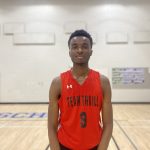 Luke Bamgboye 6'10" | C Mt. Carmel | 2024 State MD | Mt. Carmel/Team Thrill
I'm admittedly higher on Bamgboye than most thanks to his innate ability to control a game at the defensive end of the floor. The 6-foot-10 London native has ballooned onto the national scene after a productive spring on the Under Armour Circuit and continues to build a resume as one of the top shot blockers in the country. While his timing and length are exceptional, it by no means warrants overlooking his effort to dominate the glass, run the floor with purpose and pose as a lob threat whenever he's around the basket. He's averaging 15 points and 4.5 blocks per game through six games at DMV Live. He's converting 64.8 percent of his looks from the field and has even stepped out beyond the arc and cashed in on four triples. Maryland, Houston, VCU, Arizona State, Marquette, and Kansas State have all offered.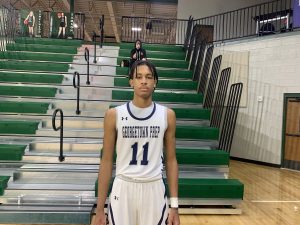 5. Khani Rooths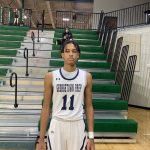 Khani Rooths 6'7" | SF Bishop Walsh | 2024 State MD | Bishop Walsh/New World
Rooths is a 6-foot-7 wing that can slide to the four and provide versatility. He's a shot creator who can work effectively in isolation situations with the use of crossovers, step backs or hesitations dribbles to manufacture his own looks. He's electric in transition and is always a threat to throw down a one-handed dunk on a challenging defenders. Now at Bishop Walsh, programs will be enamored with his size and skill set in the NIBC. Georgetown, Indiana, Va Tech, Maryland and Xavier have all offered.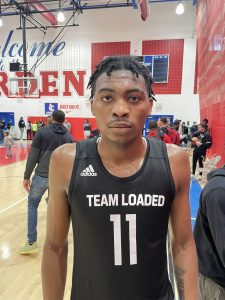 6. Rob Dockery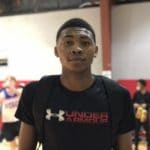 Rob Dockery 6'6" | SF Jackson-Reed | 2024 State MD | Wilson/Team Loaded VA
What stands out about Dockery is his frame at 6-foot-7. He has broad shoulders that should fill out nicely once he steps foot on a college campus and is a player who can help contribute to multiple box score categories. He's expected to hold down the paint for Wilson and does so by altering shots around the rim and limiting opposing teams to one-shot possessions. Offensively, he's no stranger to contact and can finish through fouls whenever he gets the ball deep in the paint. Like a lot of these wingy prospects above, Dockery is a handful in transition. He holds 15 offers in total with South Florida, George Washington and Fairfield being the most recent.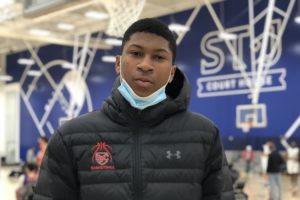 7. Donavan Freeman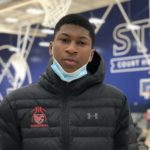 Donavan Freeman 6'9" | PF St. John's | 2024 State MD | St. John's (DC)/Team Takeover
Freeman is another that catches your eye immediately in pre-game warm up lines because of his long, lengthy frame. He's 6-foot-9, but can challenge shots way above the rim and his presence alone always has opposing drivers thinking twice. His offensive skill set continues to blossom, but he's an effective face-up guy from the mid-range, has ability to pop after ball screens for three's off the catch and is a lob threat in roll actions or transition. Freeman holds 13 offers in total, but Texas, Ole Miss and Marquette are his most recent.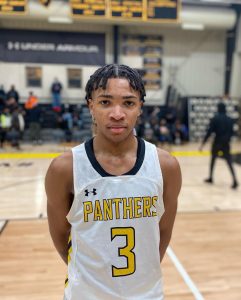 8. Daquan Davis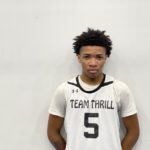 Daquan Davis 6'2" | CG St. John's | 2024 State MD | St. John's (DC)/Team Takeover
Davis made the move from St. Frances to St. John's (DC) where he'll assert himself as one of the top guards in the WCAC. The 6-foot-1 guard can impose his will on or off the ball and at both ends of the floor. He approaches the game with a pit-bull mentality, but has polished his skills as a offensive threat who can score 20 any time he steps on the hardwood. Bottom line: Davis is a guy who you'd want on your team to go to war with. Maryland, George Washington, Texas A&M and VCU have all offered this month.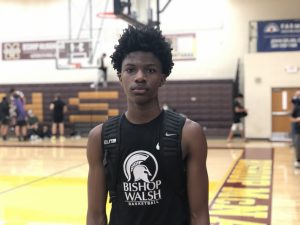 9. TJ Robinson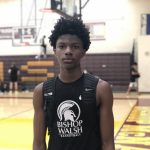 TJ Robinson 6'3" | PG Bishop Walsh | 2024 State MD | Bishop Walsh/NJ Scholars
Robinson is still underrated nationally in my opinion given his explosive scoring ability from the lead guard position. The 6-foot-2 lefty is shifty, has great burst off his back foot and comes with plenty in his bag to create his own shot. While he's always a threat to score, he also has good instincts as a play maker on his paint touches. He reads rotating defensives quickly and delivers crisp dishes to open teammates. He averaged 17.3 points and over four assists per game in the four games played at DMV Live. Temple, Georgetown, LSU and Kansas State have all offered.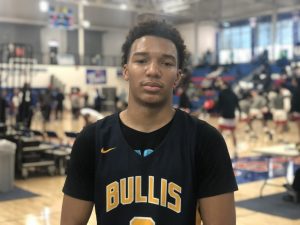 10. Tyler Boston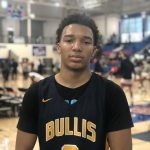 Tyler Boston 5'10" | PG Bullis | 2024 State MD | Bullis/Team Thrill
Like Davis, Boston is another lead guard that I'd love to go to war with on my team. Not only can he wear down his matchup as a defender with relentless pressure, active hands and good anticipation, but he can deliver what the game calls for on the offensive end of things. He can act as a table-setter point guard who controls the pace or make the defense pay for late closeouts or lazy rotations as he maneuvers in ball screens. Boston is a low-maintenance, but highly productive player. George Mason, Rhode Island and NJIT have all offered the 6-foot guard.