A look at younger prospects that showed this week in Edmond that they will have a chance to go from good players to great players over the next year. 
Isaac Williams Isaac Williams CG Putnam City | 2024 State OK , 6'2 Guard, Putnam City
If there's one prospect that needs to be seen more in the Class of 2024, it's the electric Pirate guard. On Monday afternoon he put on a scoring exhibition against Yukon, This was the third in person viewing (John Noble Tournament January, Regionals February) and he's impressed more and more each time. To go along with great quickness and end to end speed, Williams is starting to fill out physically and becoming a more overall explosive player. That becomes evident with the way he gets to the rim in half court settings and finishes in transition.  Add in some big time shot making ability in the midrange and beyond the arc, and Williams could be the full package as an elite guard this winter.  
Luke Gray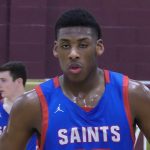 Luke Gray 6'7" | PF Oklahoma Christian | 2024 State OK , 6'7 Forward, Oklahoma Christian School
Of the names on this list, the forward is the most established. He anchored the Saints to a Class 3A semifinals this past year and now the 2024 forward plays up in 17U games with Buddy Buckets. While a powerful force around the rim, with a strong frame and athletic ability he's still finding his way as a more versatile player. In a Monday morning viewing, Gray showed  that his shooting touch continues to improve. While his handle is improving, he's still a bit stuck between positions as not a true wing yet. And is a little small for some post aspects at the next level. But his combination of athleticism, strength, high motor play and now floor spacing shooting ability, solidifies him as one of the better high school players in the state for the next two years. 
Jayden Mott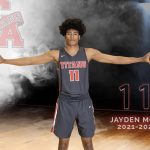 Jayden Mott 6'7" | PF Carl Albert | 2024 State OK , 6'7 Forward, Carl Albert
The top of the Class of 2024 has the aforementioned Gray along with two more similarly highly touted sized wing/forward prospects. If the Carl Albert Titan continues to mature physically and develop skill wise he will be breaking into that tier of prospects sooner rather than later. In the months since high school ended, Mott has added notable muscle to his strong frame. Because of this improved strength he was much more impactful around the basket, as evident by the multiple rim rattling slams he made on Monday. Even with the added strength, he remains light on his feet in regards to movement and is flashing some quickness to possibly have a future defending perimeter players. More production is needed, but the Titan is on the path of turning his big time potential into production. 
Carlsheon Young Carlsheon Young 6'4" | SG Newcastle | 2025 State OK , 6'3 Guard, Newcastle
The Racers weren't at UCO, but Young was viewed in Stillwater recently at OSU's team camp.
The talented sophomore is already an explosive athlete, with a big time scoring ability thanks to those gifts. This spring after playing on the 16U Adidas circuit he picked up an offer from Oklahoma State. Along with the obvious athletic gifts, Young is a skilled competitor who can get after it on defense as well. In the one viewing in Stillwater, Young's scoring was a little bit off. But he still found ways to impact the game with steals and blocks, thanks to quick, strong and active hands that match his athletic and aggressive playing style. In Class 4A, the high ceiling guard will be a handful for a Racers team with State Title aspirations. 
Kaidon Rayfield Kaidon Rayfield 6'6" | PF Putnam City West | 2025 State OK , 6'7 Wing, Putnam City West
One of the most exciting 2025 talents in Oklahoma, the mobile wing has tantalizing upside. Playing for an up tempo, aggressive system that does allow player freedom should help him build more perimeter skills, while also maintaining a healthy appreciation for defense and rebounding. The defensive potential was shown when he won a few one on one battles against the older Ingram from Tulsa Memorial. Offensively, he's best as roll man or when slashing to the rim. His long strides allow him to easily eat up ground on drives to the rim. To go along with improved strength for finishing at the rim, Rayfield's shooting needs to improve. He had a green light in a few viewings this week and struggled to make many from beyond the arc.