In seven months, "Senior Urgency" will fully set in. Class of 2023 prospects will only have a handful of weeks left in their high school career, sparking performances of new heights from prospects. Gyms all over Oklahoma will feature Class of 2023 players leaving it all on the court and producing career high performances in a pursuit of a Gold Ball.
The gyms in Edmond and Northern OKC at UCO's team camp brought a preview of a group of seniors that will make a lasting impression next February and March. UCO camp brought an important refresher to the depth of the Class of 2023, as all four senior leaders mentioned here were ranked in recently updated rankings.
Tymier Adkins-Freeman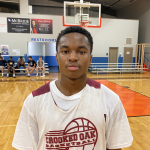 Tymier Adkins-Freeman 5'8" | PG Crooked Oak | 2023 State OK , 5'9 Guard, Crooked Oak
To open the camp on Monday morning, Adkins-Freeman brought the electricity in a match up against another top small school program, Oklahoma Christian School.  He plays with relentless energy, as he gets to the rim seemingly at will in transition. And even gets on the offensive glass well for a shorter guard thanks to a quick second jump. Adkins-Freeman can also fill it up quickly from beyond the arc. But on Monday morning he was a bit of a heat check shooter, taking some "questionable" looks. It's easy to argue that his high effort play has earned him some shot selection freedom, but from a prospect angle he needs to do a better job of balancing shot selection with shot creation for his teammates in the half court. 
When it comes to high school season, the energetic lead guard will likely put up video game like numbers throughout the year for a Crooked Oak squad with Class 3A State Tournament aspirations. It wouldn't be shocking to see a tweet in February after a Regional Championship or Area win that goes like " Tymier Adkins-Freeman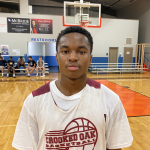 Tymier Adkins-Freeman 5'8" | PG Crooked Oak | 2023 State OK scored 44 points on 8 three pointers to help Crooked Oak advance to the next round". 
Zander Baker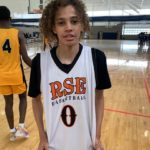 Zander Baker 5'10" | PG Putnam City North | 2023 State OK , 5'10 Guard, Putnam City North
Last season, Baker showed he had the clutch gene with big scores in big wins for the Panthers. After bowing out in area, the multifaceted scoring senior will be hungry to earn a trip the State Tournament. While North has a talented group of sophomores and a good mix of size, Baker will often be asked to carry a good portion of the scoring punch. In a win against Edmond Memorial, he showed off all aspects of his high skill level game. From off the dribble deep threes, tough midrange jumpers to hitting floaters over outstretched arms, the senior guard is one of the more dynamic scorers in Oklahoma. 
Monta Collins Monta Collins 5'11" | PG Memorial | 2023 State OK , 5'11 Guard Tulsa Memorial 
Over the last decade the Chargers have had some of the more talented and athletic teams in Oklahoma. They've also usually had a heady guard that stirred the drink to keep them flowing. Collins already started alongside talented upperclassmen for the defending 5A champions, but now he's the unquestioned floor general. He's a steady presence, with an increased scoring load. Which he showed by being able to operate off the dribble in the paint with floaters and drives to the rim. Collins might not put up gaudy numbers, but his fingerprints will often be all over many Chargers victories this winter. 
Ryan Guerrero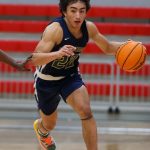 Ryan Guerrero 5'11" | PG Southmoore | 2023 State OK , 5'11 Guard, Southmoore
Over a couple games in Edmond this week, the Sabercat senior backed up his standing as one of the best pure shooters in the state. He has more ballhandling responsibilities now but that only creates more opportunities for the sharpshooter. Along with being a threat from beyond the arc, he's now nearly automatic when pulling up in the 15-18 feet range . His shooting ability is the type that could be a game changer in a close game next winter that puts another W in the win column for Southmoore.