One of the last and best events of June brought a bunch of talent to the Highland Park Summer Series in Topeka.
The top two stories from the event were 1) the Runnin' Scots winning their own event, and 2) Perry-Lecompton coming in at the last minute and hanging with the big schools.
3A Perry-Lecompton got a last-minute invite to the one-day event when some other schools backed out. The Kaws didn't just show up. They took down three Centennial League teams to finish third in the field.
Here are some bigs who stood out in the Highland Park Summer Series (in alphabetical order):
Tamir Anderson, 6-foot-3 forward, 2024, Highland Park:
One of the impressive newcomers on Tuesday, Anderson is a lights-out shooter from the wing who will complement Jahmir Kingcannon Jahmir Kingcannon 6'3" | SF Highland Park | 2023 State KS . He is a zone breaker who knows how to find space on the floor. He is a long, athletic and versatile weapon for the Scots to build around.
Gunnar Ball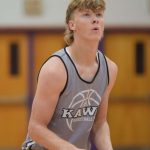 Gunnar Ball 6'3" | SF Perry-Lecompton | 2023 State KS , 6-foot-2 forward, 2023, Perry-Lecompton (pictured):
There might not have been a more valuable player Tuesday than Ball, who did it all in leading the Kaws to a surprise third-place finish. Ball was on a mission and wouldn't be denied when he got the ball in the paint. He scored a number of 'and-1s,' and finished with creativity and power. Ball was a threat from deep as well, demonstrating to the big-city schools why he's one the best returners to 3A.
Cole Coonrod, 6-foot-5 forward, 2023, Manhattan:
Coonrod is long. He runs the floor really well and is impressive on the dribble. With Jack Wilson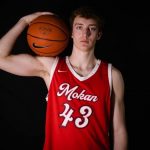 Jack Wilson 6'6" | C Manhattan | 2023 State KS attracting a lot of attention, he and Coonrod are interchangeable at the center or power forward. They combine to give the Indians a lot of length. It will be interesting to see how Manhattan works all their height into a rotation next year.
Xavion Felton, 5-foot-11 forward, 2023, Junction City:
Felton is a versatile football star who flashes some of those talents on the court. He is powerfully built and though not very tall is effective in the paint. He handles the ball well and gets defenders on his hip, where they are powerless to stop him. He finishes around the goal and is powerful in the post. There aren't many guys with his girth and athleticism.
Daxton Ham, 6-foot-1 forward, 2023, Hayden:
Ham is a gritty forward gives his all for the Wildcats. He is a good complement to Joe Otting Joe Otting 6'3" | C Hayden | 2023 State KS in the center, because Ham pops in and out on the offensive end to be a threat all the way out to the arc. On defense, he bodies up posts and bumps cutters off their line. Ham crashes the boards and is a handsy defender.
Lucas Hanks, 6-foot-3 forward, 2023, Washburn Rural:
Hanks is another football star who is a load on the paint. Hanks is a beast on the boards and can out-muscle just about anyone who tries to post up. He plays very aggressively. He can fight through contact and finishes on the catch or offensive rebound.