Midwest Live was a great event where I was able to scout a ton of Ohio prospects throughout the weekend. In this article I'm going to break down the top forwards I saw over the weekend.
Damon Friery Damon Friery 6'7" | PF Saint Ignatius | 2025 State OH , 6'8 PF Saint Ignatius 2025: I've been high on Friery's upside for a long time now and in my opinion, Friery was the top prospect on the floor in Saint Ignatius' win over Warren De La Salle. Friery is a natural mover at 6'8 and shoots it well from the outside. Friery grabbed a couple rebounds and made some toughness plays as well. He's got some development to make physically but I think Friery is at least a mid-major prospect with the upside to end even higher. There's a reason he's ranked in the top 10 of the 2025 rankings despite playing just JV as a freshman, Friery will be a great example of 'it's a marathon not a sprint' and showing the benefits of playing kids older than you are to develop. One developmental system will not fit every prospect; however, I would encourage a lot more kids to take this developmental track that Friery's currently on because I firmly believe it's going to pay off in the long run.
Jayden Crutcher Jayden Crutcher 6'4" | SF Elyria | 2025 State OH , 6'4 SF Elyria 2025: Crutcher was getting busy for Elyria in their blowout victory over a Springboro squad who rested some key players. Crutcher was showing off his ability to create for himself and has some real wiggle to his game. Crutcher is an impressive athlete in the open court and was dominant as a scorer in transition. Based on what I saw on Sunday, Crutcher has Division I talent and I'm excited to continue to follow his development.
Jayquan Stubbs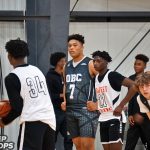 Jayquan Stubbs 6'5" | C Akron Buchtel | 2025 State OH , 6'5 C Akron Buchtel 2025: Stubbs is a nice acquisition for a Buchtel squad who lost Braylin Wells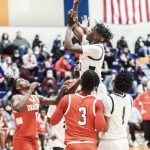 Braylin Wells 6'7" | C Pickerington Central | 2024 State OH back to Pickerington Central. Stubbs has a big body and moves opposing bigs with his size and strength. Stubbs has good skill with his back to the basket and can pass it when he's doubled. Getting into better shape will be a key but Stubbs big frame is also a positive for his game, finding the balance will be key for him to get the most out of his potential.
Dave Aniton Dave Aniton 6'6" | C Maple Heights | 2025 State OH , 6'6 C Maple Heights 2025: Aniton has grown around an inch since the last time I saw him and was active again inside the paint. Aniton has a good frame and showed a little shooting potential with spot-up attempts. Aniton is a prospect I'm going to keep my eyes on in the next couple years to watch his development.
Matt Lunne Matt Lunne 6'7" | C Kettering Alter | 2025 OH , 6'7 C Kettering Alter 2025: Lunne was a guy I didn't know anything about prior to the game but was impressed with how he worked with a lot of senior guards with experience. Lunne typically came in for fellow 2025 big Charlie Uhl Charlie Uhl 6'7" | C Kettering Alter | 2025 State OH , I wonder how the pair would play together. Lunne has a solid frame and finished well around the basket. Another big name to watch in the 2025 class.