Some young guards stood out at Midwest Live last weekend and this article will spotlight the best of the best that I saw last weekend. Make sure to check out the rest of our Midwest Live content with analysis on prospects for every level of college basketball.
Darryn Peterson Darryn Peterson 6'5" | CG CVCA | 2025 State OH , 6'5 CG CVCA 2025: The top prospect in Ohio regardless of class stood out again during the live period. Peterson plays with a very advanced pace to his game, looking like a veteran on the court despite his age. Peterson is an incredible off the bounce shooter with the ability to hit contested shots with ease. Peterson isn't the dominant athlete you'd expect a consensus top 10 prospect in the country to be, but from a skill standpoint, very few players in America compare. Peterson is an absolute joy to watch, and I'd recommend anybody to check him out at least once in person because he is Ohio's best prospect that I've seen in my years covering the state.
Rj Greer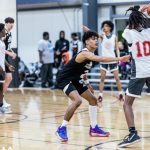 Rj Greer 6'4" | SG Springboro | 2025 State OH , 6'4 SG Springboro 2025: Greer attracted some notable names to come watch him play with assistants from Michigan State and Ohio State baseline to watch him, as well as Juwan Howard from Michigan. Greer is one of the top shooters in Ohio's 2025 class and has the size to be a tough cover off the ball. Springboro runs good off-ball actions for Greer to run off screens and get the ball out of his hands in a hurry. Greer plays under control and the threat of his jumper allows him to get into the paint when defenses close out on him. Greer is a high major prospect and will stay in the top 5 of Ohio's 2025 rankings when they are updated again after the July live periods.
CJ Collins CJ Collins 5'10" | PG Dublin Coffman | 2025 OH , 6'1 CG Dublin Coffman 2025: Collins is one of Ohio's top shooters in the 2025 class (noticing a theme here) and got hot in Dublin Coffman's victory over Garfield Heights on Saturday. Collins doesn't need much space to fire away and it's probably going in. Collins is a limited athlete and needs to be set up for him to launch from deep. I'd like to see Collins work on his off the bounce game and hit the weight room this off-season. With those improvements, Collins could be a really interesting prospect with his feel for the game as a coach's kid and shooting ability. Currently, he's taking over a leadership role from the point guard position after star Ajay Sheldon graduated and is off to Ohio University.
Reed Sims Reed Sims 6'2" | SG Canton McKinley | 2025 OH , 6'2 SG Canton McKinley 2025: Sims was an unknown to me prior to this event but made some shots and looked like he belonged for a Canton McKinley squad that impressed me this weekend. Sims has a baby face and the type of frame that will likely fill out, especially at a football crazy school like Canton McKinley that will encourage him to stay in the weight room. Sims has some development to make from a decision-making standpoint, which is expected for most young guards, but he showed me some skills that had me write his name down as a prospect to watch for the future.
Marcus Johnson, 6'1 PG Garfield Heights 2026: Johnson is probably the top scorer in the 2026 class that I've seen with an unreal scoring knack for his age. Johnson is an elite shooter off the bounce, making tough shots from all over the court. Johnson also has some underrated strength when he attacks the basket, scoring some tough layups in traffic. Johnson is going to be a prospect we'll be talking about for a long time and all signs point to him being a future high major level prospect.
Xavier McKinney, 6'1 SG Pickerington Central 2026: McKinney was a bright spot on a Pickerington Central team that struggled all weekend. McKinney made shots and most of the time looked like he belonged on the court against some of the top teams Michigan has to offer. With the struggles of the Tigers at the guard position, it wouldn't surprise me if McKinney forces the hand of his coach and gets heavier early playing time than what was expected for the returning state champions. This weekend the loss of Juwan Turner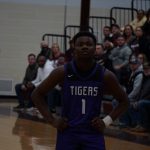 Juwan Turner 5'10" | PG Reynoldsburg | 2024 State OH to Reynoldsburg was really felt and McKinney is going to be a key piece for their title defense. McKinney can make shots from the outside and already has a frame that's ready to play varsity basketball.