Midwest Live was an action-packed weekend event that brought out some top talent from all corners of Ohio. In this article I'll be breaking down the top performers from the 2023 class on Sunday.
Zach Halligan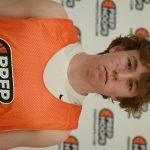 Zach Halligan 6'4" | SF Walsh Jesuit | 2023 State OH , 6'4 SF Walsh Jesuit 2023: Halligan was impressive in the first action I've seen of him since December. Halligan looked bigger and stronger, moving better on the perimeter. Halligan has a good frame that will be able to defend taller wings with his strength and foot speed. I thought Halligan made good decisions with the ball in his hands and has some potential to shoot it from the outside. A key complimentary piece at the next level, Halligan will be highly pursued by small colleges looking for a wing who will be ready for college coaching and playing within a system that relies on ball movement and passing. Halligan also had multiple interceptions off lazy passes by the other team, being aware as an off-ball defender.
Donovan Mukes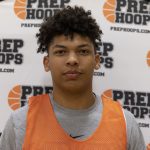 Donovan Mukes 6'2" | SG Moeller | 2023 State OH , 6'2 SG Moeller 2023: Mukes is an exceptional defender, which is his main selling point at the next level. In the one game I watched he had multiple blocks and steals, including a block of a 3-pointer that was very impressive. Mukes also knocked down two open jumpers and scores off cuts and being in the right place at the right time. He's not going to lead the team in scoring at the next level, but he's going to defend and know where to be at both ends. Players like Mukes who don't perform dribble crossovers and step-back jumpers sometimes don't get the love they deserve, but he's a guy who helps you win basketball games.
Anthony Ruffolo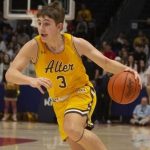 Anthony Ruffolo 6'0" | PG Kettering Alter | 2023 State OH , 6'0 PG Kettering Alter 2023: Ruffolo got hot in the final game of the weekend from downtown, making a high percentage of his outside shots. Ruffolo plays with good pace on a Kettering Alter squad that plays really pretty basketball. My main knock on Ruffolo is his lack of athleticism, and defensively there's going to be some questions at the next level with his quickness and ability to switch onto forwards. Despite some defensive questions, lots of small colleges were telling me how interested they were in Ruffolo because of his shooting ability and skill to take care of the basketball from the point guard position.
Donovan Hunter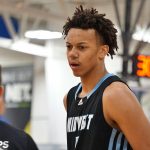 Donovan Hunter 6'7" | PF Spire | 2023 State OH , 6'7 PF Westerville Central 2023: Hunter played the best game I've seen him play for Westerville Central at this event. Hunter was knocking down 3-pointers off the catch, making smart cuts and using his size and strength against some younger Alter bigs. I usually see Hunter play his best with Midwest Basketball Club, but this was an encouraging performance as he was a key reason why Westerville Central beat Kettering Alter. If Hunter can perform at this level, Westerville Central is a sleeper in central Ohio with their guard talent in the 2024 class.