There has been several team camps this month in New Mexico High School Basketball, this is where we've seen a number of players take the next step in their games. This article will cover players who have made some strides for their High School's these last few weeks.
Marquise Renfro from Atrisco Heritage Academy clearly looked and stronger since the end of the high school basketball regular season. During this months teams camps, he impressed me with his improvement at finishing around the rim. Marquise showed his fearless tenacity around the rim and finished with consistency.  During his performances at the Los Lunas Team Camp, Salsa Slam and Duke City Shootout, he was one of the top standouts this month. 
After watching Cedarius Yates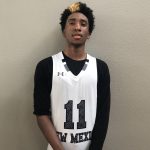 Cedarius Yates 6'3" | SF La Cueva | 2023 State NM play this past season, I came away feeling that he was one of the states top slashers after helping La Cueva reach the 5A State Semifinals. Over the last month, he has continued to add to his game. Every tournament and camp I attended this summer, he made an appearance. He is one of the states top mid-range scorers and once he gets in the zone, is a tough player to contain. Cedarius is an efficient scorer who takes smart shots on the floor, I'm expecting a big senior year from him next season. 
Isaiah Denetclaw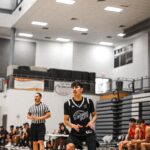 Isaiah Denetclaw 6'2" | SG La Cueva | 2023 State NM from La Cueva High School ended his junior year as one of the top three-point shooters in the state a season ago. During this off-season, he has shown everyone in the community that he's more than just a scorer. He was virtually at every team camp and tournament I scouted this past month. Isaiah also made a huge impact outside the state by attending a "Northern Colorado Team Camp" earlier this month. He is a versatile player who has a long wingspan that has turned into a reliable three-and-d guy. Isaiah will play a pivotal role in La Cueva making a run at the 5A State Title next season. 
Kenyon Aguino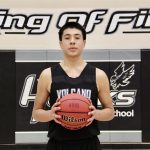 Kenyon Aguino 6'6" | PF Volcano Vista | 2025 State NM showed some flashes during his freshman season at stardom, and with many seniors graduated from Volcano Vista this past May, he looks ready to carry the torch the next few years. After scoring 13 points in the state championship game and winning the state championship vs Las Cruces, Kenyon still wasn't satisfied. He looks quicker and stronger in a matter of a few months since the seasons end. During this month, he has been Volcano Vista's go to scorer and number one scoring option. His elite post play and solid touch around the basket has made him unguarable when you include his three-point shooting. Volcano Vista is in good hands for the next few years with their young roster. 
Hudson Brown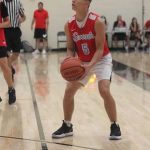 Hudson Brown 5'8" | PG Volcano Vista | 2025 NM is one of those players you would love to have on your squad but would hate to play against respectfully. He does so much winning things on the floor that the average basketball fan wouldn't notice. After a recent interview with Hudson, he mentioned that he is a player that will do whatever it takes to win and I agree with his statement. He can score from midrange at a high level and has become a solid floor general for Volcano Vista. Hudson is a team first guy that isn't worried about any individual numbers, awards or accolades. Every championship squad needs a player like him on their roster. 
Gabe Trujillo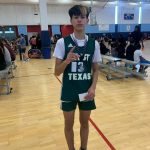 Gabe Trujillo 5'10" | CG West Mesa | 2025 NM from West Mesa High School hasn't wasted anytime improving his game this offseason. He constantly works on his game everyday with his brother Fabian Roybal who is a local Elite Skills Trainer in our community. Gabe has that fire in him that you wish all players had, its a trait your either born with or don't have. Despite only going into his sophomore year next year, Gabe has held his own against some of the top players in New Mexico this off-season. He can score at all areas on the floor and is undoubtedly one of the best players in the 2025 Class. 
Elijah Foster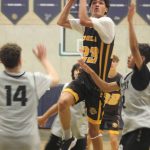 Elijah Foster 6'2" | SF Cibola | 2024 State NM from Cibola High School is one of the players I'm most excited to see next season. After watching him play at various levels the last few years, I feel that he's poised for a big year. After his play during team camps this month, I have the impression that Elijah is really coming into his own as a basketball player. He plays the game at a nice pace, and knows when to go full speed and when too slow it down. His three-point shooting impressed me the most because at his size, he attacks the paint and finishes with ease. But when he's knocking down shots from long-range, he is unguarable. I believe this season, Elijah Foster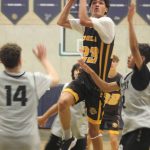 Elijah Foster 6'2" | SF Cibola | 2024 State NM will make some noise. 
Albuquerque's Isaiah Maldonado has made one of the biggest jumps with his play in the state during this off-season. It was known throughout the state how lights out of a shooter Isaiah Maldonado was, but his ability to run a team at the point guard position has really impressed me the most. His ball handling looks really good and is their primary ball handler. Isaiah has become more of a vocal leader this offseason with a new coaching staff and with the loss of several seniors to graduation. 
Chris Parra from Atrisco Heritage remains one of the top point guards from around the community. During these Team Camps and Shootouts this month, he continues to add to his game. After losing Colby Wade and Javier Mendoza to graduation, Chris Parra has looked for his shot more which should be concerning to defenses. He is a true old school point guard that looks to set up his teammates first but when given the opportunity, he will light you up on the scoreboard. Once Chris starts cooking from long range, its hard to get him out of rhythm. He's become more than just a shooter as well, he can spot the holes in your defense and attack the rim for easy shots. You cant foul him because he has become strong enough to finish through the contact and shoots a high percentage from the line. He's been one of my favorite players to watch this off-season. 
Las Cruces High School should be excited from what they've seen from David Cruz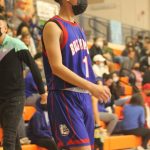 David Cruz 5'9" | CG Las Cruces | 2024 State NM this off-season. After reaching the state championship for the third season in a row, many around the community are writing off the Las Cruces Bulldawg's for losing their star duo Isiah Carr and William "Deuce" Benjamin. I have good news, David Cruz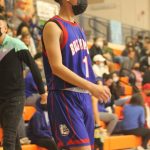 David Cruz 5'9" | CG Las Cruces | 2024 State NM has showed what he's capable of. Last season he became one of the states top three-point shooters and has hit big shots during this months team camps. He is another playmaker and ball handler that can make plays for his teammates. David is also a good on ball and off ball defender. 
State Champion Alexis Dominguez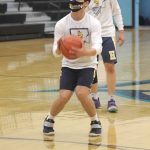 Alexis Dominguez 5'10" | PG Highland | 2023 State NM is one of the hardest working players in the state. After many conversations with him this off-season, this man lives in the gym. Despite helping Highland win their first basketball State Championship in 50 years, Alexis wants to prove to everyone they can do it again. During the past month, He has shown he can be the teams top scorer while playing winning basketball. He is a solid outside shooter and doesn't shy away from any contact at the rim. In my opinion, Alexis Dominguez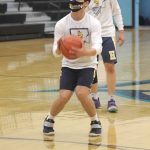 Alexis Dominguez 5'10" | PG Highland | 2023 State NM is one of the top point guards in New Mexico and its hard to argue that he's not. 
Andrew Hill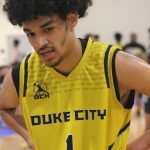 Andrew Hill 6'1" | CG Sandia | 2023 NM from Sandia High School looks poised for an explosive season. After watching him in various Team Camps and Tournaments this month, its clear that he will help Sandia be positioned for a championship run next season. He is a versatile guard that can play multiple positions and has become a very good three-point shooter who can also create his own shot at the rim. Andrew has become one of the toughest matchups for any player during this past month. 
Sean Alter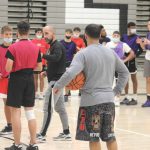 Sean Alter 6'8" | PF Volcano Vista | 2023 State NM has been a consistent core player for Volcano Vista High School. At his size, he is one of the biggest players in the community and is too much down low on both sides of the ball. He has been given more opportunities offensively and made the most of them from around the basket. Sean has a nice touch around the basket and is bound to get a dunk or two a game from his athletic ability. Sean this month has been a nightmare for opposing coaches.
Ely Lovato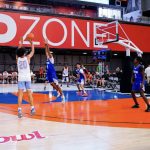 Ely Lovato 6'1" | CG Sandia | 2023 State NM from Sandia High School will play a huge role for the Matadors next season. This past month he has shown to be a crafty guard that can score inside and outside. He is a strong and physical player that can get his own shot whenever he wants. Ely takes high percentage shots that doesn't hurt the team and is an efficient scorer for the Matadors. He is always fun to watch when he laces them up.