In the N.E. Regional Final, the Huntsville Panthers finished the 2021-2022 campaign with a 51-60 loss to Spain Park. According to MaxPreps.com, their final record was 23-11. The Panthers came so close to a birth into the Final 4 last year. They have been itching to get back on the court together, to start the journey to accomplishing the ultimate goal of winning a state championship.
I recently caught up with head coach Christian Schweers and talked with him about how the team's off-season training is going. Needless to say, with some additional talent that has joined the program, the future is looking bright for the Panthers. I usually have a list of questions to ask the coaches, but I was intrigued by the questions that Coach Schweers has for himself throughout the month, which are:
Do we play to our standard consistently?

Do we improve from practice to practice and game to game? 

Do we form great team chemistry and learn to play for our teammates?

Do we impact the younger players in the program in a positive way?
Coach Schweers and the coaching staff are excited about the possibilities in front of the team, and rightfully so, as they bring back the majority of their production off of last season's Elite 8 team. Look for the Panthers to play with an edge during June and have a great focus to use this month to build championship chemistry.  
Let's take a look at key pieces to the puzzle for the Panthers…
Key Returning Players: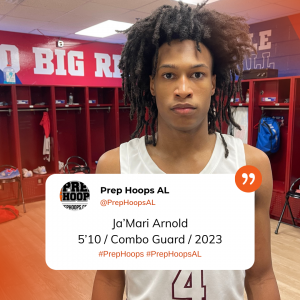 Ja'Mari Arnold (5'10/Combo Guard/2023)
Instagram: manman_._
Twitter: @jamariarnold2
Ja'Mari, also known as 'Man Man', is entering his 3rd season in the backcourt at Huntsville High. He is a high I.Q. player who can really score the rock. Man Man is amongst the top of the list when looking across the state and projecting players that should have a big year. He is set to be the floor general for the Panthers and has the vision, passing, and the ability to facilitate and keep the weapons around him happy.
The bottom line is that the Panthers will go as far as Man Man can take them.
Caleb Harrison Caleb Harrison 6'9" | PF Huntsville | 2024 State AL  (6'8/Power Forward/2024)
Instagram: caleb_harrison23
Twitter: @_Caleb_Harrison
Harrison is entering his 3rd year on varsity and comes off a big sophomore season where he helped lead Huntsville back to the Elite 8 for the 3rd time in 4 seasons. His experience will be counted on heavily as the Panthers look to take the next step and punch their ticket to the Final 4. Caleb is a skilled and versatile big man who can play on the perimeter in ball screen action and post up and dominate the low-block. His ability to shoot the three has made him a threat to score from anywhere on the floor.
Caleb is a relentless competitor, and if Huntsville is to make another deep postseason run, it will have a lot to do with how Mr. Harrison plays and leads.
J.D. Gossett (6'3/G/2025)
Instagram: jd_gossett5
Twitter: @JD_Gossett5
J.D. is a passionate and intense guard that started most of last season as a freshman. He has good size and length, which helps him be a pest defensively, which bothers opposing players, often disrupting the other team's action.
He is a high I.Q. player that knows where to be defensively, and that, in and of itself, helps the Panthers be a very good defensive unit.
J.D. has all the intangibles you want in a player, and according to Coach Schweers, he is the most competitive player in the Panther's program. J.D. is a really skilled player that has all the capability in the world to play at the next level. Look for J.D. to be looked upon to play a greater offensive role next season.  
Players Ready To Make A Difference: 
Josh Bowman (6'8/C/2025)
Instagram: josh_bow_
Twitter: @ _Josh_Bowman
Josh played sparingly as a backup last year but has gotten better this spring and looks ready to make a huge impact on the Panthers. He will likely be 6'10/6'11 before it's over with, as he is just scratching his ceiling of potential, as he possesses the ability to run the floor, contest and block shots, and make timely and on-target passes.
He has the potential to develop into a player that can help a program at the next level.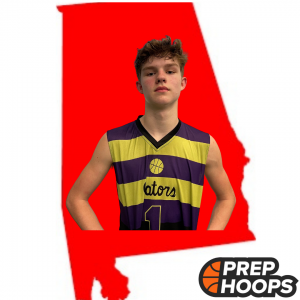 Simon Walker Simon Walker 6'5" | CG James Clemens | 2025 State AL  (6'5/Wing/2025)
Instagram: simonwwalker
Twitter: @Simonwwalker25
This is probably the biggest surprise that will have significant ramifications across the state. The transfer from James Clemens will make an immediate impact as he is one of the best prospects in the 2025 class. He really came into his own during the '22 Final Four, as I was left looking at our 2025 rankings, saying to myself that he has just improved his ranking amongst the '25 class. Simon can really shoot it, but it is his ability to pass and defend with great energy that separates him from other guards his age.
His grit and swagger will be counted on heavily by the Panthers, as I think he will make Huntsville into a team many will pick to win it all next year.
Look for Simon to mesh well at Huntsville right away, and many will get their first look at the Panther's newest addition in Auburn. Simon recently received his first Division 1 offer from Samford and Bucky McMillan.
Here's Where You Can Catch The Panthers In June:
June 9-10 at Auburn University Team Camp, Auburn AL
June 11 at University of Alabama Playdate, Tuscaloosa AL
June 14 at Huntsville High's Big Red Summer Jam, Huntsville HS
June 15 at University of North Alabama Playdate, Florence, AL
June 17-18 at AHSAA Live Showcase, Finley Center, Hoover AL
June 21 at Supreme Courts, Guntersville, AL
June 24 at UAH Playdate, Huntsville, AL
June 24-25 at Southeast Live Showcase, Lake Point, Atlanta (Ga)
Follow The Panthers:
Instagram: pantherhoops
Twitter: @HHSPantherHoops