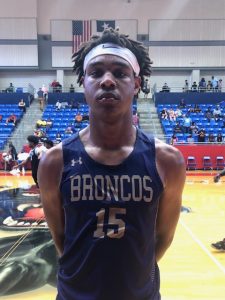 M.J. Thomas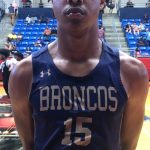 M.J. Thomas 6'7" | PF Denton | 2023 State #252 Nation TX | 6'7 | Denton High School 
M.J. Thomas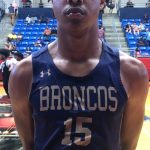 M.J. Thomas 6'7" | PF Denton | 2023 State #252 Nation TX was one of the most impressive standouts of the weekend and he drew a lot of attention from Vanderbilt University and the University of Virginia, both courtside to witness his play. The versatile point forward was the heart and soul of the team and proved to be extremely potent at the lead guard position where he started and finished fast breaks, dictated the offense, got others involved, you name it he did it. Due to his elite size and his overwhelming strength and power, M.J. was able to create opportunities for himself to get to the rack on a play-to-play basis. Thomas was an unstoppable slasher who scored in every type of situation, it was like a freight train coming down the lane. Defenders didn't stand a chance in one-on-ones, whenever Thomas was double-teamed he showed the strength to back his man into the lane and the power to convert tough layups when tripled-teamed under the basket. Although the Denton forward could get to his spots on the floor at will he never forced the issue, Thomas was unselfish with the rock and let the game come to him as he hit his teammates who were open near the basket, he simply plays the game the right way. It was also clear that Thomas knew his teammates and their strengths well, always putting them in a situation where they could score fast and easy. While playing off the ball, he was even tougher to defend because he always made himself a threat by knowing when to duck in, pop out, cut backdoor, and set on or off-ball screen. This kid stuffed the stat sheet, producing double-doubles with his dominance on the glass game to game. Standing at 6-foot-7, M.J. Thomas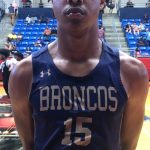 M.J. Thomas 6'7" | PF Denton | 2023 State #252 Nation TX brings extremely physical offensive rebounding, he controlled the glass due to an abundance of power, strength, explosiveness, quick leaping, timing, and strong hands, all which made him a terror and helped him produced several second-chance points often grabbing his own rebound and immediately going back up with it as well. Defensively Thomas crashed the boards every time a shot went up and he was usually able to snatch the ball out of the air on his first jump. Great help-side defender who communicates loudly, covers ground greatly, and can quickly close out to contest players on the perimeter with his hands high forcing them to pass or drive where he knew his teammates were prepared to help. Besides his skillset, Thomas showcased great intangibles, the endurance to play all day and never get tired, outstanding effort and hustle, a college-ready build and terrific use of it, utilizing his body to penetrate, rebound, and score at an incredibly high rate, and most of all, a great attitude, he's everything a coach could want in a player. There's no doubt about it, this man will be a high major Division 1 prospect who's going to have even more attention coming his way sooner than later. M.J. Thomas's stock took a huge leap this past weekend, he's currently ranked 22nd overall in the state which is sure to change by the next ranking update. I'm not quite sure what it is yet but there is something about this M.J. Thomas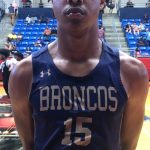 M.J. Thomas 6'7" | PF Denton | 2023 State #252 Nation TX that feels special. 
---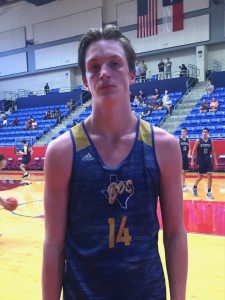 Caiden Punt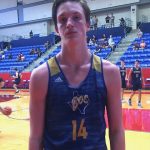 Caiden Punt 6'8" | SF Fort Worth Boswell | 2023 State TX | 6'8 | Fort Worth Boswell High School 
Top Fort Worth prospect, Caiden Punt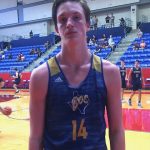 Caiden Punt 6'8" | SF Fort Worth Boswell | 2023 State TX , put his point forward capabilities on full display while getting his own shot off the dribble and making plays for others. Punt's teammates relied heavily on him heavily at the offensive end, the ball always ran through him first on each possession. His natural feel for the game is what makes him such a special player on the floor, allowing him to function well within the offense from the inside out. Caiden put up points and drew fouls in traffic and congested lanes at a ridiculously high rate. He has a great ability to establish position and pass out of the high and low post, if he felt a body on him he instinctually used a swift spin move to get around them and into his shot. The 6-foot-8-inch forward proved to be a constant mismatch, too big and strong for guards to defend and too quick and agile for post players to contain effectively. There are very few limitations to Punt's game, he shows glaring potential as a small forward at the next level due to his complete set of skills, he can be a lethal three-level bucket getter, a play-initiating distributor,  a game-changing two-way asset, or a high motor glue guy who brings an abundance of energy and productivity on the glass, in the passing lanes, and when challenging shots at the rim. His on-court leadership was evident, calling team huddles, instructing teammates on where they should be, and also leading by example with his top-notch effort, and by holding himself accountable for mistakes. 
---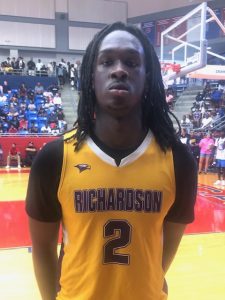 Tim Jordan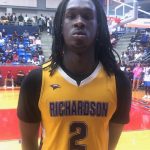 Tim Jordan 6'7" | PF Richardson | 2023 State TX | 6'7 | Richardson High School 
Two-way standout with dominance on both ends of the floor. Dynamic on-ball and paint-protecting defender who makes himself big enough to cut off shots and passes in the post and utilizes his quick-moving feet to defend guards on the perimeter. Jordan played a truly disruptive defensive presence, when guarding players outside of the paint he showed an ability to contain the jumpshot and force the drive to his help where he continued to stick to his man like glue and block their shot attempts without leaving his feet. On the offensive side of the ball, Jordan put his shot creation and ball-handling skills on full display, attacking the rack for rim rocking slam dunks and high soft-touch runners off the backboard. The scoring talent he displayed was at a high level, displaying slick post moves, a quick ability to turn the corner, a knack for penetrating with long strides from outside of the lane, and landing directly in the center of the paint where his explosive jump-hook was simply unblockable. Tim Jordan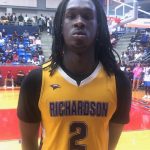 Tim Jordan 6'7" | PF Richardson | 2023 State TX played with a high motor, he was active around the rim, and proved to be an outstanding athlete who can run the floor much better than his opponents as he consistently beat the opposing post man up the floor, especially on the offensive end where Jordan instantly established position and made himself a scoring option.
---
Isaiah Manning Isaiah Manning 6'8" | SF Mansfield Legacy | 2023 State #202 Nation TX | 6'7 | Mansfield Legacy High School 
Isaiah Manning Isaiah Manning 6'8" | SF Mansfield Legacy | 2023 State #202 Nation TX showed everyone in attendance why's he's one of the top-ranked small forward prospects in Texas as he completely dominated his competition day after day, he was a man amongst boys out there, he was able to do as he pleased on both ends and control each game with ease, proving to be the best player on the floor no matter who he faced off against. Throughout the weekend, the 6-foot-7-inch Manning put up an average of 24 points, 8 rebounds, and 6 assists per game. He did it all, he blocked shots, dropped dimes, drilled jumpers from deep, slam-dunked all over his opponents, crossed defenders up while getting his own shot, and crashed the glass relentlessly looking to get out and score in transition. The Legacy forward made defenders look silly with his handles in the open court and half-court, pulling quick combo moves out of his bag on his way to stepping into a pull-up jumpshot which seemed automatic for Isaiah all weekend long. After making the game look so easy, Isaiah Manning Isaiah Manning 6'8" | SF Mansfield Legacy | 2023 State #202 Nation TX picked up offers from Arizona State University, the University of Alabama, and SMU to go along with the many others he already has. 
---
Karson Templin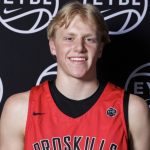 Karson Templin 6'8" | PF Lovejoy | 2023 State TX | 6'8 | Lovejoy High School 
Karson Templin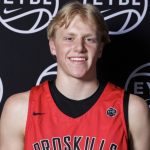 Karson Templin 6'8" | PF Lovejoy | 2023 State TX played like a man possessed at TABC Showcase, the way he obliterated his competition was unfair. Templin dropped 33 points, 15 rebounds, 5 blocks, 3 assists, and 2 steals per game. Karson's athleticism was a game-breaker, this man lived above the rim, there wasn't a soul that could jump with him under the basket, and if you weren't careful you'd end up on the wrong side of his highlight reel in an instant. Templin's slam dunks were explosive, loud, and powerful flushes that packed a lot of force, his best attribute as a post player might have been his impressive ability to play at a much faster pace than everyone else on the court, often running the floor with his guards to clean up the mess or finish the play above the rim off of their assist. In the open court, he showed good footwork and craftiness, not only was he able to complete the play at the hoop with either hand but he was also capable of getting around defenders for the bucket with his eurostep at top speed. Templin played with a truly phenomenal feel for the game, his basketball IQ was high, his instincts were spectacular, and his court vision was at its best. The 6'8 forward made great reads with the ball for a big man, he was so quick with his passes that he was able to slip them through tight windows. He hit the open man the moment he saw them free no matter where they stood on the floor, even throwing accurate fullcourt baseball passes and still hitting his teammates in their hands. Karson also looks as if he's becoming a master in the art of using the on and off-ball screen to get himself open at the rim, making Templin a true lob threat in pick-and-roll action and on the weakside of the defense after setting a high off-ball screen which Karson utilized a number of times to slip and finish with the alley-oop. The 7th-ranked power forward also proved to be a scary rim protector, Templin made some of the most demoralizing blocks you'll ever see, cuffing shots out mid-air with one hand, pinning layups off the backboard, and throwing shot attempts out of bounds in a remarkable manner. Templin absolutely stuffed shots in the paint, a layup was a rare sight to see whenever this man was down low. Super impressive weekend for Karson Templin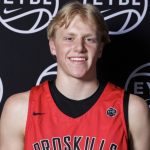 Karson Templin 6'8" | PF Lovejoy | 2023 State TX , this upcoming season looks as if it might be his best yet, he's been playing at another level all summer and is making it clear he's one of the best in the country. This outstanding play earned, Karson scholarship offers from Sam Houston University and the University of Incarnate Word, and I think it's safe to say that there are many more on the way.
---