On May 21st-22nd I attended Ron Coleman's Southwest Showcase Summer Championship (Session 2) at the Kroc Center in Phx, AZ. 
I focused on Varsity and JV Gold Boys divisions and I ended up watching 20+ teams.  
Here were some of the 2025-2026 standouts from last weekend:
2025
Tanner Delevante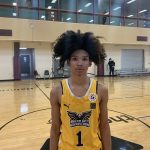 Tanner Delevante 5'10" | PG Dream City Christian | 2025 State AZ Dream City (AZ Unity 15 EYBL)
A pure point guard with arguably THE tightest handle in the class. He is undersized but has next level speed to go along with his court vision. He does like getting downhill but makes the three as well. He uses his lateral quickness to be a pest on the ball defensively. 
Brennan Peterson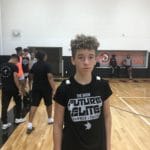 Brennan Peterson 5'10" | PG Notre Dame Prep | 2025 State AZ NDP (AZ Unity 15 EYBL)
A sharp shooter with a good feel for the game. He can drive it to the rim and then will find a cutter, dump it off or kick it to a shooter. His three point stroke allows him to set up other parts of his game.  
Gerron Jr Graham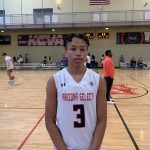 Gerron Jr Graham 5'11" | CG SoAZ Volz | 2025 State AZ SoAZ Volz (AZ Select 15 UAA)
A crafty combo guard makes plays for others and can get to his spots with changing speeds. He has almost already come full circle in only being a distributor of the ball to becoming a knockdown shooter. He has a smooth looking stroke now from the three point line and he was a clutch free throw shooter knocking them down in a close contest to win. 
Rhys Walcott Rhys Walcott 5'10" | CG Eastmark | 2025 State AZ Eastmark (UH Elite 17)
A walking bucket is a three level scorer. He may not jump out of the gym but has the skill and savvy to score with anyone in the class. He shoots it easy off the catch and he may be a rare one where he may be better off the dribble from mid to the three point line. He has a stocky frame to get downhill as well. 
Noah George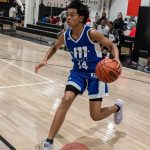 Noah George 6'0" | SG Dream City Christian | 2025 State AZ Dream City (AZ Unity 15 EYBL)
A long and lean scoring guard uses his length on defense. He has a pretty shooting stroke from the three point line and plays a smart floor game. He is one of those players who looks like he will grow a little more. 
2026
Oluwatomisin Ayodele-Osho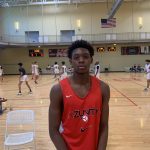 Oluwatomisin Ayodele-Osho 6'2" | SG Dream City | 2026 AZ Dream City Christian (AZ Unity) (Pictured) 
A 3 and D type of incoming freshman has that Russell Westbrook type of build. He has muscles on muscles and he is fierce on the ball defensively to be a real ball hawk in HS. He has good open court speed and plays fast. 
John Mattingly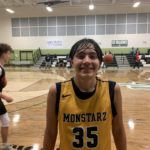 John Mattingly 5'11" | PG Sunnyslope | 2026 AZ Sunnyslope (Monstarz 15U)
One of the best passers in his class and at the event for that matter. He sees plays developing quickly and threads the needle effortlessly. He thinks the game quickly and always seems to make the correct read. He has good speed with the ball, he changes speeds often and he can pull-up off the dribble from mid-range.   
Mick Riordan Mick Riordan 5'9" | CG Notre Dame Prep | 2027 AZ NDP (Monstarz 15U)
A sharp shooter can play on or off the ball fairly easily. He can be a lead guard but he shoots it so well off the catch that  he may be best suited off the ball.  He squares up like you should and plays with a big IQ.