Chalmette, Louisiana was the host city for the inaugural Top 100 June Scholastic Event (JSE) sponsored by the Louisiana High School Basketball Coaches Association. Top players from the state of Louisiana and Mississippi converged on the Louisiana high school in Chalmette to show their talents through drills and game situations during this two day event. Day two saw all players hit the floor with their assigned teams. Needless to say, there were some standout players who saw their stock rise in front of 30 NCAA, NAIA, and NJCAA coaches. We will review players who are ones to watch leaving this event as they left their impressions upon the coaches in Chalmette.
Phil Hubbard (Madison-Ridgeland Academy | 2023 | 5'10″)
Hubbard was by far the most polished point guard in the building.  His combination of handle, speed, strength, and athleticism wowed the coaches and onlookers at the event.  He can finish amidst any contact and hands out just as much punishment.  Hubbard never gets knocked off balance with the ball in his hands and makes plays at all levels.  His day two personified what a Division point guard should be.  
Decedric Webb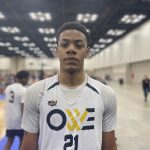 Decedric Webb 6'4" | SF Huntington | 2023 State LA (Huntington | 2023 | 6'5″)
Webb was probably the name that rang the most from the college coaches on day 2.  He showed superior athleticism when attacking the rim and a willingness to rebound and push the ball to create transition situations.  While he had some instances where he took shots not having an advantage in transition, he made up for it by being the first one of the floor for offensive rebounds and tip opportunities.  His ability to play and defend multiple positions along with his finishing ability made him a definite standout on the day.  
Eric Paymon (Raymond | 2024 | 6'8″)
Paymon was a load inside for Louisiana defenders to handle.  The Mississippi lefty is highly skilled around the basket and is equally as good in transition.  He can catch the ball on either block and score.  Paymon can also face up on bigs and wings and get to the rim.  He even showed an ability to shoot from the perimeter which makes him even more of a mismatch.  His size and frame makes him very attractive going forward.
Jaylon Hicks Jaylon Hicks 6'5" | SF Carver | 2023 State LA (Carver | 2023 | 6'5″)
Hicks was one player who got to show off his full skill set during the Sunday contests at Chalmette.  While he performed admirably in catch and shoot situations as usual, it was in willingness to attack the rim where Hicks was most dangerous.  His corner three spot ups turned into baseline attacks that displayed his finishing ability.  Hicks proved he can be a multi-level threat.  With his size and shooting ability, he has a great chance at landing on a Division I roster.  
Duran Parrish (Biloxi | 2023 | 6'2″)
Parish played more off the ball during his time at the Top 100 event and it may have been a good thing for him.  He showed an ability to knock down three point jumpers at a high rate.  Parrish shot the ball well off ball reversals, off spot-ups from draw and kick situations, and from kick outs from the post.  When he got a chance to play the point, Parrish was able to break down his defender and get in the lane easily.  He is a dual threat guard who can play both guard positions at a high level.  
Chilaydrien Newton Chilaydrien Newton 6'3" | PG Simsboro | 2023 State LA (Simsboro | 2023 | 6'3″)
Before Newton left towards the end of the first game due to injury, he showed the coaches in attendance everything he could do on the floor.  The lefty from Simsboro began the first game on Court 1 with two spot up threes and a drive to the rim displaying his scoring on two levels.  He broke down defenses with drives into the paint and also finished in the lane with dunks off of vertical jumps.  His ability to score and to find others was done at a very high level.  Hopefully his injury was something he can recover from soon.  Newton is a sure fired D1 level player.  
These six players were just the tip of the iceberg from the June Scholastic Event.  The three players above from Mississippi were part of a team that went undefeated on the weekend.  We will take a look at other players from the event in future articles on the showcase.